Prepare to play your best golf by doing something now!



Tom's Featured Tip: Swing Path Correction Training Station
Tour Greens: Tour Quality Synthetic Greens
Tom's Bonus Tip: Ping Demo Day at BCC
Lesson Comments: What Students Have To Say
Sponsors: Plum Creek Driving Range
Batavia Country Club
Tour Greens Western New York
Genesee Community College Golf Management Program


Click here: INDOOR GOLF LESSONS for details on how to improve your game over the winter.

Plum Creek Driving Range, Batavia, NY, Open All Year
Simulator Course Play Specials: BataviaGolf.com Call 585-993-0930 or Email Mark to reserve simulator time!

Buy Gift Certificates for Lessons Sample Gift Certificate

Golf lessons - Outdoor and Indoor - are available at Plum Creek, please call me at 716 474 3005, email me at ttucker@rochester.rr.com, or visit my website at http://www.tomtuckergolf.com/lessonrates.html for details.

Subscribe - http://www.tomtuckergolf.com/signup.html If you like this newsletter, please do me a favor and forward it to your friends so that they may subscribe, thanks!

The Unsubscribe link is at the bottom of this newsletter.



---


Tom's Featured Tip: Swing Path Correction Training Station

For simplicity, all advice on actual swings or drills is provided from a right handed perspective.

I just finished a lesson with a long time student that was having some problems - namely that he was hitting a fade with most of his clubs when his preferred ball flight is a two to five yard draw.

I observed him hit several balls and determined that everything was OK except for his swing path.

I teach all of my students to maintain an inside to inside swing path for their standard swings. This means that during the downswing the clubhead approaches the ball from inside their aimline, the club extends outward to the aimline along their swing circle radius, then it swings left, inside the aimline.

Inside to inside.

This student had developed a very slight outside to inside swingpath, so I set up a training station to help him feel the correct swingpath. You can duplicate this training station during your practice to help you groove a good swingpath as well as to monitor your ballstriking.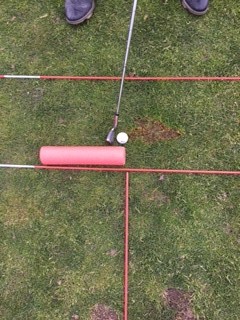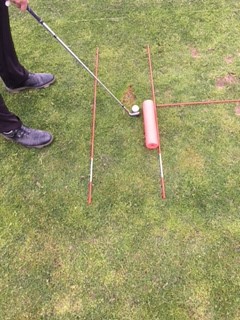 Above is the setup for a swing path station using three 48" driveway markers, a 14" piece of a pool noodle, and a tee in the outside center of the pool noodle to secure it to the ground.

The two parallel rods are used to define your aimline and body alignment lines, the rod running perpendicular to them is marking the ball position to check the divot start point. I had been using the ball marking rod for a ballstriking drill before I added the pool noodle. With the pool noodle in place you can actually use the end of the pool noodle to define the back of the ball and to monitor your divot start point.

The pool noodle makes your downswsing attack the ball from the inside, not outside in or down the line.

This station is another example of task constraint training, where you use a training aid to give you physical feedback. If your swingpath is outside in or down the line when you use this setup, you'll hit the pool noodle.

After doing some ballstriking drills first, he used this station for about twenty swings and his gentle draw returned, with the added bonus of improved ballstriking by paying attention to where his divots started.

If your swingpath is sloppy, try this setup. You can use it at home without balls just to groove your path. It's well worth the very minor expense and a little effort.

Try it, you'll like it!

Comments: ttucker@rochester.rr.com

Love your practice, own your swing, own your health,

Tom



---


Tour Greens: Tour Quality Synthetic Greens For Superb Short Game Practice

Do you want one of these in your own back yard?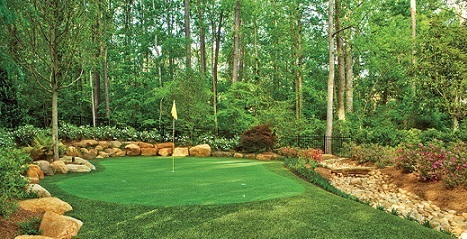 If you would like a free, no obligation quote for getting a beautiful practice area or putting green installed on your property - indoors or outdoors - give me (Tom Tucker) a call at (716) 474-3005, or email at at ttucker@rochester.rr.com

For more information please click here: TourGreensWNY.com

Comments: ttucker@rochester.rr.com

Love your practice, own your swing, own your health,

Tom



---


Tom's Bonus Tip: Ping Demo Day at BCC

For simplicity, all advice on actual swings or drills is provided from a right handed perspective.

This is only a "tip" in the sense that if you are thinking about new clubs, you can get a mini fitting at a demo day.

For those who've never attended one, you pick from an assortment of irons, hybrids, woods, and drivers and take a few swings. The tech rep who is in attendance then looks at your ball flight and makes recommendations for model or shaft adjustments, then you take a few more swings with an adjusted club.

The Batavia Country Club is hosting its first Ping Demo day on Wednesday May 25th, 2016 from 4pm to 7pm. I've been on record about my opinion of Ping products, which is very high - I use them myself. I believe that their quality control is the best in the business.

There should be a Trackman monitor on site as well. Pat Carli, the local Ping sales rep, will conduct the demo day, and I'll be there along with Tom Moynihan to help out.

There will be clubs for sale on that day, but there's no obligation or pressure to buy.

To reserve a spot or for more information, please call the Batavia Country Club Pro Shop at (585) 343-7600.

Comments: ttucker@rochester.rr.com

Love your practice, own your swing, own your health,

Tom



---



Golf Lessons

I conduct lessons at The Plum Creek Driving Range & Practice Facility
there's a link for Plum Creek info here: http://www.tomtuckergolf.com/

Lessons are available for all ages and skill levels, please contact
me - Tom Tucker - at (716) 474 3005 or email me at ttucker@rochester.rr.com
for more information.

Outdoor Lessons Details and Rates:
http://www.tomtuckergolf.com/lessonrates.html

Indoor Lessons Details and Rates:
http://www.tomtuckergolf.com/indoor.html

Driver Fitting Rates:
http://www.tomtuckergolf.com/indoor.html

Testimonials:
http://www.tomtuckergolf.com/testimonials.html


Sponsors

Plum Creek Driving Range and Simulator Outdoor range and play indoor golf on any of our 40 Simulator Courses. Call 585-993-0930 or email Mark at plumcreek4@rochester.rr.com to reserve time for simulator play or practice!

Batavia Country Club (585) 343-7600 www.bataviacc.com
Great rates, the best greens in WNY. Golf Digest Four Star rating for public courses to play in New York State. Tee times online or by phone in season. BCC has a large supply of PING equipment in stock. Stop by and see what's new for 2016.

Taking reservations for Mother's Day Brunch, see our website for more details www.bataviacc.com (585) 343-7600

Tour Greens Western New York Practice with purpose in your own back yard on your own synthetic practice green. Our greens LOVE Western New York weather!

Genesee Community College Golf Management Program Click on link for more information if you or anyone you know is interested in a dynamic career in the golf industry, or in teaching golf.

All the best,

Tom Tucker
Teaching Pro, Plum Creek Driving Range & Practice Facility
WGTF ' "Top 100 Golf Teacher"
USGTF Class "A" Teaching Professional
IGPA Certified Golf Psychology Coach
Cell: (716) 474-3005
Email: ttucker@rochester.rr.com
http://www.TomTuckerGolf.com

"There are no substitutes in the quest for perfection!"
~ Ben Hogan