Prepare to play your best golf by doing something now!



Tom's Featured Tip: Effective Chipping
Tour Greens: Tour Quality Synthetic Greens
Tom's Bonus Tip: Freeze The Triangle
Lesson Comments: What Students Have To Say
Sponsors: Plum Creek Driving Range
Batavia Country Club
Tour Greens Western New York
Genesee Community College Golf Management Program


Click here: INDOOR GOLF LESSONS for details on how to improve your game over the winter.

Plum Creek Driving Range, Batavia, NY, Open All Year
Simulator Course Play Specials: BataviaGolf.com Call 585-993-0930 or Email Mark to reserve simulator time!

Buy Gift Certificates for Lessons Sample Gift Certificate

Golf lessons - Outdoor and Indoor - are available at Plum Creek, please call me at 716 474 3005, email me at ttucker@rochester.rr.com, or visit my website at http://www.tomtuckergolf.com/lessonrates.html for details.

Subscribe - http://www.tomtuckergolf.com/signup.html If you like this newsletter, please do me a favor and forward it to your friends so that they may subscribe, thanks!

The Unsubscribe link is at the bottom of this newsletter.



---


Tom's Featured Tip: Effective Chipping

For simplicity, all advice on actual swings or drills is provided from a right handed perspective.

Today's featured tip is short but extremely effective if you're willing swallow your ego and give it a shot.

Last weekend I went on an annual golf outing at the Conley Resort in Butler Pennsylvania with some friends. It's been going on for over 20 years, and here's a shout out to Frank Broderick for continuing to run it even though he recently moved to Arizona. Everyone had a blast.

While playing with several different players, I noticed that almost all of them were chipping with very lofted wedges almost every time a chip was in order. The correlation was that most of them had worse than average results with those very lofted club selections.

Some players act as if it makes them less manly if they don't chip with a very lofted wedge because that's what the pro's do.

Here's a rule of thumb to follow for better than average chipping results: if you aren't practicing your chipping for at least one hour once per week, then don't try to be a "one club" chipper. Use a flatter club instead, and don't be afraid to chip/putt with a hybrid, or a 6, 7 or 8 iron.

A chip/putt is just what it sounds like.
set up as if you were putting,
grip way down on the club,
crowd the ball so that the club shaft is a bit more vertical than normal for that club,
play the ball forward of center in your stance,
stroke the shot like a putt, not a downward chipping stroke.
And last but not least, chip/putting is the best alternative that I know of if you have the chipping yips.

Leave the "one club" chipping mentality to the pro's and those players that have the time to practice with it. Your scores will get better with chip/putting, and that's what good chipping should accomplish.

Try it, you'll like it.

Comments: ttucker@rochester.rr.com

Love your practice, own your swing, own your health,

Tom



---


Tour Greens: Tour Quality Synthetic Greens For Superb Short Game Practice

Do you want one of these in your own back yard?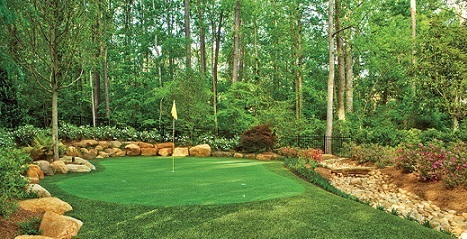 If you would like a free, no obligation quote for getting a beautiful practice area or putting green installed on your property - indoors or outdoors - give me (Tom Tucker) a call at (716) 474-3005, or email at at ttucker@rochester.rr.com

For more information please click here: TourGreensWNY.com

Comments: ttucker@rochester.rr.com

Love your practice, own your swing, own your health,

Tom



---


Tom's Bonus Tip: Freeze The Triangle

For simplicity, all advice on actual swings or drills is provided from a right handed perspective.

I like to teach players that when they set up for putting, that their arms, wrists, and hands, all stay fixed - or frozen - during the stroke.

When you set up correctly this way and simply rock your shoulders to feel a pendulum like putting stroke motion, you will develop rhythm, consistency, and control.

When you start to gain mastery of the motion, all you need to do is make a longer swing for a longer putt, and a shorter swing for a shorter putt.

That's when you will truly start to "own" your putting stroke.

Comments: ttucker@rochester.rr.com

Love your practice, own your swing, own your health,

Tom



---



Golf Lessons

I conduct lessons at The Plum Creek Driving Range & Practice Facility
there's a link for Plum Creek info here: http://www.tomtuckergolf.com/

Lessons are available for all ages and skill levels, please contact
me - Tom Tucker - at (716) 474 3005 or email me at ttucker@rochester.rr.com
for more information.

Outdoor Lessons Details and Rates:
http://www.tomtuckergolf.com/lessonrates.html

Indoor Lessons Details and Rates:
http://www.tomtuckergolf.com/indoor.html

Driver Fitting Rates:
http://www.tomtuckergolf.com/indoor.html

Testimonials:
http://www.tomtuckergolf.com/testimonials.html


Sponsors

Plum Creek Driving Range and Simulator Outdoor range and play indoor golf on any of our 40 Simulator Courses. Call 585-993-0930 or email Mark at plumcreek4@rochester.rr.com to reserve time for simulator play or practice!

Batavia Country Club (585) 343-7600 www.bataviacc.com
Great rates, the best greens in WNY. Golf Digest Four Star rating for public courses to play in New York State. Tee times online or by phone in season. BCC has a large supply of PING equipment in stock, as well as other major brand name apparel and hats. Stop and shop, we'd love to meet you.

Tour Greens Western New York Practice with purpose in your own back yard on your own synthetic practice green. Our greens LOVE Western New York weather!

Genesee Community College Golf Management Program Click on link for more information if you or anyone you know is interested in a dynamic career in the golf industry, or in teaching golf.

All the best,

Tom Tucker
Teaching Pro, Plum Creek Driving Range & Practice Facility
WGTF ' "Top 100 Golf Teacher"
USGTF Class "A" Teaching Professional
IGPA Certified Golf Psychology Coach
Cell: (716) 474-3005
Email: ttucker@rochester.rr.com
http://www.TomTuckerGolf.com

"There are no substitutes in the quest for perfection!"
~ Ben Hogan