Prepare to play your best golf by doing something now!



Tom's Featured Tip: Putting - Line on Ball - Yes or No?
Tour Greens: Tour Quality Synthetic Greens
Tom's Bonus Tip: Mental Game - "Positive Conning"
Lesson Comments: What Students Have To Say
Sponsors: Plum Creek Driving Range
Batavia Country Club
Tour Greens Western New York
Genesee Community College Golf Management Program


Click here: INDOOR GOLF LESSONS for details on how to improve your game over the winter.

Plum Creek Driving Range, Batavia, NY, Open All Year
Simulator Course Play Specials: BataviaGolf.com Call 585-993-0930 or Email Mark to reserve simulator time!

Buy Gift Certificates for Lessons Sample Gift Certificate

Golf lessons - Outdoor and Indoor - are available at Plum Creek, please call me at 716 474 3005, email me at ttucker@rochester.rr.com, or visit my website at http://www.tomtuckergolf.com/lessonrates.html for details.

Subscribe - http://www.tomtuckergolf.com/signup.html If you like this newsletter, please do me a favor and forward it to your friends so that they may subscribe, thanks!

The Unsubscribe link is at the bottom of this newsletter.



---


Tom's Featured Tip: Putting - Line on Ball - Yes or No?

For simplicity, all advice on actual swings or drills is provided from a right handed perspective.

While doing some research recently, I came across an old study that surprised me a bit.

The results of a study done in 2012 "Use of Ball Line as an Alignment Aid in Putting " done at The School of Education, Health, Human Performance, and Recreation, Baylor University, Waco TX., may surprise you too.

Here's the synopsis:

When standing sideways to the ball, it becomes very difficult to see the veridical (no typo - it means "a formal way to describe things that are accurate or based in reality") line of putt to the target and players often misread the direction. The purpose of the study was to determine if using a line on the ball aids putting. Twenty-four expert and twenty-four novice players each made a total of 40 putts, 10 putts each with and without using a line on the ball at distances of 1 m and 4 m away from the hole.

When using a line on the ball, players were asked to stay behind the ball, align the ball line toward the target line, and then make the putt.

Using a ball line did not aid in any aspects of putting including bias, accuracy, and consistency.

In addition, experts who use ball line neither align nor perform better than those who do not use the ball line.

The part of the study that surprised me was the results of the shorter putt - 3' 3" - as opposed to the longer putt of 13'.

One thing that I take away from this is that if you are a "face on putter" - standing next to the ball facing the target - that the line may help your orientation. (Is it time for me to dust off some of my long shafted face on putters again?)

The other thing is that for short putts I still believe that personally the line may be helpful, but not as you might expect.

I feel that the line on the ball, when lined up with long alignment markings on the top of the putterhead, helps me to keep my putterhead path straight back and straight through.

I used to play a two ball putter and always felt that the two balls on the top of the putterhead helped in the same way.

I recently switched putters - to an Itsy Bitsy Spider Limited Edition (like Jason Day's) - which has a long alignment line on the top of the putterhead. For what it's worth, the squarish look of the head as I look down at it also helps me orient the path to a straight back - straight through stroke path.

So take the study for what it's worth with one caveat - if you think that the line on the ball helps you, it probably is, so keep doing it.

Comments: ttucker@rochester.rr.com

Love your practice, own your swing, own your health,

Tom



---


Tour Greens: Tour Quality Synthetic Greens For Superb Short Game Practice

Do you want one of these in your own back yard?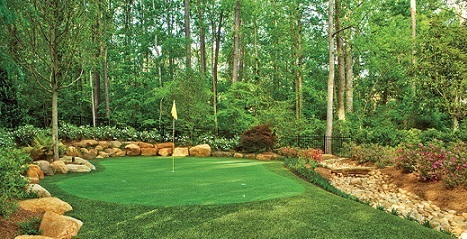 If you would like a free, no obligation quote for getting a beautiful practice area or putting green installed on your property - indoors or outdoors - give me (Tom Tucker) a call at (716) 474-3005, or email at at ttucker@rochester.rr.com

For more information please click here: TourGreensWNY.com

Comments: ttucker@rochester.rr.com

Love your practice, own your swing, own your health,

Tom



---


Tom's Bonus Tip: Mental Game - "Positive Conning"

For simplicity, all advice on actual swings or drills is provided from a right handed perspective.

This material is from my Golf Psychology Coaching Certification course. I added my two cents about the "conning", enjoy.

You may think that most pro golfers are pretty free of anxiety, but that's not always the case.

Billy Horschel feels the heat, but he turns that anxiety into an advantage.

He says that he thrives on anxiety. He loves that feeling of nervousness and how it makes him feel. He turns pressure into pleasure.

That's what I call "conning" yourself out of something negative into something positive.

Anxiety is simply an energy source. It can heat up your house or burn it down, it all depends on how you label it. How you label your emotions will greatly affect whether anxiety will be destructive to your game or can be used as an advantage.

Next time you feel the nerves running through your veins and your heart beating fast, be like Billy. Don't tell yourself you are going to miss this shot or choke. Rather, tell yourself how much you enjoy anxiety and how it can help you focus better.

An old adage in sports psychology says, "It's okay to have butterflies. Just make sure they fly in the right formation". When you label anxiety as a positive experience, it will definitely help your game instead of hurting it.

"Positive conning" absolutely works, try it you'll like it.

Comments: ttucker@rochester.rr.com

Love your practice, own your swing, own your health,

Tom



---



Golf Lessons

I conduct lessons at The Plum Creek Driving Range & Practice Facility
there's a link for Plum Creek info here: http://www.tomtuckergolf.com/

Lessons are available for all ages and skill levels, please contact
me - Tom Tucker - at (716) 474 3005 or email me at ttucker@rochester.rr.com
for more information.

Outdoor Lessons Details and Rates:
http://www.tomtuckergolf.com/lessonrates.html

Indoor Lessons Details and Rates:
http://www.tomtuckergolf.com/indoor.html

Driver Fitting Rates:
http://www.tomtuckergolf.com/indoor.html

Testimonials:
http://www.tomtuckergolf.com/testimonials.html


Sponsors

Plum Creek Driving Range and Simulator Outdoor range and play indoor golf on any of our 40 Simulator Courses. Call 585-993-0930 or email Mark at plumcreek4@rochester.rr.com to reserve time for simulator play or practice!

Batavia Country Club (585) 343-7600 www.bataviacc.com
Great rates, the best greens in WNY. Golf Digest Four Star rating for public courses to play in New York State. Tee times online or by phone in season.

2017 Memberships On Sale Now! Pay now and play the rest of 2016!
Call (585) 343-7600 for pricing.

Beginning September 19th - 18 holes riding Mon - Fri $19
Sat - Sun $25 before 11 am, $20 after 11 am

Tour Greens Western New York Practice with purpose in your own back yard on your own synthetic practice green. Our greens LOVE Western New York weather!

Genesee Community College Golf Management Program Click on link for more information if you or anyone you know is interested in a dynamic career in the golf industry, or in teaching golf.

All the best,

Tom Tucker
Teaching Pro, Plum Creek Driving Range & Practice Facility
WGTF ' "Top 100 Golf Teacher"
USGTF Class "A" Teaching Professional
IGPA Certified Golf Psychology Coach
Cell: (716) 474-3005
Email: ttucker@rochester.rr.com
http://www.TomTuckerGolf.com

"There are no substitutes in the quest for perfection!"
~ Ben Hogan