Prepare to play your best golf by doing something now!



Tom's Featured Tip: Mental Game - Build Confidence by Association
Tour Greens: Tour Quality Synthetic Greens
Tom's Bonus Tip: Failure Is Not Failure
Lesson Comments: What Students Have To Say
Sponsors: Plum Creek Driving Range
Batavia Country Club
Tour Greens Western New York
Genesee Community College Golf Management Program


Click here: INDOOR GOLF LESSONS for details on how to improve your game over the winter.

Plum Creek Driving Range, Batavia, NY, Open All Year
Simulator Course Play Specials: BataviaGolf.com Call 585-993-0930 or Email Mark to reserve simulator time!

Buy Gift Certificates for Lessons Sample Gift Certificate

Golf lessons - Outdoor and Indoor - are available at Plum Creek, please call me at 716 474 3005, email me at ttucker@rochester.rr.com, or visit my website at http://www.tomtuckergolf.com/lessonrates.html for details.

Subscribe - http://www.tomtuckergolf.com/signup.html If you like this newsletter, please do me a favor and forward it to your friends so that they may subscribe, thanks!

The Unsubscribe link is at the bottom of this newsletter.



---


Tom's Featured Tip: Mental Game - Build Confidence by Association

For simplicity, all advice on actual swings or drills is provided from a right handed perspective.

This material is from my Golf Psychology Coaching Certification course, enjoy! Tom

"Really great people make you feel that you, too can become great"
Mark Twain

When Tiger became a professional, Mark O' Meara was wise enough to act as his mentor and advisor. Mark gave tips to Tiger on the many nuances about life on tour, from what tournaments to play to where he should stay in each city to what courses may fit his game. From this mentoring, a bond of friendship was formed. As part of this friendship, Mark and Tiger would play together on their time off. Sometimes Tiger would win those friendly matches and sometimes Mark would win.

While Tiger gained a lot from this friendship, Mark also benefited greatly. One benefit was his necessity to develop shots that will keep him in the matches with Tiger. Another benefit was the building of his confidence through his association with Tiger. To explain this principle, let's look at what happened to Tiger in 1997. That was the year he dominated the Masters and won by a commanding 12 shots. Not only did he win in an amazing fashion, but he also broke the all-time scoring record.

Mark witnessed this amazing victory, and probably consciously or subconsciously stated to himself a monologue such as: "Hey, I can beat this guy sometimes at home. And this guy can win the Masters and dominate the tour. Then I must have the ability to win a major." He built his confidence by association.

The very next year, Mark not only won the Masters, but also the British Open title. Mark's friendship with Tiger is one of the best things that ever happened to his game.

Today, I know the friendship of Bubba Watson and Ricky Fowler has immensely helped both, particularly Ricky.

Confidence by association can work at any level.

While I was consulting with a college golf team, a very good college player told a story about how he gained confidence from his association with a talented teammate. He recalled the time he beat his teammate who was one of the best college players in the country at that time. He beat him out of one dollar. But he did not spend that dollar. Instead, he posted the bill on his locker to always remind him that he beat one of the best college players in the country. The days he felt his game had left him and he was losing his confidence, he would gaze upon the dollar to remind himself of his victory over a great player. He used this dollar to build his confidence by association.

What can a dollar buy nowadays? Plenty, if used properly.

Comments: ttucker@rochester.rr.com

Love your practice, own your swing, own your health,

Tom



---


Tour Greens: Tour Quality Synthetic Greens For Superb Short Game Practice

Do you want one of these in your own back yard?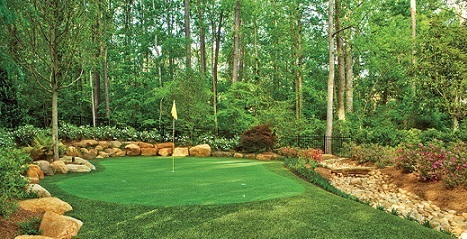 If you would like a free, no obligation quote for getting a beautiful practice area or putting green installed on your property - indoors or outdoors - give me (Tom Tucker) a call at (716) 474-3005, or email at at ttucker@rochester.rr.com

For more information please click here: TourGreensWNY.com

Comments: ttucker@rochester.rr.com

Love your practice, own your swing, own your health,

Tom



---


Tom's Bonus Tip: Failure Is Not Failure

For simplicity, all advice on actual swings or drills is provided from a right handed perspective.

The legendary basketball coach , John Wooden once said "failure is not failure unless it is failure to change".

The golf implication is do not just think about what you should have done and how you could play better, go out and practice the skills you need to improve.

Simple concept, are you up to it?

If your answer is yes, now is the time of year to identify the skills you need to develop to improve your game next year, and to set up a weekly practice plan to get better at them.

Next, formally schedule your three times per week practice sessions in your phone or your hard copy planner, then do the work.

It all gets back to plan the work then work the plan, and formally scheduling the work increases the chances of if actually happening exponentially!

Comments: ttucker@rochester.rr.com

Love your practice, own your swing, own your health,

Tom



---



Golf Lessons

I conduct lessons at The Plum Creek Driving Range & Practice Facility
there's a link for Plum Creek info here: http://www.tomtuckergolf.com/

Lessons are available for all ages and skill levels, please contact
me - Tom Tucker - at (716) 474 3005 or email me at ttucker@rochester.rr.com
for more information.

Outdoor Lessons Details and Rates:
http://www.tomtuckergolf.com/lessonrates.html

Indoor Lessons Details and Rates:
http://www.tomtuckergolf.com/indoor.html

Driver Fitting Rates:
http://www.tomtuckergolf.com/indoor.html

Testimonials:
http://www.tomtuckergolf.com/testimonials.html


Sponsors

Plum Creek Driving Range and Simulator Outdoor range and play indoor golf on any of our 40 Simulator Courses. Call 585-993-0930 or email Mark at plumcreek4@rochester.rr.com to reserve time for simulator play or practice!

Batavia Country Club (585) 343-7600 www.bataviacc.com
Great rates, the best greens in WNY. Golf Digest Four Star rating for public courses to play in New York State. Tee times online or by phone in season.

2017 Memberships On Sale Now! Pay now and play the rest of 2016!
Call (585) 343-7600 for pricing.

Beginning September 19th - 18 holes riding Mon - Fri $19
Sat - Sun $25 before 11 am, $20 after 11 am

Tour Greens Western New York Practice with purpose in your own back yard on your own synthetic practice green. Our greens LOVE Western New York weather!

Genesee Community College Golf Management Program Click on link for more information if you or anyone you know is interested in a dynamic career in the golf industry, or in teaching golf.

All the best,

Tom Tucker
Teaching Pro, Plum Creek Driving Range & Practice Facility
WGTF ' "Top 100 Golf Teacher"
USGTF Class "A" Teaching Professional
IGPA Certified Golf Psychology Coach
Cell: (716) 474-3005
Email: ttucker@rochester.rr.com
http://www.TomTuckerGolf.com

"There are no substitutes in the quest for perfection!"
~ Ben Hogan