Prepare to play your best golf by doing something now!



Tom's Featured Tip: Q&A: Single Length Irons
Tour Greens: Tour Quality Synthetic Greens
Tom's Bonus Tip: How To Hit It Closer To Your Target
Lesson Comments: What Students Have To Say
Sponsors: Plum Creek Driving Range
Batavia Country Club
Tour Greens Western New York
Genesee Community College Golf Management Program


Click here: INDOOR GOLF LESSONS for details on how to improve your game over the winter.

Plum Creek Driving Range, Batavia, NY, Open All Year
Simulator Course Play Specials: BataviaGolf.com Call 585-993-0930 or Email Mark to reserve simulator time!

Buy Gift Certificates for Lessons Sample Gift Certificate

Golf lessons - Outdoor and Indoor - are available at Plum Creek, please call me at 716 474 3005, email me at ttucker@rochester.rr.com, or visit my website at http://www.tomtuckergolf.com/lessonrates.html for details.

Subscribe - http://www.tomtuckergolf.com/signup.html If you like this newsletter, please do me a favor and forward it to your friends so that they may subscribe, thanks!

The Unsubscribe link is at the bottom of this newsletter.



---


Tom's Featured Tip: Q&A: Single Length Irons

For simplicity, all advice on actual swings or drills is provided from a right handed perspective.

Q: Hi Tom, I follow tour pro Bryson DeChambeau because he has such a different approach to the game, including irons that are all the same length. What's your opinion on these types of irons?

Thanks, Robert C., Buffalo NY.

A: Thanks for the question Robert, here are my thoughts on single length irons.

First, a comment on Byron DeChambeau. He's really different in a lot of respects from most pro's. He's a big fan of Homer Kelly's "The Golfing Machine" book, and has a swing that was taught by Moe Norman, which is pretty much a one plane (Natural) swing.

He takes a very technical, analytical approach to the game, and uses single length irons for some of the reasons that I'll explain in this article. I also believe that he's moving to a "face on" putting style this year because from a technical point of view, it makes more sense than a side swing does for many different and valid reasons.

My research for your answer indicates that single length irons are not really a new idea..

In the days of wooden shafts, single length was the standard. When steel became the new standard, single length fell out of favor. Tommy Armour revived single length in the late eighties and early nineties. The company was #1 at the time, and single length was never really its focus. The Tommy Armour sets suffered from unresolved gapping issues, and as Titleist, Hogan, Callaway, and Cobra emerged as market forces - usurping Tommy Armour - single length irons all but disappeared from the mainstream market.

1IronGolf has offered single-length sets for the last several years. And earlier this year Tom Wishon also entered the single-length retail market under the Sterling Irons brand.

Cobra became the first major manufacturing company to bring the concept back to the mainstream market in 2016. In fact, Cobra is making their single length irons the focus of its 2017 lineup. They are also the brand that DeChambeau now uses.

I think the other major players are waiting to see if Cobra's irons generate any interest before they jump into the market.

I actually own a set of single length irons. A few years ago, I built a graphite shafted set with Pinhawk single length iron heads from Value Golf. They had a six iron lie angle, I cut the shafts to six iron length, and all the iron heads are the same weight. I tried to copy 1IronGolf's specs.

I hit them a couple times at the range, but never really gave them a fair shot because it was in 2015 when I was playing around a bulging disc in my back. I'm definitely going to give them another shot because my research to answer your question has my interest peaked again. It definitely does take some getting used to - with a shorter length 5 iron and a longer length wedge.

The big sell for single length irons is their consistency, and here's a pretty cool phrase that I saw that sums it up:
"Beware of the man who only owns one gun - he knows how to use it"

With single length irons, they all have the same length - usually between your 6 or 7 iron, the same lie angle, again usually between a 6 and 7 iron, and the same swingweight because the heads all weigh the same. One exception - Cobra tweaked the head weight in their players club model to obtain consistent gapping.

The companies that have tweaked this standard are Sterling Irons - Tom Wishon's brand - they utilize a standard 8 iron length for their irons, and Cobra in their players club model.

They all have one club length with different lofts.

I think a lot of players believe that single length irons play significantly shorter in distance than their conventional counterparts for the longer irons because of shorter shaft length, but that's not supported by fact.

Fractional increases in radial arm length of shafts will not produce any measurable increase in swing speed or distance. In fact, the thing that incremental increases in club length often produces is a progressive lack of control and poor ball striking.

The major reason for the difference in distance of your irons is their loft, not their length. And besides, even though the longer irons are swung along a larger circle, giving more time to build up speed, they are more difficult to accelerate (because they are longer).

You might think that it would be the same to just shorten your own clubs to one length, but that wouldn't be practical.

A set of conventional golf clubs cannot be adjusted to be operational single length clubs, because the club-heads can't be modified to meet the specifications required. When golf clubs are shafted, the shafts are tip-trimmed in progressive 1/2 inch length increments from the #3 iron through the wedges. For instance, the #3 iron may have a 1 inch tip-trim and the #9 iron a 4 inch tip-trim. Consequently, all of the shafts have different flexes. You would have to have all of your clubs re-shafted using the same tip-trim for all clubs. In addition, you would need to have the lie angles of all the club-heads adjusted to correspond to the single club length. Also, conventional club-heads are progressively weighted in 7 gram increments from the #3 iron through the wedges so that each golf club (even though shafted the same) would have a completely different moment of inertia and swing-weight, not to mention that the offset and bounce angle of each iron would be different.

As a teacher, the simplicity of using just one swing plane, one ball position, and one set-up at address for every shot appeals to my concept of teaching a swing that is simple and as consistent as possible. Theoretically, a player should be able to achieve more swing tempo consistency, more swing motion repeatability, a higher ball striking percentage, less variation in swing path, and more overall consistency with single length irons.

As a player, having a consistent swing plane for all of my irons appeals to me the most, everything else follows.

For senior players who experience back issues when they swing their conventional shorter clubs, single length irons may be the ticket.

My conclusion on these irons are that they would take some getting used to, but from a technical viewpoint they make sense. Will they catch on? Who knows. "Face On" putting makes the most sense technically and geometrically for putting, but it's not present on the tour to any great degree.

If Bryson DeChambeau has success on tour, I think you'll see more pro's giving both single length irons and face on putting a shot.

I think both concepts have enough merit for me to give them both more practice time over the winter to see if I want to put those clubs and that putting style in play next year.

If anyone wants to take an iron swing lesson from me and use my single length irons for the lesson, call me and we'll set it up.

Here are the most prominent companies that manufacture single length irons if you want to check out their specifications and pricing:

1IronGolf.com

Sterlingirons.com

Cobra Golf Cobra has two models, one game improvement KING F7 ONE LENGTH and one players iron KING Forged ONE Length

Valuegolf.com - for Pinhawk heads

Thanks again for your question Robert.

Comments: ttucker@rochester.rr.com

Love your practice, own your swing, own your health,

Tom



---


Tour Greens: Tour Quality Synthetic Greens For Superb Short Game Practice

Do you want one of these in your own back yard?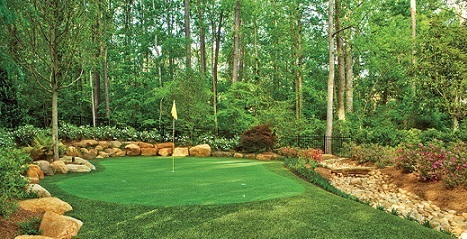 If you would like a free, no obligation quote for getting a beautiful practice area or putting green installed on your property - indoors or outdoors - give me (Tom Tucker) a call at (716) 474-3005, or email at at ttucker@rochester.rr.com

For more information please click here: TourGreensWNY.com

Comments: ttucker@rochester.rr.com

Love your practice, own your swing, own your health,

Tom



---


Tom's Bonus Tip: How To Hit It Closer To Your Target

For simplicity, all advice on actual swings or drills is provided from a right handed perspective.

Here's how to hit it closer to your target - try to.

This isn't a joke. Concentrate on trying to hit your approach shots closer to the hole or into the hole absolutely will result in lower scores.

Concentrate on trying to get it close or holing it.

Try it, you'll like it.

Comments: ttucker@rochester.rr.com

Love your practice, own your swing, own your health,

Tom



---



Golf Lessons

I conduct lessons at The Plum Creek Driving Range & Practice Facility
there's a link for Plum Creek info here: http://www.tomtuckergolf.com/

Lessons are available for all ages and skill levels, please contact
me - Tom Tucker - at (716) 474 3005 or email me at ttucker@rochester.rr.com
for more information.

Outdoor Lessons Details and Rates:
http://www.tomtuckergolf.com/lessonrates.html

Indoor Lessons Details and Rates:
http://www.tomtuckergolf.com/indoor.html

Driver Fitting Rates:
http://www.tomtuckergolf.com/indoor.html

Testimonials:
http://www.tomtuckergolf.com/testimonials.html


Sponsors

Plum Creek Driving Range and Simulator Outdoor range and play indoor golf on any of our 40 Simulator Courses. Call 585-993-0930 or email Mark at plumcreek4@rochester.rr.com to reserve time for simulator play or practice!

Batavia Country Club (585) 343-7600 www.bataviacc.com
Great rates, the best greens in WNY. Golf Digest Four Star rating for public courses to play in New York State. Tee times online or by phone in season.
Free Carts for the rest of the 2016 season for pre-paid 2017 season pass holders.
Beginning September 19th - 18 holes riding Mon - Fri $19
Sat - Sun $25 before 11 am, $20 after 11 am

Tour Greens Western New York Practice with purpose in your own back yard on your own synthetic practice green. Our greens LOVE Western New York weather!

Genesee Community College Golf Management Program Click on link for more information if you or anyone you know is interested in a dynamic career in the golf industry, or in teaching golf.

All the best,

Tom Tucker
Teaching Pro, Plum Creek Driving Range & Practice Facility
WGTF ' "Top 100 Golf Teacher"
USGTF Class "A" Teaching Professional
IGPA Certified Golf Psychology Coach
Cell: (716) 474-3005
Email: ttucker@rochester.rr.com
http://www.TomTuckerGolf.com

"There are no substitutes in the quest for perfection!"
~ Ben Hogan