Prepare to play your best golf by doing something now!



Tom's Featured Tip: Bobby Grace Putter Face Insert Technology Breakthrough
Tour Greens: Tour Quality Synthetic Greens
Tom's Bonus Tip: Putting Practice Game
Lesson Comments: What Students Have To Say
Sponsors: Plum Creek Driving Range
Batavia Country Club
Tour Greens Western New York
Genesee Community College Golf Management Program


Click here: INDOOR GOLF LESSONS for details on how to improve your game over the winter.

Plum Creek Driving Range, Batavia, NY, Open All Year
Simulator Course Play Specials: BataviaGolf.com Call 585-993-0930 or Email Mark to reserve simulator time!

Buy Gift Certificates for Lessons Sample Gift Certificate

Golf lessons - Outdoor and Indoor - are available at Plum Creek, please call me at 716 474 3005, email me at ttucker@rochester.rr.com, or visit my website at http://www.tomtuckergolf.com/lessonrates.html for details.

Subscribe - http://www.tomtuckergolf.com/signup.html If you like this newsletter, please do me a favor and forward it to your friends so that they may subscribe, thanks!

The Unsubscribe link is at the bottom of this newsletter.



---


Tom's Featured Tip: Bobby Grace Putter Face Insert Technology Breakthrough

For simplicity, all advice on actual swings or drills is provided from a right handed perspective.

I've been practicing a face-on / side saddle - putting technique over the winter, and I've been kicking around ideas about technique and equipment with a few players that I know stay on top of changing technology.

My research and discussions took me to the Bobby Grace Putters website after a friend told me about a "Let's Face It" face-on putter he recently purchased there.

My normal process for recommending equipment usually involves research, then contacting the vendor and acquiring the item, testing it out, then reviewing it and endorsing it in this newsletter.

For this technology breakthrough, I skipped my normal process in order to let you know ASAP about an insert that should absolutely help you hole more putts off mishits.

It's pretty widely known that a mishit towards the toe or the heel will produce a strike with less rollout than a strike on the sweet spot of the face.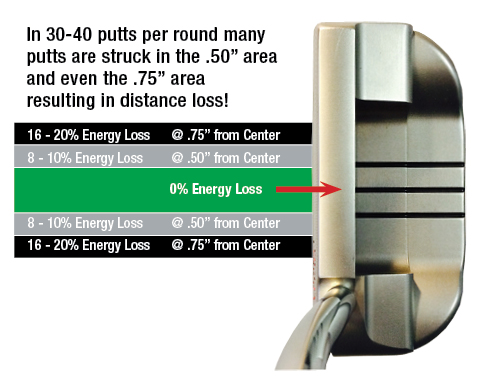 While there's no substitute for developing a good putting stroke to give yourself the best chance for a square strike on the sweet spot of the putter face, once in awhile everyone misses towards either the toe or the heel of the face. A mishit on a putt of significant length will likely result in a miss, maybe even a three putt.

Bobby Grace did something about that problem.

He developed a putter face insert - the HSM2 - that provides more rebound from the toe or heel of the insert than the amount of rebound from a pure center face sweet spot strike.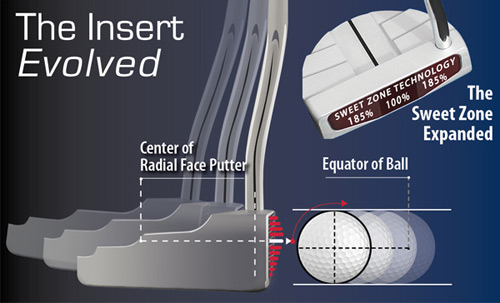 I say that's ingenius.

Here's a link to a video clip showing a controlled test that proves that the mishits off the toe of a Bobby Grace putter equipped with his HSM2 insert roll out the same distance as a sweet spot hit. He compares it with a quality Rife putter, and the results will amaze you.

Controlled Insert Test

Pretty cool.

Now this won't help you make a putt if your putter face is open or closed to your aimline, but if your face is square to your aimline and you mishit the putt it absolutely will help you hole some of those putts that otherwise had no chance.

Check out the Bobby Grace website for more information:
Bobby Grace Putters

Comments: ttucker@rochester.rr.com

Love your practice, own your swing, own your health,

Tom



---


Tour Greens: Tour Quality Synthetic Greens For Superb Short Game Practice

Do you want one of these in your own back yard?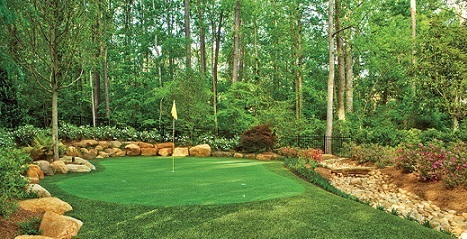 If you would like a free, no obligation quote for getting a beautiful practice area or putting green installed on your property - indoors or outdoors - give me (Tom Tucker) a call at (716) 474-3005, or email at at ttucker@rochester.rr.com

For more information please click here: TourGreensWNY.com

Comments: ttucker@rochester.rr.com

Love your practice, own your swing, own your health,

Tom



---


Tom's Bonus Tip: Putting Practice Game

In last week's newsletter, I addressed some questions from Eric B., a student who wanted advice on setting up a practice plan for his short game.

I answered his questions, and he responded with his plan and a game he developed for use with his practice sessions. I had included a link to all of my SquareStrike™ Training Aid videos in a private response to him, and I'll be promoting that product more in this newsletter after I get my online payment link set up. I appreciate your patience.

If you are the type of person who likes a little self competition for developing improvement, his plan might work for you. I totally expect it to work for him.

Hey Tom, I've decided that my short game plan is going to be this:

Work through all the drills with your SquareStrike™ Training Aid (24 balls) of each drill at least 3x a week at home.

Then on the practice green concentrate on lag putting (implementing your stock stroke technique) and chipping.

I'm going to do that by making a game of my it where I can have some fun, NOT block practice, and keep a score that will let me track my improvement.

Here's my game.

Let's say I'm lag putting (can also easily be used for chipping). Use 18 balls (for 18 holes). Use 3 different holes (different distances) on the green.

Lag 6 putts to each of the 3 holes (never lag to the same hole twice in row)
If my putt goes in I get 4 pts.
If it misses, but within a 2 foot radius even or PAST the hole, I get 2 pts.
If it misses, but within 2 ft radius short of the hole I get 1 pt.
It it misses but within a 5 ft radius short or long, 0 pts
Any miss outside of 5 ft, minus 1 point pts.
Then I total up my score and have something to shoot for or improve upon!

Thanks for sharing the game Eric, I think it's a great idea for individual or group practice.

Comments: ttucker@rochester.rr.com

Love your practice, own your swing, own your health,

Tom



---



Golf Lessons

I conduct lessons at The Plum Creek Driving Range & Practice Facility
there's a link for Plum Creek info here: http://www.tomtuckergolf.com/

Lessons are available for all ages and skill levels, please contact
me - Tom Tucker - at (716) 474 3005 or email me at ttucker@rochester.rr.com
for more information.

Outdoor Lessons Details and Rates:
http://www.tomtuckergolf.com/lessonrates.html

Indoor Lessons Details and Rates:
http://www.tomtuckergolf.com/indoor.html

Driver Fitting Rates:
http://www.tomtuckergolf.com/indoor.html

Testimonials:
http://www.tomtuckergolf.com/testimonials.html


Sponsors

Plum Creek Driving Range and Simulator Outdoor range and play indoor golf on any of our 40 Simulator Courses. Call 585-993-0930 or email Mark at plumcreek4@rochester.rr.com to reserve time for simulator play or practice!

Batavia Country Club (585) 343-7600 www.bataviacc.com
Great rates, the best greens in WNY. Golf Digest Four Star rating for public courses to play in New York State. Tee times online or by phone in season.

BCC will be OPEN with carts for play Wednesday Februray 22nd and Thursday February 23rd, and possibly beyond - weather permitting. Not taking tee times, open play after 8:30 AM

Tour Greens Western New York Practice with purpose in your own back yard on your own synthetic practice green. Our greens LOVE Western New York weather!

Genesee Community College Golf Management Program Click on link for more information if you or anyone you know is interested in a dynamic career in the golf industry, or in teaching golf.

All the best,

Tom Tucker
Teaching Pro, Plum Creek Driving Range & Practice Facility
WGTF ' "Top 100 Golf Teacher"
USGTF Class "A" Teaching Professional
IGPA Certified Golf Psychology Coach
Cell: (716) 474-3005
Email: ttucker@rochester.rr.com
http://www.TomTuckerGolf.com

"There are no substitutes in the quest for perfection!"
~ Ben Hogan