Prepare to play your best golf by doing something now!



Tom's Featured Tip: Tight Hip Flexor Cure
Tour Greens: Tour Quality Synthetic Greens
Tom's Bonus Tip: Unconditional Self Confidence
Lesson Comments: What Students Have To Say
Sponsors: Plum Creek Driving Range
Batavia Country Club
Tour Greens Western New York
Genesee Community College Golf Management Program


Click here: INDOOR GOLF LESSONS for details on how to improve your game over the winter.

Plum Creek Driving Range, Batavia, NY, Open All Year
Simulator Course Play Specials: BataviaGolf.com Call 585-993-0930 or Email Mark to reserve simulator time!

Buy Gift Certificates for Lessons Sample Gift Certificate

Golf lessons - Outdoor and Indoor - are available at Plum Creek, please call me at 716 474 3005, email me at ttucker@rochester.rr.com, or visit my website at http://www.tomtuckergolf.com/lessonrates.html for details.

Subscribe - http://www.tomtuckergolf.com/signup.html If you like this newsletter, please do me a favor and forward it to your friends so that they may subscribe, thanks!

The Unsubscribe link is at the bottom of this newsletter.



---


Tom's Featured Tip: Tight Hip Flexor Cure

I was going to call this tip "Foam Roller Bargain" you'll see why when you read on.

Pardon the departure from my normal golf specific tip, but I thought many reading this might benefit, enjoy!

Over the course of this winter I spent a lot of time at my desk being relatively sedentary, and I developed a tightness in my left hip flexor muscle. I also believe that I pulled it when I was doing an aggressive lunge exercise a couple months ago.

I had seen an article on foam rolling the sartorious muscle - click on the image to get to the article and video:



I talked it over with my daughter Colleen, who is a Physical Therapy Assistant at the V.A. and asked her what her opinion was of foam rollers for rehabbing injuries like mine. She agreed that it might be a good idea, so she gave me a few other exercises and I was off to buy a foam roller.

The first place I went was a major sporting goods store, and the foam roller I wanted was around $70.

Then something very unusual for me happened - I didn't buy it :-).

It looked like a lot for such a simple device, so I left the store thinking that I'd make my own out of some PVC and foam. I called my daughter again, and she mentioned that a patient of hers found one at the $5 and Under Store, which was about 100 yards from where I was parked.

Sure enough, they had one that cost $5! Not as fancy as the $70 one, but it was the right size and it totally gets the job done.

I've only been using it for a few days, but I've noticed more range in my left hip area already.

If you have a sedentary lifestyle and want to maintain some flexibility in your hip area for your golf swing, try the exercise above - and the $5 foam roller - I think you'll like it.

Comments: ttucker@rochester.rr.com

Love your practice, own your swing, own your health,

Tom



---


Tour Greens: Tour Quality Synthetic Greens For Superb Short Game Practice

Do you want one of these in your own back yard?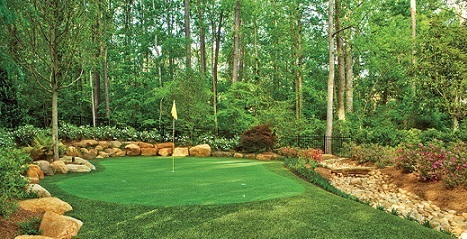 If you would like a free, no obligation quote for getting a beautiful practice area or putting green installed on your property - indoors or outdoors - give me (Tom Tucker) a call at (716) 474-3005, or email at at ttucker@rochester.rr.com

For more information please click here: TourGreensWNY.com

Comments: ttucker@rochester.rr.com

Love your practice, own your swing, own your health,

Tom



---


Tom's Bonus Tip: Unconditional Self Confidence

Take the time to appreciate a good shot as it flies to the target and settles down just like you imagined it would in your mind. This will imprint a positive image in your mind and build confidence.

Then, after your round, instead of thinking about your poor shots and bad breaks, spend a few minutes reflecting on your good decisions and good shots.

These simple actions help you build unconditional self confidence, and when you have that everything improves!

Try it, you'll like it!

Comments: ttucker@rochester.rr.com

Love your practice, own your swing, own your health,

Tom



---



Golf Lessons

I conduct lessons at The Plum Creek Driving Range & Practice Facility
there's a link for Plum Creek info here: http://www.tomtuckergolf.com/

Lessons are available for all ages and skill levels, please contact
me - Tom Tucker - at (716) 474 3005 or email me at ttucker@rochester.rr.com
for more information.

Outdoor Lessons Details and Rates:
http://www.tomtuckergolf.com/lessonrates.html

Indoor Lessons Details and Rates:
http://www.tomtuckergolf.com/indoor.html

Driver Fitting Rates:
http://www.tomtuckergolf.com/indoor.html

Testimonials:
http://www.tomtuckergolf.com/testimonials.html


Sponsors

Plum Creek Driving Range and Simulator Outdoor range and play indoor golf on any of our 40 Simulator Courses. Call 585-993-0930 or email Mark at plumcreek4@rochester.rr.com to reserve time for simulator play or practice!

Batavia Country Club (585) 343-7600 www.bataviacc.com
Great rates, the best greens in WNY. Golf Digest Four Star rating for public courses to play in New York State. Tee times online or by phone in season.

Tour Greens Western New York Practice with purpose in your own back yard on your own synthetic practice green. Our greens LOVE Western New York weather!

Chestnut Hill Country Club (585)-547-3613 www.chestnuthillgolf.com
THE WORLD WIDE LEADER IN GOLF OUTINGS!
Only minutes from Buffalo, open to the public. Tee times online or by phone in season.

All the best,

Tom Tucker
Teaching Pro, Plum Creek Driving Range & Practice Facility
WGTF ' "Top 100 Golf Teacher"
USGTF Class "A" Teaching Professional
IGPA Certified Golf Psychology Coach
Cell: (716) 474-3005
Email: ttucker@rochester.rr.com
http://www.TomTuckerGolf.com

"There are no substitutes in the quest for perfection!"
~ Ben Hogan