Prepare to play your best golf by doing something now!



Tom's Featured Tip: Five Thoughts For Improvement
Tour Greens: Tour Quality Synthetic Greens
Tom's Bonus Tip: Trajectory and Compression
Lesson Comments: What Students Have To Say
Sponsors: Plum Creek Driving Range
Batavia Country Club
Tour Greens Western New York
Chestnut Hill Country Club


Click here: INDOOR GOLF LESSONS for details on how to improve your game over the winter.

Plum Creek Driving Range, Batavia, NY, Open All Year
Simulator Course Play Specials: BataviaGolf.com Call 585-993-0930 or Email Mark to reserve simulator time!

Buy Gift Certificates for Lessons Sample Gift Certificate

Golf lessons - Outdoor and Indoor - are available at Plum Creek, please call me at 716 474 3005, email me at ttucker@rochester.rr.com, or visit my website at http://www.tomtuckergolf.com/lessonrates.html for details.

Subscribe - http://www.tomtuckergolf.com/signup.html If you like this newsletter, please do me a favor and forward it to your friends so that they may subscribe, thanks!

The Unsubscribe link is at the bottom of this newsletter.



---


Tom's Featured Tip: Five Thoughts For Improvement

Instead of jumping from tip to tip with each issue of Golf Digest (I do like the publication), here are five specific areas that you can address now for long term improvement in your game.
Get Good Information

I recently had a blockage in my basement sewer line. I bought some equipment and tried unsuccessfully to fix it myself, then I called a plumber. He had the knowledge and the right tools to handle the problem. Thatís what you do when you don't have enough knowledge about a problem, you call an expert.

Thatís why I'm always shocked when I hear a high handicapper giving a medium handicapper swing advice about some tip that he saw somewhere, and the medium handicapper is eating it up.

The fact is that golf requires a diverse group of skills including putting, chipping, pitching, an iron game, driving and course management. You can learn all of it by reading good instructional books and watching quality DVD's on the subjects, but working with a competent instructor will save you time and money in the long run.

When you get good information, you'll be motivated to apply it with a purpose. That translates to improvement.


Develop a Good Work Ethic

Getting better requires a time investment in terms of study, lessons, and practice. Simply taking lessons won't cut it. Thereís a significant time investment involved in building a correct movement pattern, and if you are sincere about improvement there are no shortcuts.

If you make a commitment to focused practice, you can get better.

Make your practice hard, hit off of poor lies, work on curvature and trajectory variations. If you don't challenge yourself, you won't learn anything.

Plan the work and work the plan.


Manage Your Time Well

To learn a new skill, you must first engage in isolating one specific motion or skill and working on only that with repeated repetitions over an extended duration. This is called Blocked Practice

As our body and brain learns the skill, we take the skills to the course and play the game. In a sense, that's like Random Practice because each consecutive shot will normally require a different club.

There are no secrets, no miracle tips or cures, no miracle clubs. It's a process and it's work.

Most of us have a life outside of golf, so we need to be creative and find moments to practice during the course of our day. I used to ask students to get in a certain amount of reps of a drill or motion between lessons. To some that thought was a little overwhelming, so now I ask then to do something specific for five minutes.

Doing something for five minutes is more underwhelming than overwhelming so it gets done.

Don't wait for the stars to align correctly so that you can get in a one hour practice session. It's great when that happens, but in the meantime find five minutes daily to practice some focused motion or movement pattern that you need to work on. The improvement you see will amaze you.


Set Realistic Goals

Start with a goal that you can realistically expect to accomplish, like hitting the fairway 50% of the time, or not three putting more than twice per round. Then when you accomplish those goals raise the bar. Lowering your handicap by two strokes over the course of a season may be realistic, lowering it by ten strokes is a pipe dream.

Too many players set their goals based on their best shots, when they should be doing just the opposite.

Get Real and you'll Get Better. You'll also enjoy the process more.


Play Real Golf

Golf is shooting the lowest score possible over 18 holes.

The reality is most of us don't take lessons and don't practice enough. And when we do get to the course, we may take liberties with the rules as a result - such playing preferred lies when the conditions don't warrant it, not hitting a provisional ball when there's a good chance that we hit it out of bounds and intend to drop where it went out instead of re-hitting from where you originally hit it from.

That really does nothing but delude yourself into thinking you're better than you are. You won't improve by doing that, so once again - Get Real to Get Better.
If you are really serious about improving your game, try these suggestions and eventually your score will reflect your efforts!

Enjoy.

Comments: ttucker@rochester.rr.com

Love your practice, own your swing, own your health,

Tom



---


Tour Greens: Tour Quality Synthetic Greens For Superb Short Game Practice

Click on the image below for a video demonstration of how well golf shots hold on our Tour Greens synthetic putting greens.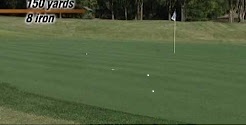 Wouldn't you love one of these in your own back yard?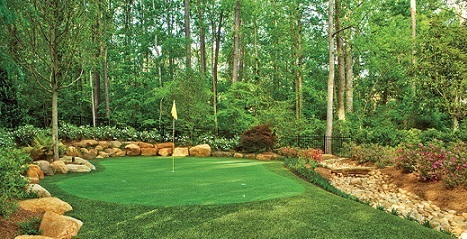 If you would like a free, no obligation quote for getting a beautiful practice area or putting green installed on your property - indoors or outdoors - give me (Tom Tucker) a call at (716) 474-3005, or email at at ttucker@rochester.rr.com

For more information please click here: TourGreensWNY.com

Comments: ttucker@rochester.rr.com

Love your practice, own your swing, own your health,

Tom



---


Tom's Bonus Tip: Trajectory and Compression

I talk frequently with a professional golfer that I coach, Chris Carroll, from Buffalo.

The other day the topic of the trajectory of the shots of most good players compared to most amateurs came up.

Unless unusual circumstances dictate differently, the best players hit their long irons with a high boring trajectory, and their short irons with a low boring low trajectory.

Boring shots get through the wind well and land with sufficient backspin to have predictable rollout, or perhaps to hit and draw back in the case of short irons.

Most amateurs hit their long irons too low and their short irons too high with less than optimal compression.

If that's you, work on ball position and ball striking, and perhaps check to make sure that you are playing the correct flex in your irons.

Hitting the ball with a "soft" trajectory is a major cause of poor iron play. Increase your compression at impact and and you will reap the rewards.

Comments: ttucker@rochester.rr.com

Love your practice, own your swing, own your health,

Tom



---



Golf Lessons

I conduct lessons at The Plum Creek Driving Range & Practice Facility
there's a link for Plum Creek info here: http://www.tomtuckergolf.com/

Lessons are available for all ages and skill levels, please contact
me - Tom Tucker - at (716) 474 3005 or email me at ttucker@rochester.rr.com
for more information.

Outdoor Lessons Details and Rates:
http://www.tomtuckergolf.com/lessonrates.html

Indoor Lessons Details and Rates:
http://www.tomtuckergolf.com/indoor.html

Driver Fitting Rates:
http://www.tomtuckergolf.com/indoor.html

Testimonials:
http://www.tomtuckergolf.com/testimonials.html


Sponsors

Plum Creek Driving Range and Simulator Outdoor range and play indoor golf on any of our 40 Simulator Courses. Call 585-993-0930 or email Mark at plumcreek4@rochester.rr.com to reserve time for simulator play or practice!

Batavia Country Club (585) 343-7600 www.bataviacc.com
Great rates, the best greens in WNY. Golf Digest Four Star rating for public courses to play in New York State. Tee times online or by phone in season.
Ping Demo Day Saturday, May 27th 11am - 2pm, first come first served.

Tour Greens Western New York Practice with purpose in your own back yard on your own synthetic practice green. Our greens LOVE Western New York weather!

Chestnut Hill Country Club (585)-547-3613 www.chestnuthillgolf.com
THE WESTERN NEW YORK LEADER IN GOLF OUTINGS!
Only minutes from Buffalo, open to the public. Tee times online or by phone in season.

All the best,

Tom Tucker
Teaching Pro, Plum Creek Driving Range & Practice Facility
WGTF ' "Top 100 Golf Teacher"
USGTF Class "A" Teaching Professional
IGPA Certified Golf Psychology Coach
Cell: (716) 474-3005
Email: ttucker@rochester.rr.com
http://www.TomTuckerGolf.com

"There are no substitutes in the quest for perfection!"
~ Ben Hogan