Prepare to play your best golf by doing something now!



Junior Golf Camp Add Yards To Your Drive
Tom's Featured Tip: Chipping and Pitching Tip
Tour Greens: Tour Quality Synthetic Greens
Tom's Bonus Tip: Practice Important Shots
Lesson Comments: What Students Have To Say
Sponsors: Plum Creek Driving Range
Batavia Country Club
Tour Greens Western New York
Chestnut Hill Country Club


Click here: INDOOR GOLF LESSONS for details on how to improve your game over the winter.

Plum Creek Driving Range, Batavia, NY, Open All Year
Simulator Course Play Specials: BataviaGolf.com Call 585-993-0930 or Email Mark to reserve simulator time!

Buy Gift Certificates for Lessons Sample Gift Certificate

Golf lessons - Outdoor and Indoor - are available at Plum Creek, please call me at 716 474 3005, email me at ttucker@rochester.rr.com, or visit my website at http://www.tomtuckergolf.com/lessonrates.html for details.

Subscribe - http://www.tomtuckergolf.com/signup.html If you like this newsletter, please do me a favor and forward it to your friends so that they may subscribe, thanks!

The Unsubscribe link is at the bottom of this newsletter.



---


Junior Golf Camp Junior Golf Camp at BCC

This year I'll be conducting several weeks of Junior Golf Camp for boys and girls at the Batavia Country Club. I will be assisted by Roxanne Noeth, who has won the BCC Ladies Club Championship several times.

At the camp, junior golfers will learn the basic skills of golf, as well as golf etiquette and self discipline. There will be daily games and prizes, and all the kids have had a blast at past camps. Availability is limited to 20 kids per week, it's on a first come first served basis.

This years camp will run for five days, Monday through Friday.

Junior Golf Camp hours are as follows:
Monday - Thursday 8:30am - 11 am. Monday through Thursday will include instruction, play, and contests.
Friday - Tournament starts at 6:45 am sharp and usually takes about an hour and a half. Each player needs a caddy age 16 or over, and a brief awards presentation follows the tournament.

There will be a ten minute break half way through each session, players should bring their own beverages and snacks.

Dates and Age Groupings are as follows:

July 10 - 14 - Ages 7 - 9
July 17 - 21 - Ages 10 - 15
July 24 - 28 - Ages 10 - 15

The cost for an individual junior golfer is $99 for the week. If two siblings attend during the same week, the cost drops to $89 per junior golfer.

Players will need to bring their own equipment.

For more information or to register, please contact the Batavia Country Club (585) 343-7600 ext 10. Payment is required to reserve your spot.



---


Tom's Featured Tip: Add Yards To Your Drive

For simplicity, all advice on actual swings or drills is provided from a right handed perspective.

This tip is about adding distance to your drive, but it's not about technique - it's about something else.

In golf, virtually every golfer that I've ever met has their dominant arm trailing and their weak arm leading their swing. If you are right handed, this means that your right arm - your trailing arm - is your dominant arm, and your non-dominant arm - your left arm - leads the swing.

Here's why this is important.

I recently came across a study in the Journal of Sport and Health Science about a group that wanted to determine if core exercises along with lead arm strengthening exercises would help golfers to hit the ball further. Here was the background from the research paper:

Various training schemes have sought to improve golf-related athletic ability. In the golf swing motion, the muscle strengths of the core and arms play important roles, where a difference typically exists in the power of arm muscles between the dominant and non-dominant sides. The purposes of this study were to determine the effects of exercises strengthening the core and non-dominant arm muscles of elite golf players (handicap < 3) on the increase in drive distance, and to present a corresponding training scheme aimed at improving golf performance ability.

They got a group of golfers to workout six days a week for eight weeks. On three of those days the golfers did core exercises. These were:
Crunch
Reverse Crunch
Trunk Twist
Good Morning Dumbbell side bend




Then on the other 3 days the golfers were given strength exercises to do just with their non-dominant arm. The exercises were:
Dumbbell curl
Wrist curl
Reverse wrist curl
Triceps extensions
Dumbbell press
Side lateral raise
It didn't say in the research paper in what daily order they did these exercises but it was probably alternating days for alternating exercises, like: M-W-F - core exercises, T-Th-Sat - non-dominant arm exercises.

At the end of the eight weeks of the program the golfers that completed it were tested for the distance they hit their drives as well as for isokinetic strength gains, and it was found that as a group, golfers that completed this program gained 24 yards in distance.

That's significant folks! What's also significant was the fact that the golfer participants had never trained with resistance training for golf before.

Here's my takeaway from the study, and again you can read the whole study here and download a pdf. - Journal of Sport and Health Science. If you have never done any progressive resistance training for golf, this workout routine should yield very positive results for you. If you have lifted before, add these exercises for your non-dominant arm and I believe that you'll see positive results, but not as dramatic as for those that have never lifted before.

In either case, this would definitely be worth the time and energy spent if you are serious about improving your driving distance, as well as your distance with other clubs.

If you try it, I'm sure you'll like it.

Comments: ttucker@rochester.rr.com

Love your practice, own your swing, own your health,

Tom



---


Tour Greens: Tour Quality Synthetic Greens For Superb Short Game Practice

Our customers love their practice greens, here's what they have to say: Testimonials

Click on the image below for a video demonstration of how well golf shots hold on our Tour Greens synthetic putting greens.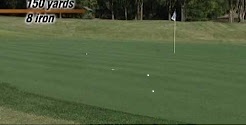 Wouldn't you love one of these in your own back yard?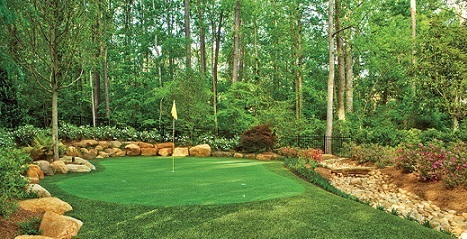 If you would like a free, no obligation quote for getting a beautiful practice area or putting green installed on your property - indoors or outdoors - give me (Tom Tucker) a call at (716) 474-3005, or email at at ttucker@rochester.rr.com

For more information please click here: TourGreensWNY.com

Comments: ttucker@rochester.rr.com

Love your practice, own your swing, own your health,

Tom



---


Tom's Bonus Tip: Chipping and Pitching Tip

For simplicity, all advice on actual swings or drills is provided from a right handed perspective.

When you position the club behind the ball for a chip or a pitch shot, position the ball towards the toe side of the face rather than in the center or towards the heel side of the face.

Try it, you'll like the results.

Comments: ttucker@rochester.rr.com

Love your practice, own your swing, own your health,

Tom



---



Golf Lessons

I conduct lessons at The Plum Creek Driving Range & Practice Facility
there's a link for Plum Creek info here: http://www.tomtuckergolf.com/

Lessons are available for all ages and skill levels, please contact
me - Tom Tucker - at (716) 474 3005 or email me at ttucker@rochester.rr.com
for more information.

Outdoor Lessons Details and Rates:
http://www.tomtuckergolf.com/lessonrates.html

Indoor Lessons Details and Rates:
http://www.tomtuckergolf.com/indoor.html

Driver Fitting Rates:
http://www.tomtuckergolf.com/indoor.html

Testimonials:
http://www.tomtuckergolf.com/testimonials.html


Sponsors

Plum Creek Driving Range and Simulator Outdoor range and play indoor golf on any of our 40 Simulator Courses. Call 585-993-0930 or email Mark at plumcreek4@rochester.rr.com to reserve time for simulator play or practice!

Batavia Country Club (585) 343-7600 www.bataviacc.com
Great rates, the best greens in WNY. Golf Digest Four Star rating for public courses to play in New York State. Tee times online or by phone in season.
BCC RED HOT SPECIALS
Seniors 58 and older, weekdays or weekends after 1pm, $100 for a Foursome, includes cart AND lunch, must have four players!
Prepaid Golf Discounts available in shop or over the phone when secured by a credit card - up to 50% savings!
Call (585) 343-7600 or visit our website for details.

Tour Greens Western New York Practice with purpose in your own back yard on your own synthetic practice green. Our greens LOVE Western New York weather!

Chestnut Hill Country Club (585)-547-3613 www.chestnuthillgolf.com
THE WESTERN NEW YORK LEADER IN GOLF OUTINGS!
Only minutes from Buffalo, open to the public. Tee times online or by phone in season.

All the best,

Tom Tucker
Teaching Pro, Plum Creek Driving Range & Practice Facility
WGTF ' "Top 100 Golf Teacher"
USGTF Class "A" Teaching Professional
IGPA Certified Golf Psychology Coach
Cell: (716) 474-3005
Email: ttucker@rochester.rr.com
http://www.TomTuckerGolf.com

"There are no substitutes in the quest for perfection!"
~ Ben Hogan