Prepare to play your best golf by doing something now!



Tom's Featured Tip: Putting - Fault & Fix For Deceleration
Tour Greens: Tour Quality Synthetic Greens
Tom's Bonus Tip: Take Your Medicine
Lesson Comments: What Students Have To Say
Sponsors: Plum Creek Driving Range
Batavia Country Club
Pre-Pay For 2018 membership now, and the rest of 2017 is included!
Tour Greens Western New York
Chestnut Hill Country Club


Click here: INDOOR GOLF LESSONS for details on how to improve your game over the winter.

Plum Creek Driving Range, Batavia, NY, Open All Year
Simulator Course Play Specials: BataviaGolf.com Call 585-993-0930 or Email Mark to reserve simulator time!

Buy Gift Certificates for Lessons Sample Gift Certificate

Golf lessons - Outdoor and Indoor - are available at Plum Creek, please call me at 716 474 3005, email me at ttucker@rochester.rr.com, or visit my website at http://www.tomtuckergolf.com/lessonrates.html for details.

Subscribe - http://www.tomtuckergolf.com/signup.html If you like this newsletter, please do me a favor and forward it to your friends so that they may subscribe, thanks!

The Unsubscribe link is at the bottom of this newsletter.



---


Tom's Featured Tip: Putting - Fault & Fix For Deceleration

For simplicity, all advice on actual swings or drills is provided from a right handed perspective.

Last issue I gave you a formula for success at putting that corrected the two most common putting mistakes: head movement and lower body movement.

Today I wanted to bring attention to what I consider to be the most deadly putting stroke error: deceleration (sometimes called deacceleration).

Deceleration occurs when you start slowing down the forward stroke motion of your putting stroke before impact.

Sometimes it's a gradual deceleration, sometimes it's abrupt.

The least frequently seen occurrence is abrupt deceleration.

That's caused by having a hit impulse in your swing, which is executing a swing at the ball with the thought of "hitting it" rather than swinging through the ball. Like the next reason below, it usually applies to every swing that you make at the ball with any club. You can get away with it if your timing is perfect - it's how Brandt Snedeker putts and he's pretty good at it. I wouldn't recommend or teach that stroke because I believe it's less reliable than a swinging through putting stroke. Snedeker is also able to flip the switch to making a great golf swing when it's time to hit another club, and most average golfers don't have that ability.

The most frequently seen type of deceleration in the average player is gradual deceleration. The cause is most often the mindset that was discussed last issue as a full swing fault - trying to steer or guide the putterhead into the ball instead of executing a free flowing putting stroke swing. Usually the mindset of steering encompasses both the full swing and the shorter strokes like putting and chipping. Regardless of where it occurs, it's a deadly score killer.

The third cause can be too long of a backswing. When that happens, your brain will automatically slow down your forward swing so that you don't putt the ball too far.

Some players that have a nice swinging putting stroke on medium to long putts decelerate on shorter putts, and if anyone reading this knows of anything more frustrating than leaving a short putt hanging on the lip of the cup, please let me know.

The best fix that I've found for my students that are "serial decelerators" is a three step process:
I help them develop a putting stroke that has a shorter backswing and a longer follow through. I have them stroke putts and restrict their backswing with a block of wood defining the length of their backswing. Then we monitor that the follow through ends up further away from the ball than the backswing length by placing a ball marker alongside the follow through path, next to their line, that indicates where the stroke should end.

I have the student practice that stroke for 100 straight repetitions or until I feel that they are adapting well enough to the change, reciting this stroke mantra out loud in synch with their stroke: "short back - long through".


The second part of the three step process is to set the student up in the center of a putting green where they can putt to various length holes from the same starting point. Then and I have them stroke putts to a different length hole with each putt, reciting the stroke mantra "short back - long through" out loud as they execute their putts to reinforce what they are trying to accomplish.


The third part of the three step process is to set up a putting channel with 2"x4"s for a three foot putt.



Then I have the student stroke 25 continuous short putts in row, continuing to say "short back - long through" as they stroke the putts. They usually make all or nearly all of the putts. I stand next to the putting channel and keep placing the balls so that the student can get into a good groove. As long as I set the putting channel on line, they are able to sink the putts easily and it's a great confidence builder for the stroke length aspect as well as for feeling the variety of speeds that the ball can be struck at that distance and stay in the cup.

The last bit of advice that I give the student is to remember to continue to recite the putting mantra "short back - long through" to themselves during their stroke when they actually play.
If you get the ball to the hole regularly, you probably don't have this problem so stay with what you are doing.

However, if you're having trouble with your putts always coming up short, there's a very good chance that it's due to deceleration on your forward putting stroke. You should definitely try this three step process. I guarantee that it will have you putting much better after the first time you put yourself through it.

If you would prefer to do this under the watchful eye of an instructor, give me a call and we'll schedule a lesson. It can be done indoors or outdoors.

Getting a good putting ramp and practicing this way is a great way to make yourself a great putter over the winter.

It can work wonders, try it you'll like it.

Comments: ttucker@rochester.rr.com

Love your practice, own your swing, own your health,

Tom



---


Tour Greens: Tour Quality Synthetic Greens For Superb Short Game Practice

Our customers love their practice greens, here's what they have to say: Testimonials

Click on the image below for a video demonstration of how well golf shots hold on our Tour Greens synthetic putting greens.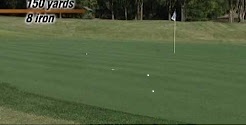 Wouldn't you love one of these in your own back yard?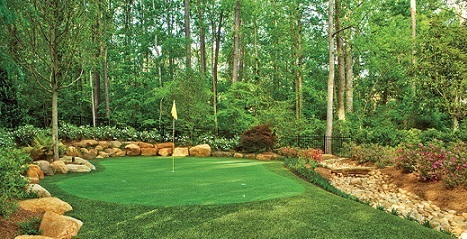 If you would like a free, no obligation quote for getting a beautiful practice area or putting green installed on your property - indoors or outdoors - give me (Tom Tucker) a call at (716) 474-3005, or email at at ttucker@rochester.rr.com

For more information please click here: TourGreensWNY.com

Comments: ttucker@rochester.rr.com

Love your practice, own your swing, own your health,

Tom



---


Tom's Bonus Tip: Take Your Medicine

For simplicity, all advice on actual swings or drills is provided from a right handed perspective.

After you make a poor shot, it's critically important that you play the smartest shot from your next lie.

Resist compounding the mistake with impatience.

Take your medicine, don't try to make up for it on the next shot.

Impatience adds strokes to your scorecard. Keep your cool and play within your limitations.

Try it you'll like it.

Comments: ttucker@rochester.rr.com

Love your practice, own your swing, own your health,

Tom



---



Golf Lessons

I conduct lessons at The Plum Creek Driving Range & Practice Facility
there's a link for Plum Creek info here: http://www.tomtuckergolf.com/

Lessons are available for all ages and skill levels, please contact
me - Tom Tucker - at (716) 474 3005 or email me at ttucker@rochester.rr.com
for more information.

Outdoor Lessons Details and Rates:
http://www.tomtuckergolf.com/lessonrates.html

Indoor Lessons Details and Rates:
http://www.tomtuckergolf.com/indoor.html

Driver Fitting Rates:
http://www.tomtuckergolf.com/indoor.html

Testimonials:
http://www.tomtuckergolf.com/testimonials.html


Sponsors

Plum Creek Driving Range and Simulator Outdoor range and play indoor golf on any of our 40 Simulator Courses. Call 585-993-0930 or email Mark at plumcreek4@rochester.rr.com to reserve time for simulator play or practice!

Batavia Country Club (585) 343-7600 www.bataviacc.com
Great rates, the best greens in WNY. Golf Digest Four Star rating for public courses to play in New York State.
Pre-Pay For 2018 membership now, and the rest of 2017 is included!
Tee times online or by phone in season.
BCC RED HOT SPECIALS
Seniors 58 and older, weekdays or weekends after 1pm, $100 for a Foursome, includes cart AND lunch, must have four players!
Prepaid Golf Discounts available in shop or over the phone when secured by a credit card - up to 50% savings!
Call (585) 343-7600 or visit our website for details.

Tour Greens Western New York Practice with purpose in your own back yard on your own synthetic practice green. Our greens LOVE Western New York weather!

Chestnut Hill Country Club (585)-547-3613 www.chestnuthillgolf.com
THE WESTERN NEW YORK LEADER IN GOLF OUTINGS!
Only minutes from Buffalo, open to the public. Tee times online or by phone in season.

All the best,

Tom Tucker
Teaching Pro, Plum Creek Driving Range & Practice Facility
WGTF ' "Top 100 Golf Teacher"
USGTF Class "A" Teaching Professional
IGPA Certified Golf Psychology Coach
Cell: (716) 474-3005
Email: ttucker@rochester.rr.com
http://www.TomTuckerGolf.com

"There are no substitutes in the quest for perfection!"
~ Ben Hogan