Prepare to play your best golf by doing something now!



Tom's Featured Tip: Tom's Top 3 Mental Game Tips
Tour Greens: Tour Quality Synthetic Greens
Lesson Comments: What Students Have To Say
Sponsors: Plum Creek Driving Range
Batavia Country Club
Pre-Pay For 2018 membership now, and the rest of 2017 is included!
Tour Greens Western New York
Chestnut Hill Country Club


Click here: INDOOR GOLF LESSONS for details on how to improve your game over the winter.

Plum Creek Driving Range, Batavia, NY, Open All Year
Simulator Course Play Specials: BataviaGolf.com Call 585-993-0930 or Email Mark to reserve simulator time!

Buy Gift Certificates for Lessons Sample Gift Certificate

Golf lessons - Outdoor and Indoor - are available at Plum Creek, please call me at 716 474 3005, email me at ttucker@rochester.rr.com, or visit my website at http://www.tomtuckergolf.com/lessonrates.html for details.

Subscribe - http://www.tomtuckergolf.com/signup.html If you like this newsletter, please do me a favor and forward it to your friends so that they may subscribe, thanks!

The Unsubscribe link is at the bottom of this newsletter.



---


Tom's Featured Tip: Tom's Top 3 Mental Game Tips

For simplicity, all advice on actual swings or drills is provided from a right handed perspective.

This is the time of year when my personal golf slows down or stops, which I hate because it's usually when I'm playing my best golf. It's also the time of year when I review and evaluate my instruction skills to see where I can improve as an instructor, as well as evaluate my own game to see where I need improvement.

I won't address what I'm doing to improve as an instructor, other than to say that it's an ongoing process of research, evaluation, and implementation. Part of that and evaluating my own game lead me to todays topic - my top 3 mental tips. That's definitely an area where I need to improve, and I'm sure that the vast majority - if not all - of my readers can improve there also.

Enjoy!

Tom's Top 3 Mental Game Tips
Worry - Part One

There was a time span this year where I was having trouble holing putts in the 6' to 8' range, where I'm usually pretty good. As a result of that mental distraction, other parts of my game suffered. After identifying that I was being distracted overall by my temporary putting woes, here's what I did that solved the problem: I told myself that I should be worried about not sinking enough short makable putts (many for birdie), but I made a deal with my brain that I wouldn't worry until it was time to. In other words, I forgot about it until I was facing a 6' to 8' putt, then I allowed myself to worry.

The result was pretty remarkable, everything got better. Oh by the way, I also included about an hour of technique practice on my home putting ramp for three consecutive nights, which refreshed my skill and my confidence on these length putts.

So the bottom line is worry if you must, but compartmentalize it until it's actually time to worry. One more thing, if it boils down to a technique issue - work on that too :-).


Worry - Part Two

When my son Tim noticed that I was missing putts that are usually "money" for me, he mentioned that it didn't look like I was going through my normal putting routine. He was right, I was rushing the process - which is a pretty common mistake at any level when things start to go sideways.

So the second part of healing your "worry woes" is to have and to stick to a pre-shot routine. That absolutely takes the nervousness out of shot execution. It fosters a feeling of preparedness, which in turn fosters confidence.

I'm aware that I've got to improve to being 100% consistent at that aspect of my own game, it's a factor that is completely under my control. If this applies to you too take note.


Play To Your Strengths - or said another way - Play Away From Your Weaknesses

No golfer - at any level - is really perfect with every club in their bag, nor are they immune from least favorite shots. Everyone has a club that they don't have a lot of confidence in, and they also have lies or situations where they are not confident of executing a good shot. Average amateurs have more of each than professionals or more advanced amateurs.

So the first part of the solution is assess your strengths and weakness honestly, then to work on all of your weaknesses. This is easier said than done for those that can't devote a lot of time to improving their golf game. Do what you can to improve, and recognize these potentially dangerous scenarios.



If you're not accurate off the tee and you face a tight driving hole, hit a different club off the tee even if it costs you a few yards. A ball in play is obviously better than a ball that's out of bounds or in serious trouble off the tee.


If you struggle with short finesse wedge shots, leave yourself a longer shot in with your third shot on par 5's, or with your club selection on very short (for you) par 4's. This could be tough for your ego to overcome, so you need to convince yourself that you'll make more birdies and pars doing it this way.

I used to tell my college players all the time when I coached at that level "you need to learn to hate bogeys more than you love birdies". If you are really competitive, this is a tough pill to swallow, but your scores will definitely improve when you adopt this philosophy.

I even made one of my players who consistently hit his approach shots well past the hole write those words on an index card. Then I had him get it laminated at Office Max, and had him carry it in his pocket at all times.

And yes I checked, and yes he always had it with him when I checked, and yes his scoring improved.


If you tend to three putt too much (more than once per round), try to leave the ball below the hole on the fall line to avoid nasty downhill putts and severely breaking putts. This translates to less aggressive chips and pitches.
Pay attention to these simple concepts and I guarantee that your scores will improve.

Comments: ttucker@rochester.rr.com

Love your practice, own your swing, own your health,

Tom



---


Tour Greens: Tour Quality Synthetic Greens For Superb Short Game Practice

Our customers love their practice greens, here's what they have to say: Testimonials

Click on the image below for a video demonstration of how well golf shots hold on our Tour Greens synthetic putting greens.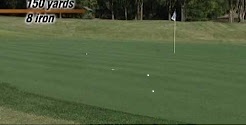 Wouldn't you love one of these in your own back yard?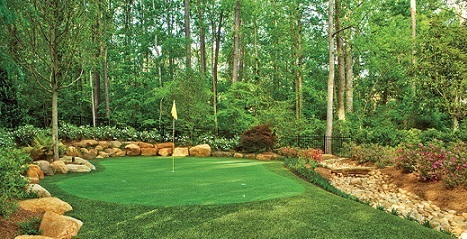 If you would like a free, no obligation quote for getting a beautiful practice area or putting green installed on your property - indoors or outdoors - give me (Tom Tucker) a call at (716) 474-3005, or email at at ttucker@rochester.rr.com

For more information please click here: TourGreensWNY.com

Comments: ttucker@rochester.rr.com

Love your practice, own your swing, own your health,

Tom



---


Golf Lessons

I conduct lessons at The Plum Creek Driving Range & Practice Facility
there's a link for Plum Creek info here: http://www.tomtuckergolf.com/

Lessons are available for all ages and skill levels, please contact
me - Tom Tucker - at (716) 474 3005 or email me at ttucker@rochester.rr.com
for more information.

Outdoor Lessons Details and Rates:
http://www.tomtuckergolf.com/lessonrates.html

Indoor Lessons Details and Rates:
http://www.tomtuckergolf.com/indoor.html

Driver Fitting Rates:
http://www.tomtuckergolf.com/indoor.html

Testimonials:
http://www.tomtuckergolf.com/testimonials.html


Sponsors

Plum Creek Driving Range and Simulator Outdoor range and play indoor golf on any of our 40 Simulator Courses. Call 585-993-0930 or email Mark at plumcreek4@rochester.rr.com to reserve time for simulator play or practice!

Batavia Country Club (585) 343-7600 www.bataviacc.com
Great rates, the best greens in WNY. Golf Digest Four Star rating for public courses to play in New York State.
Pre-Pay For 2018 membership now, and the rest of 2017 is included!
Tee times online or by phone in season.

Tour Greens Western New York Practice with purpose in your own back yard on your own synthetic practice green. Our greens LOVE Western New York weather!

Chestnut Hill Country Club (585)-547-3613 www.chestnuthillgolf.com
THE WESTERN NEW YORK LEADER IN GOLF OUTINGS!
Only minutes from Buffalo, open to the public. Tee times online or by phone in season.

All the best,

Tom Tucker
Teaching Pro, Plum Creek Driving Range & Practice Facility
WGTF ' "Top 100 Golf Teacher"
USGTF Class "A" Teaching Professional
IGPA Certified Golf Psychology Coach
Cell: (716) 474-3005
Email: ttucker@rochester.rr.com
http://www.TomTuckerGolf.com

"There are no substitutes in the quest for perfection!"
~ Ben Hogan