Prepare to play your best golf by doing something now!



Tom's Featured Tip: Spinning Pitch Shots - What Does It Take?
Tour Greens: Tour Quality Synthetic Greens
Lesson Comments: What Students Have To Say
Sponsors: Plum Creek Driving Range
Batavia Country Club
Tour Greens Western New York
Chestnut Hill Country Club


Click here: INDOOR GOLF LESSONS for details on how to improve your game over the winter.

Plum Creek Driving Range, Batavia, NY, Open All Year
Simulator Course Play Specials: BataviaGolf.com Call 585-993-0930 or Email Mark to reserve simulator time!

Buy Gift Certificates for Lessons Sample Gift Certificate

Golf lessons - Outdoor and Indoor - are available at Plum Creek, please call me at 716 474 3005, email me at ttucker@rochester.rr.com, or visit my website at http://www.tomtuckergolf.com/lessonrates.html for details.

Subscribe - http://www.tomtuckergolf.com/signup.html If you like this newsletter, please do me a favor and forward it to your friends so that they may subscribe, thanks!

The Unsubscribe link is at the bottom of this newsletter.



---


Tom's Featured Tip: Spinning Pitch Shots - What Does It Take?

For simplicity, all advice on actual swings or drills is provided from a right handed perspective.

If you've always wanted to hit those high spinning pitch shots like the pro's, here's what it takes.

In a nutshell, it takes the right equipment and the right technique. You need that to impart maximum friction on the ball, which in turn imparts maximum spin. And here's an interesting fact: even with excellent technique, you can't hit a high spinning pitch shot without the right equipment.

TECHNIQUE

Make sure that the face is clean after your practice swings. Any debris on the club will kill any chance for high spin.

Hit the ball low on the face with good forward shaft lean and good rotation and acceleration to get optimal compression. Hands forward with aggressive body rotation. No scoop, it's more of a pulling and rotating type of shot, with the hand angles transported through impact with a crisp "ball first" strike. Do not let your hands release until after impact. Practice the technique by actually transporting your hand angles through impact with no release past the strike. You may take a shallow divot or no divot at all, but not a deep divot.

The strike in the photo on the left below will not impart nearly as much spin as the strike in the photo on the right.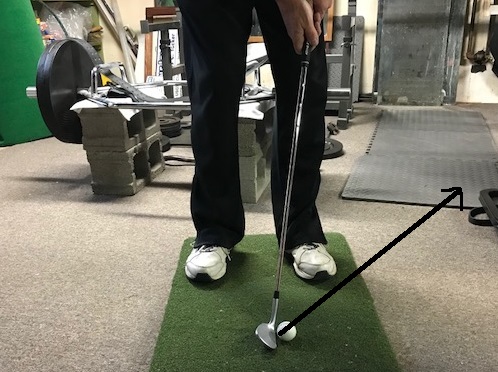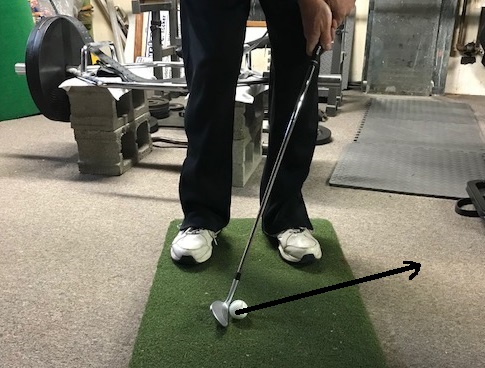 The reason is that a higher launched shot will not compress the ball as much as a lower launched shot, and good compression goes hand in hand with creating a lot of friction and a lot of spin. The ball on the left above will probably launch at around 50 degrees, which is too high if you are looking for a high spinning shot. The shot on the right would launch at about 30 degrees, which is pretty much optimal for my 56 degree wedge if I'm looking for a lot of spin.

So make sure that you have enough forward shaft lean like the photo on the right displays, either through ball position, technique, or a combination of both.

If you have access to a simulator you can check the spin rates of your shots.Amateurs should shoot for 100 rpm of rotation for each yard of distance. Tour Pros hit it at 150 rpm per yard. For a 20 yard shot, 2000 to 3000 rpm will provide a lot of stopping power.

Good compression, good strike angles, good equipment, and good acceleration through impact will provide optimal friction and maximum spin.

EQUIPMENT

Ball. You will need a high quality ball like a Titleist ProV1, a Bridgestone Tour quality ball or other brand "Tour" level balls. They cost more, but they provide the best control and feel around the green.

Club. You'll also need a wedge with modern wedge face spin technology, grooves alone won't cut it. This technology provides some abrasiveness or furrowing on face, which applies - YOU GUESSED IT - FRICTION to the ball when a good strike is executed.

One major wedge manufacturer offers this technology on the face of their wedges:
U shaped grooves designed for spin.


Micro grooves between the other grooves (I call that furrowing, but I'm sure the manufacturer would frown on that).


and Face milling for extra abrasiveness, and thus more friction creation potential.
Manufacturer websites will brag about the face technology they have in their wedges - if they have any - so look for it before you buy.

If you want to create a lot of spin on your pitch shots, pay attention to technique and equipment as outlined above and you'll enjoy the results!

Try it, you'll like it.

Comments: ttucker@rochester.rr.com

Love your practice, own your swing, own your health,

Tom



---


Tour Greens: Tour Quality Synthetic Greens For Superb Short Game Practice

Our customers love their practice greens, here's what they have to say: Testimonials

Click on the image below for a video demonstration of how well golf shots hold on our Tour Greens synthetic putting greens.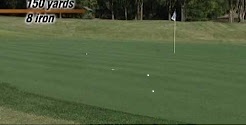 Wouldn't you love one of these in your own back yard?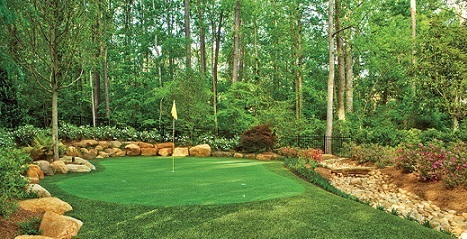 If you would like a free, no obligation quote for getting a beautiful practice area or putting green installed on your property - indoors or outdoors - give me (Tom Tucker) a call at (716) 474-3005, or email at at ttucker@rochester.rr.com

For more information please click here: TourGreensWNY.com

Comments: ttucker@rochester.rr.com

Love your practice, own your swing, own your health,

Tom



---


Golf Lessons

I conduct lessons at The Plum Creek Driving Range & Practice Facility
there's a link for Plum Creek info here: http://www.tomtuckergolf.com/

Lessons are available for all ages and skill levels, please contact
me - Tom Tucker - at (716) 474 3005 or email me at ttucker@rochester.rr.com
for more information.

Outdoor Lessons Details and Rates:
http://www.tomtuckergolf.com/lessonrates.html

Indoor Lessons Details and Rates:
http://www.tomtuckergolf.com/indoor.html

Driver Fitting Rates:
http://www.tomtuckergolf.com/indoor.html

Testimonials:
http://www.tomtuckergolf.com/testimonials.html


Sponsors

Plum Creek Driving Range and Simulator Outdoor range and play indoor golf on any of our 40 Simulator Courses. Call 585-993-0930 or email Mark at plumcreek4@rochester.rr.com to reserve time for simulator play or practice!

Batavia Country Club (585) 343-7600 www.bataviacc.com
Great rates, the best greens in WNY. Golf Digest Four Star rating for public courses to play in New York State.

Tee times online or by phone in season.

League openings for Monday Women's League, Monday, Tuesday, and Thursday Men's Leagues, and Friday Couples Leagues. Click here for more information: Leagues Leagues are always looking for substitutes. If you like the thought of playing in a league ocassionally but not every week, please call and sign up as a substitute.

Tour Greens Western New York Practice with purpose in your own back yard on your own synthetic practice green. Our greens LOVE Western New York weather!

Chestnut Hill Country Club (585)-547-3613 www.chestnuthillgolf.com
THE WESTERN NEW YORK LEADER IN GOLF OUTINGS!
Only minutes from Buffalo, open to the public. Tee times online or by phone in season.

Whether you are searching for a home for your existing golf league, or want to join as an individual(s), Chestnut Hill has a league option for you. Click here for more information: Leagues

All the best,

Tom Tucker
Teaching Pro, Plum Creek Driving Range & Practice Facility
WGTF ' "Top 100 Golf Teacher"
USGTF Class "A" Teaching Professional
IGPA Certified Golf Psychology Coach
Cell: (716) 474-3005
Email: ttucker@rochester.rr.com
http://www.TomTuckerGolf.com

"There are no substitutes in the quest for perfection!"
~ Ben Hogan