Prepare to play your best golf by doing something now!



Tom's Featured Tip: Spin Axis Tilt and Putting, plus Tiger's Putting
Tour Greens: Tour Quality Synthetic Greens
Lesson Comments: What Students Have To Say
Sponsors: Plum Creek Driving Range
Batavia Country Club
Tour Greens Western New York
Chestnut Hill Country Club


Click here: INDOOR GOLF LESSONS for details on how to improve your game over the winter.

Plum Creek Driving Range, Batavia, NY, Open All Year
Simulator Course Play Specials: BataviaGolf.com Call 585-993-0930 or Email Mark to reserve simulator time!

Buy Gift Certificates for Lessons Sample Gift Certificate

Golf lessons - Outdoor and Indoor - are available at Plum Creek, please call me at 716 474 3005, email me at ttucker@rochester.rr.com, or visit my website at http://www.tomtuckergolf.com/lessonrates.html for details.

Subscribe - http://www.tomtuckergolf.com/signup.html If you like this newsletter, please do me a favor and forward it to your friends so that they may subscribe, thanks!

The Unsubscribe link is at the bottom of this newsletter.



---


Tom's Featured Tip: Spin Axis Tilt and Putting, plus Tiger's Putting

For simplicity, all advice on actual swings or drills is provided from a right handed perspective.

I'm going to talk about Tiger's putting in last weeks Valspar PGA Tournament first, then I'll give you an unusual but awesome putting tip second.

Tiger

I loved Tiger's performance last weekend at the Valspar, he's back for sure. I mean a 129 mph swing speed on the 14th hole on Saturday, are you kidding me!

I also expected what I saw from his putting on Sunday's round, because even the best ever has to re-learn the pressure of being in contention on a Sunday. He was tending to squeeze the stick a little and not getting the proper pace on a few makeable putts. That's to be expected. He has his full swing and short game under control, pressure putting is a part of the process that can only be re-visited under tournament pressure, and that piece of the puzzle will be solved in short order.

I did take issue with a comment that I heard from a commentator on the Golf Channel as he watched Tiger practicing right hand only putts on the putting green before his round on Sunday.

He said that Tiger was practicing feeling the putter head release during his stroke with that drill. That may or may not be the case, I thought that Tiger was just getting a feel for his short putts stroke.

I'll give him a pass on that one but not on what he said next: that both Tiger and Brant Snedecker were "hitters" rather than "strokers" of putts.

A "hit" putting stroke is long back, short through stroke at the ball. A "stroke" putting stroke, is more of a same distance back and through pendulum type swing through the ball.

Snedeker is definitely a "pop" putter, a "hitter" rather than a stroker, but there's no way that Tiger's stroke resembles that in any way, shape, or form. Tiger has a little inside to down the line arcing stroke, but it's pure "stroke", not a "hit".

Surprising Putting Tip

If you are consistently missing those left edge and right edge putts, the reason might be something that you've never thought of.

After you understand the simplicity of this tip, I hope you feel that it's as significant as I do. Unlike most tips which normally benefit high handicap players more than low handicap players, this tip applies to all players equally.

I've addressed spin axis tilt in previous issues and how it's responsible for ball flight curvature. This is how it also applies to putting, and it's almost totally overlooked by most amateurs as well as a lot of pro's.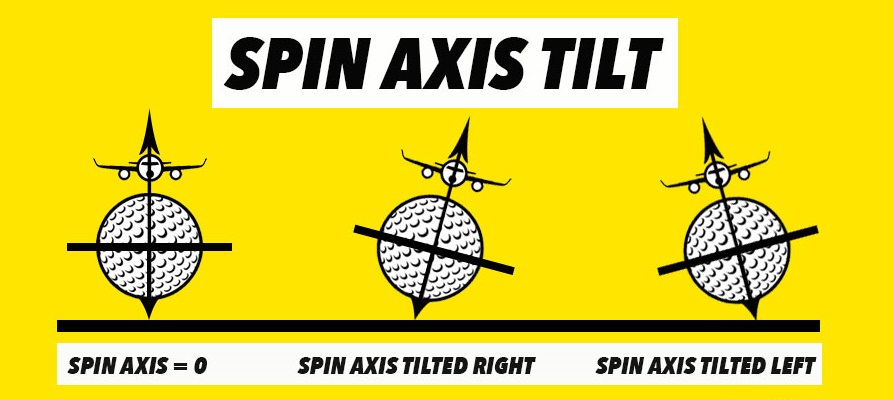 Full swing ball flight curvature.

If the spin axis of the ball is not tilting at all, it doesn't curve at all. If the ball spin axis tilts right, the ball curves from left to right. If it tilts left, the ball curves from right to left.

On full swings, intentional curvature can be obtained by controlling the strike to produce a differential between your clubface angle and swing path direction to produce the desired curvature.

Here's how spin axis tilt can also have a profound effect on your putting - especially those short, delicate breaking putts.

Here are a few facts about putters and putting that I want to review with you based on many years of my own research as well as expert research from Dave Pelz and Geoff Mangum :
Most putters have around three degrees of loft built into their face.


The two most common stroke paths utilized by the pros are arcing to down the line, and essentially straight back - straight through.


Straight back - straight through can mean exactly that, like Bryson DeChambeau's stroke, or a stroke that arcs very minimally but keeps the face square to the arc like Phil Mickleson's stroke.


When a ball is putted correctly, there is a distance of skidding before the ball starts into true roll.


"Putted correctly" means catching the ball on the upward part of your putting stroke stroke arc vs. at the low point of the arc, or the downstroke part of the arc.

Here's the meat of the tip: if you launch a putt with spin axis tilt, even a tiny amount of if, it will kick very slightly in one direction or another when it hits the ground. The harder you hit the putt, the more it will kick off line.

Here are the three rules you need to know:
right spin axis tilt - ball kicks slightly left
left spin axis tilt - ball kicks slightly right
more spin (harder, more oblique stroke) produces a more severe kick
Here are some negative outcomes that can happen from a putt struck with spin axis tilt:

If you have a putt that breaks left to right and you aim for the left edge, and if you strike the putt in a way that generates right spin axis tilt, you'll miss the putt on the high side (left side) and will wonder how it could have happened. It happened because the ball kicked left when it initially struck the ground, just enough to make you miss a putt that requires a precise match of speed and break.

The same would be true if everything was the opposite.

If you have a straight putt, get the right line, then impart spin axis tilt on the putt, you could throw it off enough to miss that type of putt too.

So if you've been baffled by a miss where you are positive that you had the correct line, or if you are in a scramble and watch putts struck on the same line miss in different directions, spin axis tilt is the likely culprit.

Here's how to avoid putting spin axis tilt on your putts:
Develop a putting stroke that impacts the ball slightly on the upward part of your putting stroke swing arc.
Have the path of your putter match up squarely with the line of your putt at impact.
For me, that's a straight back - straight through stroke. I feel that it's the easiest stroke path to execute consistently, and for me there is one more bit of consistency involved. When my stroke is not perfect on left to right breaking putts, I tend to execute a bit of a "cut" stroke. When that happens, I impart a right spin axis tilt on the ball.

right spin axis tilt - ball kicks slightly left

So I figured out that when I line up a left to right breaking putt, my margin for error needs to account for a very tiny amount of left kick on my line. Since I've been doing that, it's made the difference between been holing those types of putts rather than lipping out.

Read this a few times and wrap your brain around it. Then build a consistent putting stroke, and your putting will improve guaranteed.

Comments: ttucker@rochester.rr.com

Love your practice, own your swing, own your health,

Tom



---


Tour Greens: Tour Quality Synthetic Greens For Superb Short Game Practice

Our customers love their practice greens, here's what they have to say: Testimonials

Click on the image below for a video demonstration of how well golf shots hold on our Tour Greens synthetic putting greens.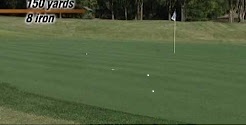 Wouldn't you love one of these in your own back yard?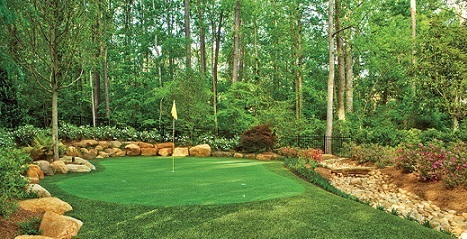 If you would like a free, no obligation quote for getting a beautiful practice area or putting green installed on your property - indoors or outdoors - give me (Tom Tucker) a call at (716) 474-3005, or email at at ttucker@rochester.rr.com

For more information please click here: TourGreensWNY.com

Comments: ttucker@rochester.rr.com

Love your practice, own your swing, own your health,

Tom



---


Golf Lessons

I conduct lessons at The Plum Creek Driving Range & Practice Facility
there's a link for Plum Creek info here: http://www.tomtuckergolf.com/

Lessons are available for all ages and skill levels, please contact
me - Tom Tucker - at (716) 474 3005 or email me at ttucker@rochester.rr.com
for more information.

Outdoor Lessons Details and Rates:
http://www.tomtuckergolf.com/lessonrates.html

Indoor Lessons Details and Rates:
http://www.tomtuckergolf.com/indoor.html

Driver Fitting Rates:
http://www.tomtuckergolf.com/indoor.html

Testimonials:
http://www.tomtuckergolf.com/testimonials.html


Sponsors

Plum Creek Driving Range and Simulator Outdoor range and play indoor golf on any of our 40 Simulator Courses. Call 585-993-0930 or email Mark at plumcreek4@rochester.rr.com to reserve time for simulator play or practice!

Batavia Country Club (585) 343-7600 www.bataviacc.com
Great rates, the best greens in WNY. Golf Digest Four Star rating for public courses to play in New York State.

Tee times online or by phone in season.

League openings for Monday Women's League, Monday, Tuesday, and Thursday Men's Leagues, and Friday Couples Leagues. Click here for more information: Leagues Leagues are always looking for substitutes. If you like the thought of playing in a league ocassionally but not every week, please call and sign up as a substitute.

BCC is now accepting reservations for Easter Brunch, Sunday April 1st, 10am - 3pm. Call (585) 334-8367 for reservations, and check here Batavia Country Club for more details.

BCC is looking for one male and one female member to represent them as BCC's delegate at the Rochester District Golf Association. Click here for details: RDGA Delegate Program, if you are interested contact Chris Pompa at BCC

Tour Greens Western New York Practice with purpose in your own back yard on your own synthetic practice green. Our greens LOVE Western New York weather!

Chestnut Hill Country Club (585)-547-3613 www.chestnuthillgolf.com
THE WESTERN NEW YORK LEADER IN GOLF OUTINGS!
Only minutes from Buffalo, open to the public. Tee times online or by phone in season.

Chestnut Hill CC has appointed fellow USGTF Golf Professional and personal friend Jim LaBuda to their staff. Here's his info: Jim LaBuda

Whether you are searching for a home for your existing golf league, or want to join as an individual(s), Chestnut Hill has a league option for you. Click here for more information: Leagues

All the best,

Tom Tucker
Teaching Pro, Plum Creek Driving Range & Practice Facility
WGTF ' "Top 100 Golf Teacher"
USGTF Class "A" Teaching Professional
IGPA Certified Golf Psychology Coach
Cell: (716) 474-3005
Email: ttucker@rochester.rr.com
http://www.TomTuckerGolf.com

"There are no substitutes in the quest for perfection!"
~ Ben Hogan