Prepare to play your best golf by doing something now!



Tom's Featured Tip: Putting - Alignment Lines On The Ball
Tour Greens: Tour Quality Synthetic Greens
Lesson Comments: What Students Have To Say
Sponsors: Plum Creek Driving Range
Batavia Country Club
Tour Greens Western New York
Chestnut Hill Country Club


Click here: INDOOR GOLF LESSONS for details on how to improve your game over the winter.

Plum Creek Driving Range, Batavia, NY, Open All Year
Simulator Course Play Specials: BataviaGolf.com Call 585-993-0930 or Email Mark to reserve simulator time!

Buy Gift Certificates for Lessons Sample Gift Certificate

Golf lessons - Outdoor and Indoor - are available at Plum Creek, please call me at 716 474 3005, email me at ttucker@rochester.rr.com, or visit my website at http://www.tomtuckergolf.com/lessonrates.html for details.

Subscribe - http://www.tomtuckergolf.com/signup.html If you like this newsletter, please do me a favor and forward it to your friends so that they may subscribe, thanks!

The Unsubscribe link is at the bottom of this newsletter.



---


Tom's Featured Tip: Putting - Alignment Lines On The Ball

For simplicity, all advice on actual swings or drills is provided from a right handed perspective.

Alignment Lines On The Ball

Golf seems to be more exciting than usual lately, probably because of Tiger. No doubt he'll be the story if he gets off to a good start at the Masters, but last week's Houston Open was no slouch for sure.

It was pretty cool to see Ian Poulter play his way into the Masters with that gritty win. Grit actually summarizes his game, and it's heartening to see a relatively short hitter win on tour these days.

This week's tip actually was inspired by how Beau Hossler marks his ball. Hossler lost to Poulter in a great duel that went to a sudden death playoff, and he was putting like his life depended on it.

On one of the close ups of his ball, I noticed that he had unusual alignment marks on it. They were actually marks that I talked about in a past newsletter issue, but I've never seen a pro using the method before. I actually thought about developing and patenting a line marking template to put lines like his on a golf ball, but during my due diligence research I found a marking template that was similar enough to bring an intellectual property ownership dispute, so I abandoned the project.

Hossler did so well with it that I'm going to use it myself this year.

Here's the marking method that Hossler used: a straight line that points towards the target, and a curved line at the back end of the straight line. When you rotate the ball, the curved line appears to be straight when viewed from above.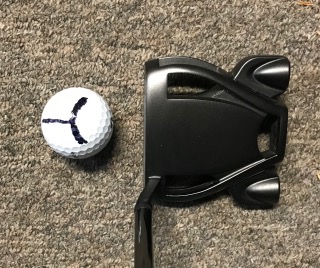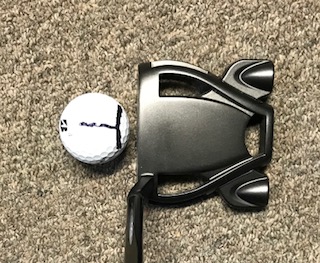 There has been research that disputes the value of using one straight alignment line on the ball, due to the optical difficulty of standing over the ball and getting your putter face aligned square to that line.

Marking your ball with two lines like the ball in the image on the left above solves that problem.

Make optic nuances work for you, not against you.

After you have aligned the straight line to aim at your target with your dominant eye (with a ball marker in place of course), carefully rotate the ball so that the curved line looks straight when viewed from above, in your putting stance.

Instead of trying to align your putter face perpendicular to the straight line that points towards the hole - which invites optical illusion, you simply set up your putter face so that it's parallel the curved line, which now looks straight when viewed from above (the image on the right above), and your putter face is perfectly aligned towards your target.

Use this method and you should shave a stroke or two off your handicap. Try it, you'll definitely like it.

Comments: ttucker@rochester.rr.com

Love your practice, own your swing, own your health,

Tom



---


Tour Greens: Tour Quality Synthetic Greens For Superb Short Game Practice

Our customers love their practice greens, here's what they have to say: Testimonials

Click on the image below for a video demonstration of how well golf shots hold on our Tour Greens synthetic putting greens.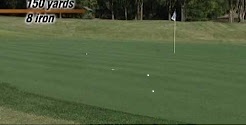 Wouldn't you love one of these in your own back yard?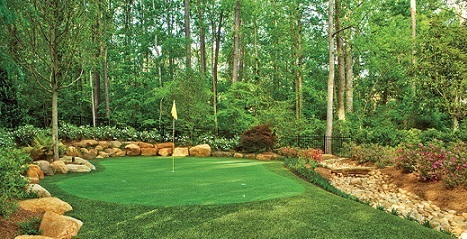 If you would like a free, no obligation quote for getting a beautiful practice area or putting green installed on your property - indoors or outdoors - give me (Tom Tucker) a call at (716) 474-3005, or email at at ttucker@rochester.rr.com

For more information please click here: TourGreensWNY.com

Comments: ttucker@rochester.rr.com

Love your practice, own your swing, own your health,

Tom



---


Golf Lessons

I conduct lessons at The Plum Creek Driving Range & Practice Facility
there's a link for Plum Creek info here: http://www.tomtuckergolf.com/

Lessons are available for all ages and skill levels, please contact
me - Tom Tucker - at (716) 474 3005 or email me at ttucker@rochester.rr.com
for more information.

Outdoor Lessons Details and Rates:
http://www.tomtuckergolf.com/lessonrates.html

Indoor Lessons Details and Rates:
http://www.tomtuckergolf.com/indoor.html

Driver Fitting Rates:
http://www.tomtuckergolf.com/indoor.html

Testimonials:
http://www.tomtuckergolf.com/testimonials.html


Sponsors

Plum Creek Driving Range and Simulator Outdoor range and play indoor golf on any of our 40 Simulator Courses. Call 585-993-0930 or email Mark at plumcreek4@rochester.rr.com to reserve time for simulator play or practice!

Batavia Country Club (585) 343-7600 www.bataviacc.com
Great rates, the best greens in WNY. Golf Digest Four Star rating for public courses to play in New York State.

Tee times online or by phone in season.

League openings for Monday Women's League, Monday, Tuesday, and Thursday Men's Leagues, and Friday Couples Leagues. Click here for more information: Leagues Leagues are always looking for substitutes. If you like the thought of playing in a league ocassionally but not every week, please call and sign up as a substitute.

Tour Greens Western New York Practice with purpose in your own back yard on your own synthetic practice green. Our greens LOVE Western New York weather!

Chestnut Hill Country Club (585)-547-3613 www.chestnuthillgolf.com
THE WESTERN NEW YORK LEADER IN GOLF OUTINGS!
Only minutes from Buffalo, open to the public. Tee times online or by phone in season.

Whether you are searching for a home for your existing golf league, or want to join as an individual(s), Chestnut Hill has a league option for you. Click here for more information: Leagues

All the best,

Tom Tucker
Teaching Pro, Plum Creek Driving Range & Practice Facility
WGTF ' "Top 100 Golf Teacher"
USGTF Class "A" Teaching Professional
IGPA Certified Golf Psychology Coach
Cell: (716) 474-3005
Email: ttucker@rochester.rr.com
http://www.TomTuckerGolf.com

"There are no substitutes in the quest for perfection!"
~ Ben Hogan