Prepare to play your best golf by doing something now!



Junior Golfers: Details For Junior Golf Camp at BCC
Tom's Featured Tip: Be Your Own Swing Doctor
Lesson Comments: What Students Have To Say
Sponsors: Plum Creek Driving Range
Batavia Country Club
Chestnut Hill Country Club


Click here: INDOOR GOLF LESSONS for details on how to improve your game over the winter.

Plum Creek Driving Range, Batavia, NY, Open All Year
Simulator Course Play Specials: BataviaGolf.com Call 585-993-0930 or Email Mark to reserve simulator time!

Buy Gift Certificates for Lessons Sample Gift Certificate

Golf lessons - Outdoor and Indoor - are available at Plum Creek, please call me at 716 474 3005, email me at ttucker@rochester.rr.com, or visit my website at http://www.tomtuckergolf.com/lessonrates.html for details.

Subscribe - http://www.tomtuckergolf.com/signup.html If you like this newsletter, please do me a favor and forward it to your friends so that they may subscribe, thanks!

The Unsubscribe link is at the bottom of this newsletter.
---


Junior Golf Camp at BCC: Dates and Details

For simplicity, all advice on actual swings or drills is provided from a right handed perspective.

I will be running the BCC Junior Golf Program for boys and girls again this year, assisted by Roxanne Noeth (BCC Ladies Club Champion). We look forward to providing a great golf experience for each and every junior golfer participant.

This years camp will run for five days, Monday through Friday. Monday through Thursday will include instruction, play, and contests, and Friday will be an abbreviated Tournament.

There will be a ten minute break half way through each session, players should bring their own beverages and snacks.

The BCC Junior Golf Camp dates are as follows:

Ages 7 - 9: July 9 - 13
Ages 10 - 15: July 23 - 27 and July 30 - August 3

The BCC Junior Golf Camp hours are as follows:
Monday - Thursday 8:30am - 11 am
Friday - Tournament starts at 6:45 am sharp and usually takes about 90 minutes.

Cost

The cost for an individual junior golfer is $99 for the week. If two siblings attend during the same week, the cost drops to $89 per junior golfer.

Players will need to bring their own equipment.

For more information or to register, please contact the Batavia Country Club (585) 343-7600 ext 10.

Payment is required to reserve your spot.


---


Tom's Featured Tip: Be Your Own Swing Doctor

For simplicity, all advice on actual swings or drills is provided from a right handed perspective.

When I teach golf, I go over what it takes in terms of repetitions to build a neural pathway (some people refer to this as muscle memory) for a swing, and how you can fortify it by practicing a certain way.

That's all well and good for building skill, and theoretically if you did everything by the book you could have your swing mechanics so ingrained that you would be able to repeat your swing correctly at will whenever you wanted to.

Unfortunately that's not even a possibility. Every day of our lives, there is a subtle difference in the matching up of all of the variables that it takes to execute a golf swing.

Some days you are spot on, others you are off enough to make you think that God switched your arms overnight!

Because of that, some days you're playing great, then without any apparent reason your round goes south.

I just experienced that during a trip to Texas, when for no apparent reason I lost the feel for my swing bottom. The variables that help me to get to impact properly weren't functioning well. It took a few holes to figure out what I was doing wrong and correct it, but my score suffered.

The variables that will affect your swing the most are
Presenting the face to the ball at the right angle with a square face at impact
Making contact with the ball in the center of the clubface
Striking the ball before hitting the ground (not for the driver)
These impact factors will make or break your score. Being off just a little can produce horrible results.

So the bottom line is that you have to have a plan if these impact factors desert you when you are playing. Here's an image of Ball Flight Laws that can help you diagnose a problem: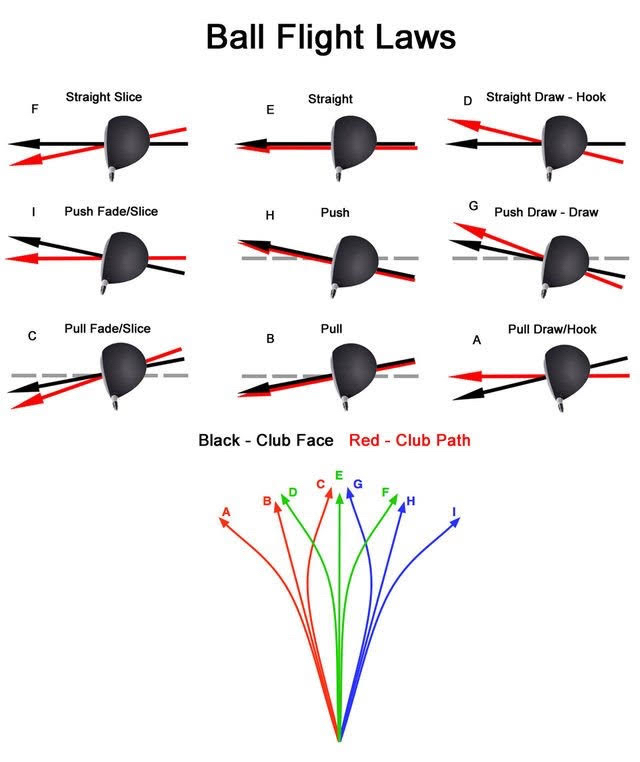 I use the word diagnose, because like a doctor you need to diagnose the problem after a bad swing, then come up with a quick cure or your round is lost.

You need to have an idea of how to fix it right away, before the next swing.

Be Your Own Swing Doctor

Look at the swing problems that usually occur in your own game during a round of golf and commit to learning exactly 3 fixes for each one.

Taking this approach will allow you to:
Play with confidence
Score more consistently
Save your round, even with a couple of bad holes
Coach yourself for life
Swings break down ocassionally, even in the best golfers in the world. Understand that fact and live with it.

Work on becoming your own swing doctor with a bag full of swing medicine to cure your most common problems.

Read good books, study good videos, take a lesson or two, do whatever it takes to have 3 cures at hand for your most recurring swing problems. Your enjoyment of the game will soar as your scores drop.

Commit to this today, don't put it off!

Comments: ttucker@rochester.rr.com

Love your practice, own your swing, own your health,

Tom



---


Golf Lessons

I conduct lessons at The Plum Creek Driving Range & Practice Facility
there's a link for Plum Creek info here: http://www.tomtuckergolf.com/

Lessons are available for all ages and skill levels, please contact
me - Tom Tucker - at (716) 474 3005 or email me at ttucker@rochester.rr.com
for more information.

Outdoor Lessons Details and Rates:
http://www.tomtuckergolf.com/lessonrates.html

Indoor Lessons Details and Rates:
http://www.tomtuckergolf.com/indoor.html

Testimonials:
http://www.tomtuckergolf.com/testimonials.html


Sponsors

Plum Creek Driving Range and Simulator Outdoor range and play indoor golf on any of our 40 Simulator Courses. Call 585-993-0930 or email Mark at plumcreek4@rochester.rr.com to reserve time for simulator play or practice!

Batavia Country Club (585) 343-7600 www.bataviacc.com
Great rates, the best greens in WNY. Golf Digest Four Star rating for public courses to play in New York State.

Tee times online or by phone in season.

Chestnut Hill Country Club (585)-547-3613 www.chestnuthillgolf.com
THE WESTERN NEW YORK LEADER IN GOLF OUTINGS!
Only minutes from Buffalo, open to the public.

Tee times online or by phone in season.

All the best,

Tom Tucker
Teaching Pro, Plum Creek Driving Range & Practice Facility
WGTF ' "Top 100 Golf Teacher"
USGTF Class "A" Teaching Professional
IGPA Certified Golf Psychology Coach
Cell: (716) 474-3005
Email: ttucker@rochester.rr.com
http://www.TomTuckerGolf.com

"There are no substitutes in the quest for perfection!"
~ Ben Hogan