Prepare to play your best golf by doing something now!



Tom's Featured Tip: Left Wrist and Left Arm Chipping Drill
Lesson Comments: What Students Have To Say
Sponsors: Plum Creek Driving Range
Batavia Country Club
Chestnut Hill Country Club


Click here: INDOOR GOLF LESSONS for details on how to improve your game over the winter.

Plum Creek Driving Range, Batavia, NY, Open All Year
Simulator Course Play Specials: BataviaGolf.com Call 585-993-0930 or Email Mark to reserve simulator time!

Buy Gift Certificates for Lessons Sample Gift Certificate

Golf lessons - Outdoor and Indoor - are available at Plum Creek, please call me at 716 474 3005, email me at ttucker@rochester.rr.com, or visit my website at http://www.tomtuckergolf.com/lessonrates.html for details.

Subscribe - http://www.tomtuckergolf.com/signup.html If you like this newsletter, please do me a favor and forward it to your friends so that they may subscribe, thanks!

The Unsubscribe link is at the bottom of this newsletter.


---


Tom's Featured Tip: Left Wrist and Left Arm Chipping Drill

For simplicity, all advice on actual swings or drills is provided from a right handed perspective.

In order to become a consistent chipper, you absolutely need to have a flat (or slightly palmar flexed) and firm left wrist and straight lead arm at impact.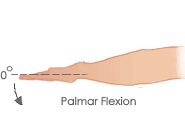 If the left wrist breaks down through impact, if you're lucky the only negative result will be a chip that's launched too high and too short due to the increased loft added by the wrist flip.

If you're unlucky, you'll hit the ball fat (ground before ball), or top the ball and probably end up with a horrible result.

The reason that some golfers hinge and unhinge their wrists on chip shots is to add loft to the shot. If fact, it's unnecessary because the loft of the club will provide enough loft when technique is executed correctly.

Here's a quick and easy drill that you can do while you are watching TV in your living room that will help you acquire the correct left wrist and left arm position feeling for chipping, as well as the feeling for impact in general.

During a commercial break, grab your remote as shown in the image below, lean forward so that your left arm can swing freely. Then with a straight left arm and the remote held against the inside of your wrist and forearm, make continuous free flowing, back and forth swings for two minutes . Make sure that the end of the remote maintains contact with your wrist/forearm, and that your left arm stays straight. The more you do it, the better you will get.

A cell phone also works great for the drill especially if you have one of the larger models like I do - the iPhone 7 Plus. You can do it while watching TV or just about anywhere. Just set the phone timer for two minutes, hold it like the remote is held in the image below, get in golf posture and swing your left arm. Make sure that the end of the phone held at the base of your wrist stays there into your abbreviated follow through, and that your left arm stays straight (no elbow bend).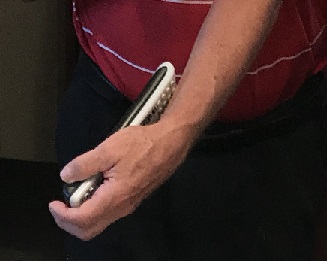 Slightly Palmar Flexed Left Wrist


Swing your arm and hand like a short golf swing, keeping the back
of your hand in the same position it would be with a club in hand.

Performing this drill continuously for two minutes, four times per week, will improve your chipping and your ball striking immensely.

Try it, I'll guarantee that you'll love the results.

Comments: ttucker@rochester.rr.com

Love your practice, own your swing, own your health,

Tom



---


Golf Lessons

I conduct lessons at The Plum Creek Driving Range & Practice Facility
there's a link for Plum Creek info here: http://www.tomtuckergolf.com/

Lessons are available for all ages and skill levels, please contact
me - Tom Tucker - at (716) 474 3005 or email me at ttucker@rochester.rr.com
for more information.

Outdoor Lessons Details and Rates:
http://www.tomtuckergolf.com/lessonrates.html

Indoor Lessons Details and Rates:
http://www.tomtuckergolf.com/indoor.html

Testimonials:
http://www.tomtuckergolf.com/testimonials.html


Sponsors

Plum Creek Driving Range and Simulator Outdoor range and play indoor golf on any of our 40 Simulator Courses. Call 585-993-0930 or email Mark at plumcreek4@rochester.rr.com to reserve time for simulator play or practice!

Batavia Country Club (585) 343-7600 www.bataviacc.com
Great rates, the best greens in WNY. Golf Digest Four Star rating for public courses to play in New York State.

Tee times online or by phone in season.

Chestnut Hill Country Club (585)-547-3613 www.chestnuthillgolf.com
THE WESTERN NEW YORK LEADER IN GOLF OUTINGS!
Only minutes from Buffalo, open to the public.

Tee times online or by phone in season.

All the best,

Tom Tucker
Teaching Pro, Plum Creek Driving Range & Practice Facility
WGTF ' "Top 100 Golf Teacher"
USGTF Class "A" Teaching Professional
IGPA Certified Golf Psychology Coach
Cell: (716) 474-3005
Email: ttucker@rochester.rr.com
http://www.TomTuckerGolf.com

"There are no substitutes in the quest for perfection!"
~ Ben Hogan