Prepare to play your best golf by doing something now!



Tom's Featured Tip: Senior Golfer Scoring Tips
Lesson Comments: What Students Have To Say
Sponsors: Plum Creek Driving Range
Batavia Country Club
Chestnut Hill Country Club


Click here: INDOOR GOLF LESSONS for details on how to improve your game over the winter.

Plum Creek Driving Range, Batavia, NY, Open All Year
Simulator Course Play Specials: BataviaGolf.com Call 585-993-0930 or Email Mark to reserve simulator time!

Buy Gift Certificates for Lessons Sample Gift Certificate

Golf lessons - Outdoor and Indoor - are available at Plum Creek, please call me at 716 474 3005, email me at ttucker@rochester.rr.com, or visit my website at http://www.tomtuckergolf.com/lessonrates.html for details.

Subscribe - http://www.tomtuckergolf.com/signup.html If you like this newsletter, please do me a favor and forward it to your friends so that they may subscribe, thanks!

The Unsubscribe link is at the bottom of this newsletter.


---


Tom's Featured Tip: Senior Golfer Scoring Tips

For simplicity, all advice on actual swings or drills is provided from a right handed perspective.

Before I get to this week's tip, I must mention that last Sunday was a day for the ages for me.

First of all, my Buffalo Bills won against all odds, then I watched my favorite golfer - Tiger Woods - win the Tour Championship. What a day!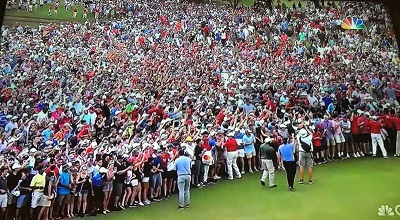 I'd say that Tiger moves the needle!



Senior Golfer Scoring Tips

I've always contended that golf is a game of discovery, and as you age you probably need to make changes to discover what works best for you now.

If we're being totally honest with ourselves, we'll admit that we can't do anything as well as we did 30 years ago, and that very much includes the power aspects of golf.

Notice that I didn't say that it includes your golf in general.

The reason that I didn't generalize is because with todays equipment and the right mindset, even a senior golfer should still be able to score reasonably well, or at least nearly as well as they used to when they were a bit younger.

Personally, I'm striking the ball as solidly as I ever have in my life and I'm carrying a low handicap because I follow the advice I'm laying out below. I'm not saying that my current solid strike produces the same distance or spin results as a solid strike when I was 40 years old, but it's solid enough to still score well with a few adjustments.

Here are my tips for playing better golf as you age, enjoy!
Education - Understand your swing.

Research the swing you want, then learn it inside out.


Learn how to hit a draw.

To get the most out of your tee shots, the aging player needs carry AND roll. A fade doesn't cut it for two reasons:



To effectively play a fade and get enough distance off the tee, a very fast swing speed is required. If you are over 50 years old, it's unlikely that you qualify in that regard, and as you get older that applies even more.


When your swing produces a fade or slice, it imparts different spin on the ball than a swing that produces a draw. It increases the spin rate and causes the ball to fly too high when it launches, and to roll out too little when it lands. The result is not enough distance off the tee.


You can learn to hit a draw that carries adequately then adds another twenty yards of roll on average hard fairways.

Either teach yourself or take a lesson, but learn how to hit a draw.


Check/adjust your equipment.

I can't count the number of aging players that come to me for lessons with equipment that no longer suits their swing. It's usually a shaft flex that's now too strong for their swing speed, and a driver without enough loft.

85 to 90 mph of clubhead speed does not work with a stiff shaft. Neither does 9 degrees of loft or a 75 gram shaft. Either test softer flexes and more loft, or get fitted. My educated guess is that you'll enjoy better results with a softer flex shaft and more loft. If you happen to get an adjustable driver, add loft through the adjustment and you'll also get a bonus of slightly closing the face to add some draw bias if your swing is proper. Be brutally honest with yourself and don't let your ego cloud your judgement.


Work on your scoring shots.

This almost goes without saying, but you now owe it to yourself to be great from 100 yards in. Aging should not affect those shots, so practice pitching, chipping, and putting more than your longer swings and get REALLY GOOD at them.


Fitness

Get into some sort of progressive resistance training regimen, and add stretching on a daily basis. God gave us a billion dollar body, and the least we can do is maintain it. You most likely would try to prevent your car from rusting out, you owe the same consideration to your body.

Monday I completed my last physical therapy session for what I thought was a bulging disc in the thoracic area of my spine, but turned out to be a rib displacement issue.

I've added a few new stretches to my workout routine to keep things in place, and here are two pieces of advice that I'll offer from this experience:



Add opposite direction swings. After a range session, take 50 left handed swings to try to add some balance to your rotational exertion.


A mistake that I made contributed to my problem.
Early in the year I was dealing with a plantar fasciitis issue and couldn't put weight on my foot, and I had to put a hold on my weight training regimen. The foot issue was resolved in June, and since I usually revise my weight training program during the golf season anyway, I decided to wait until October to resume lifting. That was a mistake. My physical therapist told me that the deadlifts, shrugs, and rowing exercises actually helped keep the thoracic area of the spine (the area that is directly involved in golf swing rotation) strong.

Lesson learned.



Have more fun, play forward tees.

I'm a fairly decent player, but at almost 72 years young, I now play tees measuring no more than 6500 yards. And in a few years, I'll likely play shorter tees. That keeps the game fun for me. Hitting 3 woods into par fours that play 480 yards is not necessarily my definition of fun.


Revise your fundamentals as necessary

One example of this may be adopting a stronger grip to help you draw the ball, another might be ball position. Don't get stuck in the past, experiment and adjust to help your game.

Try to keep some or all of these suggestions in mind, and your scoring and your enjoyment of the game will improve - guaranteed!

Comments: ttucker@rochester.rr.com

Love your practice, own your swing, own your health,

Tom



---


Golf Lessons

I conduct lessons at The Plum Creek Driving Range & Practice Facility
there's a link for Plum Creek info here: http://www.tomtuckergolf.com/

Lessons are available for all ages and skill levels, please contact
me - Tom Tucker - at (716) 474 3005 or email me at ttucker@rochester.rr.com
for more information.

Outdoor Lessons Details and Rates:
http://www.tomtuckergolf.com/lessonrates.html

Indoor Lessons Details and Rates:
http://www.tomtuckergolf.com/indoor.html

Testimonials:
http://www.tomtuckergolf.com/testimonials.html


Sponsors

Plum Creek Driving Range and Simulator Outdoor range and play indoor golf on any of our 40 Simulator Courses. Call 585-993-0930 or email Mark at plumcreek4@rochester.rr.com to reserve time for simulator play or practice!

Batavia Country Club (585) 343-7600 www.bataviacc.com
Great rates, the best greens in WNY. Golf Digest Four Star rating for public courses to play in New York State.

Tee times online or by phone in season.

Pre-pay for a 2018 membership now and your membership will apply to the rest of this year!

FISH FRYS ARE BACK AT BCC and other dinner specials with soup and salad bar - starting Friday October 5th, 4pm - 9pm

Chestnut Hill Country Club (585)-547-3613 www.chestnuthillgolf.com
THE WESTERN NEW YORK LEADER IN GOLF OUTINGS!
Only minutes from Buffalo, open to the public.

Tee times online or by phone in season.

All the best,

Tom Tucker
Teaching Pro, Plum Creek Driving Range & Practice Facility
WGTF ' "Top 100 Golf Teacher"
USGTF Class "A" Teaching Professional
IGPA Certified Golf Psychology Coach
Cell: (716) 474-3005
Email: ttucker@rochester.rr.com
http://www.TomTuckerGolf.com

"There are no substitutes in the quest for perfection!"
~ Ben Hogan