WHAT OUR CUSTOMERS HAVE TO SAY
---


We send out a brief feedback questionnaire when we finish a project. The unedited feedback for the project in the three images below follows the pictures, Tom.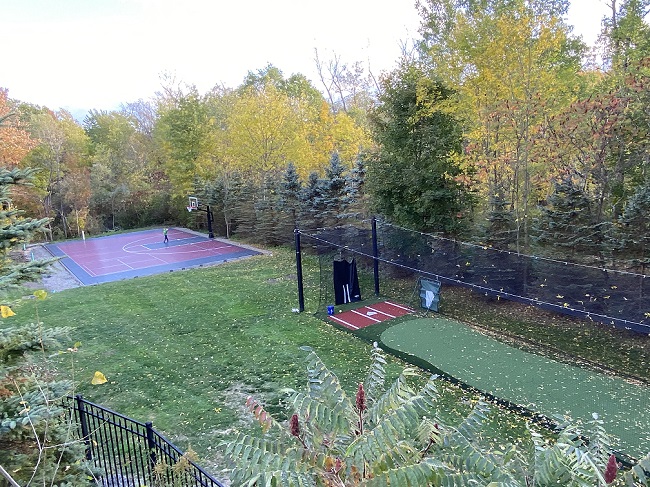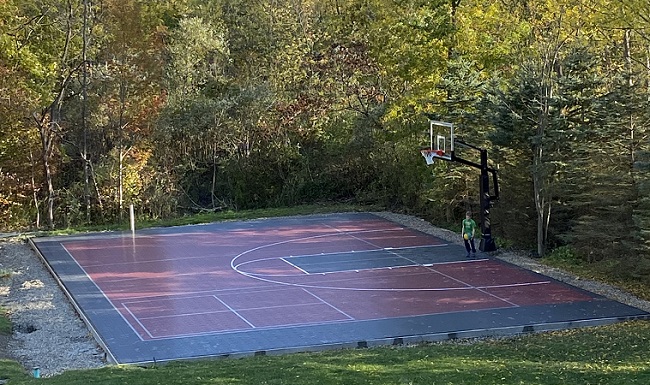 Tom, please see my responses, below!

A. Sales Process

1) Did you feel that the sales process was timely and thorough? Yes

2) Was the sales representative considerate and courteous? Yes

3) Was there anything about the sales process that you particularly liked or disliked? Tom is fantastic and very easy to work with. He came out to the location several times to discuss feasibility and placement of our sport court and batting cage/putting green. He was extremely patient, helped with brainstorming and re-design when we ran into some trouble, and was always quick to respond to texts/phone calls/emails.

4) Is there anything in the sales process that needs to be improved? No. Tom does an excellent job!

B. Installation

1) Did you feel that the installation process was timely and thorough? Yes

2) Was the installation crew considerate and courteous? Yes, they were great, and even allowed my very intrigued 9 year old son to safely "supervise" the process.

3) Was there anything about the installation process that you particularly liked or disliked? Mark and his crew were great. They are a hardworking and friendly crew. They were very thorough, and they took the time to make sure everything was installed properly.

4) Is there anything in the installation process that needs to be improved? No. everything went very smoothly.

C. Comments

1) Please let us know how you like your finished product: Our sport court and batting cage/putting green are amazing!! Both areas are being enjoyed by the entire family (and friends and neighbors!) Everything is exactly what we were hoping for!!

2) Any other comments: I cannot say enough about how incredible Tom and Mark are to work with. We ran into some major stumbling blocks just as we were getting ready to install our project at the original location. I was on the phone with Tom on almost a daily basis trying to brainstorm about what we could do to circumvent the issues. Unfortunately, we ended up having to delay our project for almost a year while we purchased and moved into a new home. Tom was so supportive and patient through the entire process, and Mark generously stored our Versacourt tiles and batting cage until we were ready for install at the new location. In the end, it was well worth the wait! We have an amazing sport court and batting cage/putting green! We can't wait until we have a full summer to enjoy them!!

Thank you again, Tom, for helping to see our project through to completing! It has been an absolute pleasure!

Take care,

Marcy Jordan


---


The putting green and chipping area installed in my back yard met and exceeded my expectations. I've spent many hours out there the past few weeks enjoying every minute of it.

Tom came in and explained the process very thoroughly and made it clear on why their company is definitely the way to go. Mark (installer) and his team were very impressive getting the installation complete on my putting green & chipping area.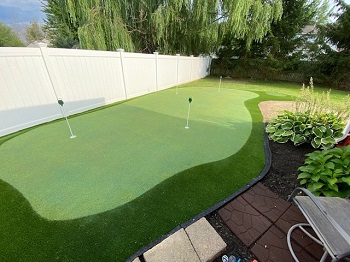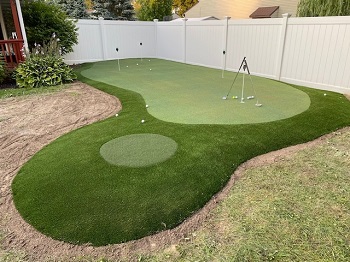 The crew did what they had to in order to stay on time. Day 2 of installation was a rainy mess and the guys worked several hours in the rain to get done what they had on their agenda to stay on track

We knew that would cause some damage to areas of the lawn outside of the putting green due to the heavy equipment needed. They took the time at the end to lay soil and seed down to repair.

The installation process was done very precisely including several hours on hands and knees custom cutting the edges to match my fence line seamlessly. They took the time to clean debris by hand off of the fencing as well. These are areas that I would tend to believe other companies may neglect. At the end of the project they did a great job rolling the green to a very fast speed which is what I was looking for in order to be able to get good practice on an area that will match and exceed the speeds of most any course I'll play on in my area.

Overall, the entire experience was very positive and I couldn't be more pleased with the end result. I look forward to getting many, many years of use and am happy every time I look in my backyard and see this practice area.

Thank you,

Michael Chiarilli ~ Cicero NY


---


"My wife and I recently purchased a new custom VersaCourt multisport court. We were very impressed with the entire process from contract to installation. The attention to detail and the quality of the products and installation have exceeded our expectations.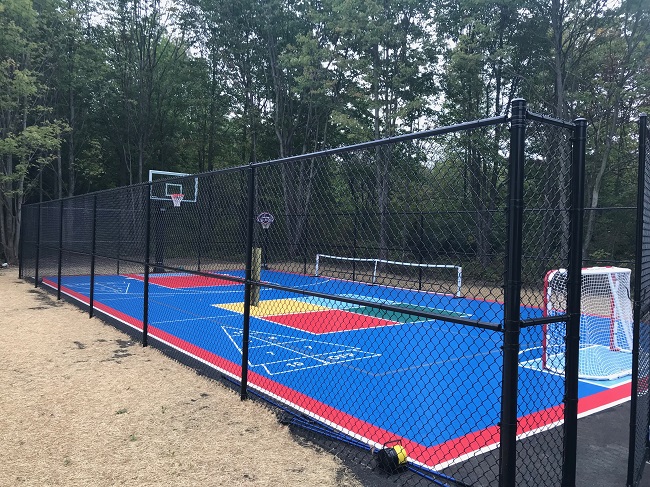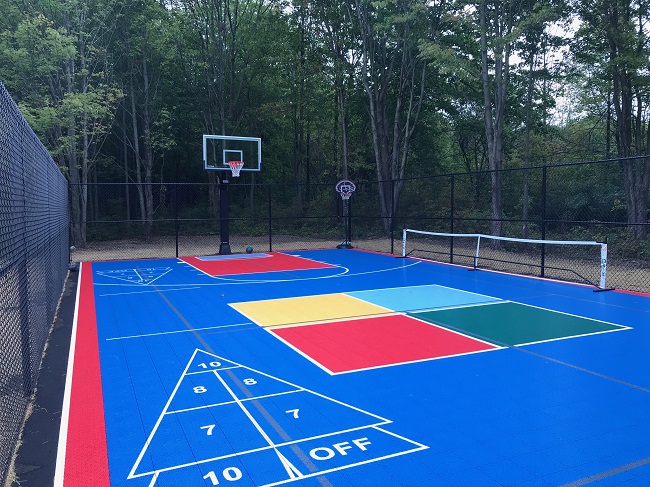 We are overjoyed to watch our grandchildren run up the driveway with excitement to play on the new courts."

Bill and Jeanie Daley, Orchard Park, NY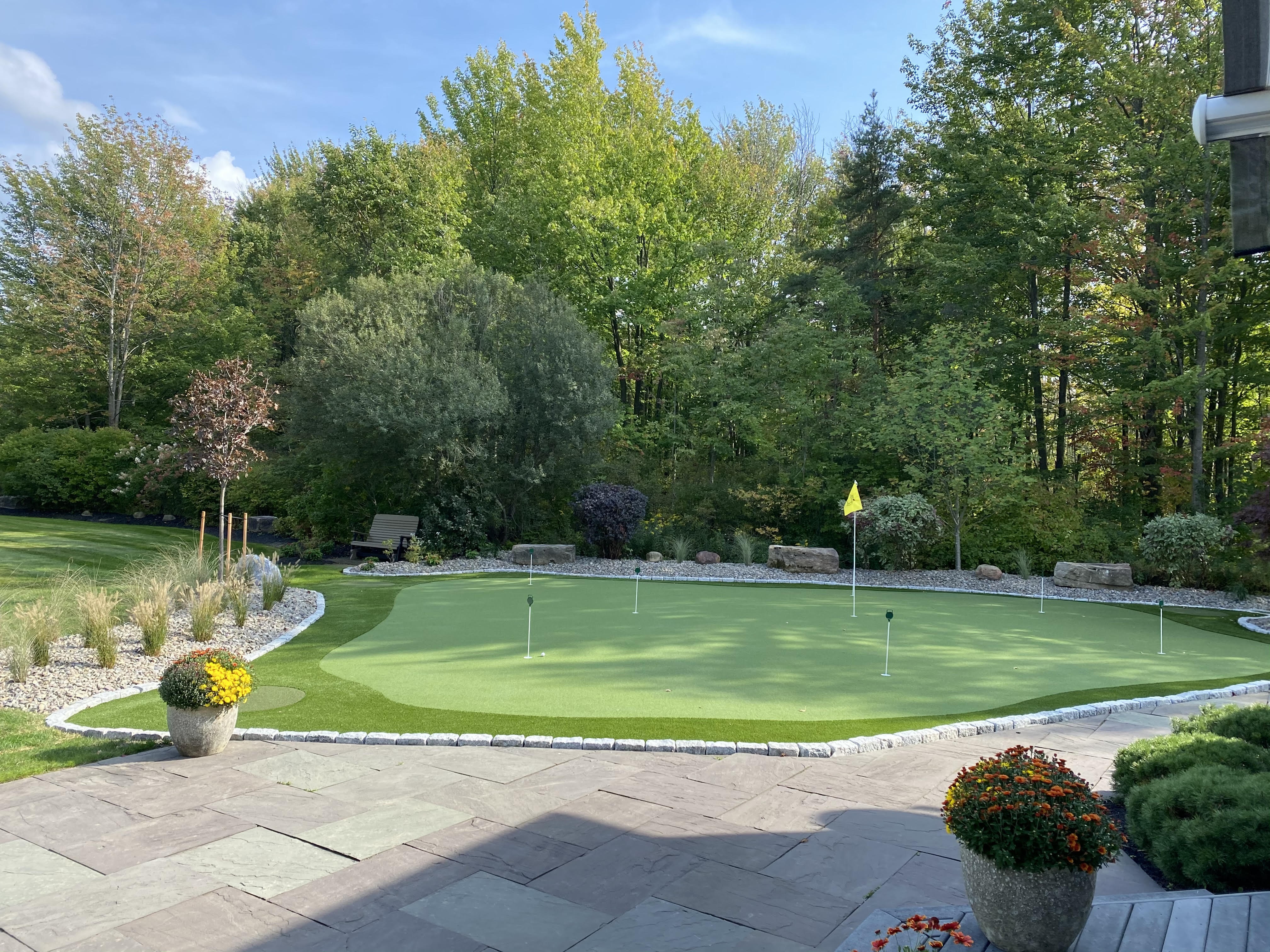 The year following the installation of our VersaCourt multisport court, we decided to install an outdoor practice green, which came out fantastic. The crew did an excellent job on the installation, and as with our multisport court everything once again exceeded our expectations.

Bill and Jeanie Daley, Orchard Park, NY


---


Hi Tom,

Here are the pictures of our green. The wall just got completed!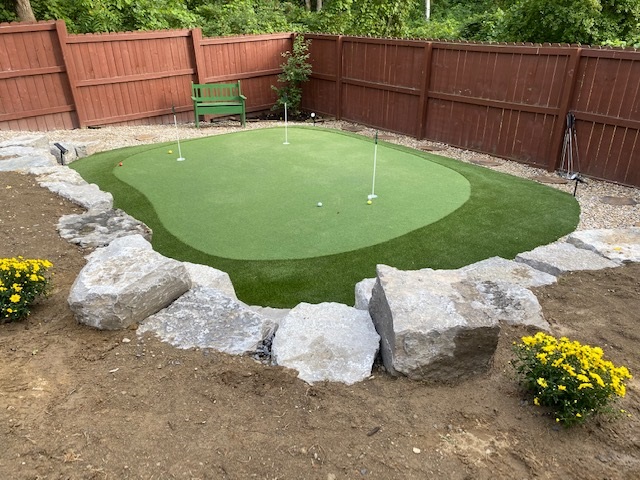 It's been hard to get Ted into the house at night since we put lights up 😂

Thank you again. You all did a great job!

Amy Boscia ~ Ithaca, NY


---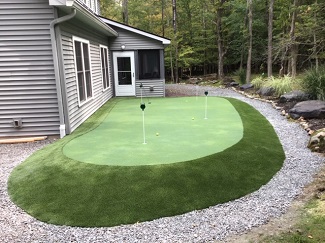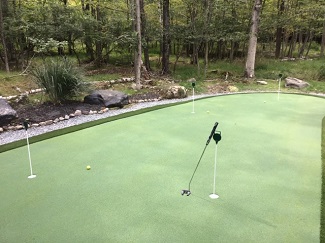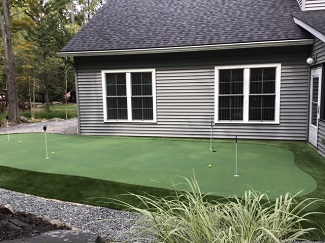 Tom,

The guys did a great job and the green looks fantastic. The ball roll is really nice too, glad you suggested that grade of turf. I'll be sure to recommend Tour Greens to whoever is interested!

Tim Egan ~ Lake Ariel, PA


---


Hi Tom,

The installation crew incredible to work with. I felt their sense of dedication and desire on our project. We liked everything from start to finish. From setup to cleanup we had an incredible crew of professionals. Our new turf lawn looks incredible and was installed with care by incredible people.

Anthony Marchioni, Sanborn, NY


---


Tom, thanks for everything!

We love our basketball court, and your customer service was AWESOME!

Inaya Khalil ~ Amherst, NY


---


"Thank you for checking in Tom. As the kids will say the golf course is "sick" and is really going to be a terrific addition to our program.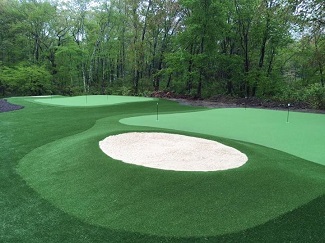 Thank you for all of your time and effort in helping us get to this point."

Scott Rosenbluth, Camp Echo ~ Bloomingsburg NY


---




"The crew from Tour Greens WNY really surpassed my expectations for this project! They did a great job, Thanks,"


Carl Montante ~ Clarence, NY
---


" Our indoor putting green that Tour Greens WNY installed is awesome!! Thanks a lot Tom!! Great stuff!"

Dan Berl ~ Victor, NY


---


"I had another company install a practice green and two hitting stations at my home several years back. It started to deteriorate and they wouldn't request me for service so I called Tom at Tour Greens WNY. He came out and looked the green over, then returned with Mark and they explained in detail how the first green was installed incorrectly.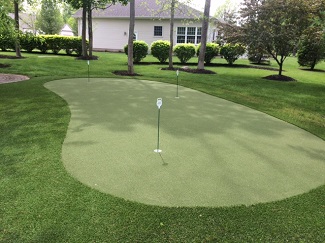 They had to replace the whole green and both hitting stations, and I love it. I don't get to practice as much as I would like to, but it looks great in award winning yard, and they are one phone call away if I need anything. If I ever do have an issue, I know that I won't have to jump through hoops to get a response. I highly recommend them to anyone that wants a practice green installed. Great work, great product, great guys to deal with."

Irene Elia ~ Lewiston, NY


---


"Tom, I love the indoor green your guys put in my basement, everything was perfect! Thank you guys!"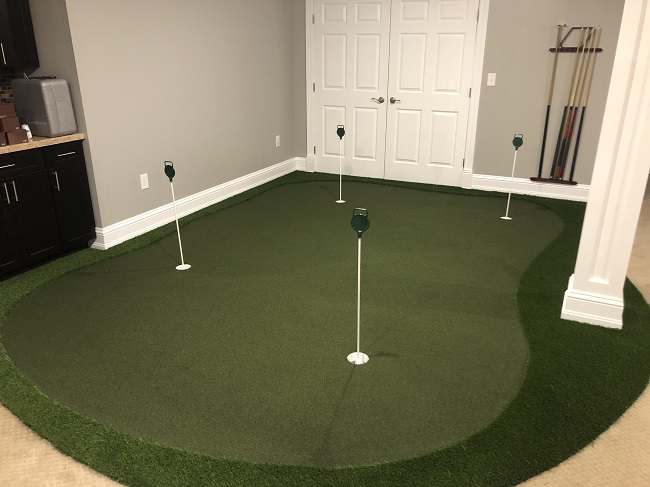 Jerry Hughes (Buffalo Bills), East Aurora, NY
---


Court is great, installation team was great and work was done properly, kids and family will enjoy for many years! Thrilled too it could be done earlier for us. Thank you!


Mary Boersma ~ Orchard Park, NY
---


"Mark and Zach did a beautiful job in transforming our 1800 square-foot basement into a putting green.

They arrived late Monday evening to set up shop and finished Friday afternoon.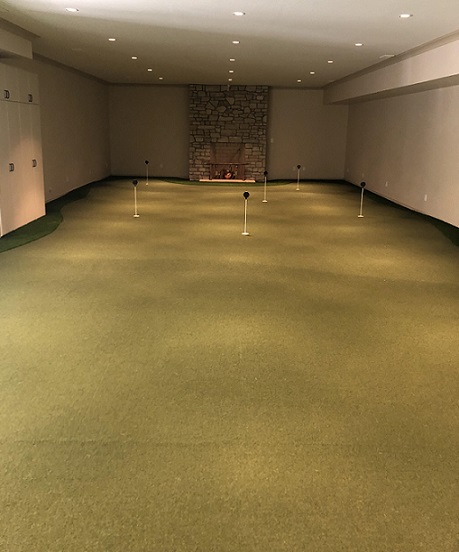 I am very pleased with the results and I must say that I enjoyed working with Mark throughout the process. He is a very hard-working and creative person."

Duff McCrady, PIttsburgh, PA


---


"My wife and I love our practice green and it looks great in our yard. Tom and Mark from Tour Greens WNY were great to deal with, and we couldn't be happier with the service and the practice green. My wife and I are avid golfers, and this is a great way for us to practice at home. We just love it."

Larry Broad ~ West Seneca NY


---


"I just wanted to personally thank you for all the extra effort that your guys did getting my job done. Both from Jesse and Kevin, who ran the job from the beginning, to Mark and Zach that came in over the weekend. Just incredible to watch how people can actually work if they really want to. So thanks again for everything, I really appreciate it."

Joe Hammond, The Discovery Center


---


"Mark and his crew gave us a top shelf installation. We look forward to many years We really love our practice green! Tom supplied a design that fit our yard really well, and we get a lot of use from it. Everyone at Tour Greens WNY was very patient and great to work with.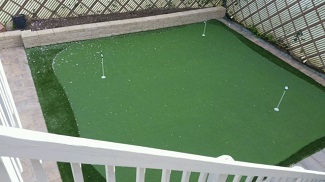 We highly recommend them."

Angelo & Miriam Soave ~ Dobbs Ferry NY


---


"Hi Tom, just wanted to let you know the putting green project was completed over the weekend. Mark and his assistant were super nice and explained the maintenance that needs to be done each season. They did an unreal job getting the green done. Some long hours on Friday and Saturday but they really did an amazing job. We love it."

Joe Haggerty ~ Dunmore, PA


---


"The playground looks AWESOME! I hope Mark took pictures so you could see how nice it looks. He and Branden had a difficult job with all the weird angles and rain to contend with but they pulled it off! I can't wait till all the kids see it and get to play on it. I know we all will be enjoying it. Take care and thanks for working with us!"

Allegra P. Slick, Mom's House, Inc. ~ Johnstown, PA


---


"In late fall of 2016, the Town of Lancaster Parks., Recreation and Forestry Department decided to have 2 outdoor turf Bocce Courts built at its Senior Citizen Center at 100 Oxford Ave in Lancaster, NY. After a formal bid process, Tour Greens of WNY was awarded the contract. I dealt with Tom Tucker, who I met during the bidding process. After formal awarding, Tom and I met prior to construction of the courts. Work on the courts started in November of 2016, and after a break due to winter, was resumed in May of 2017, with completion later that month.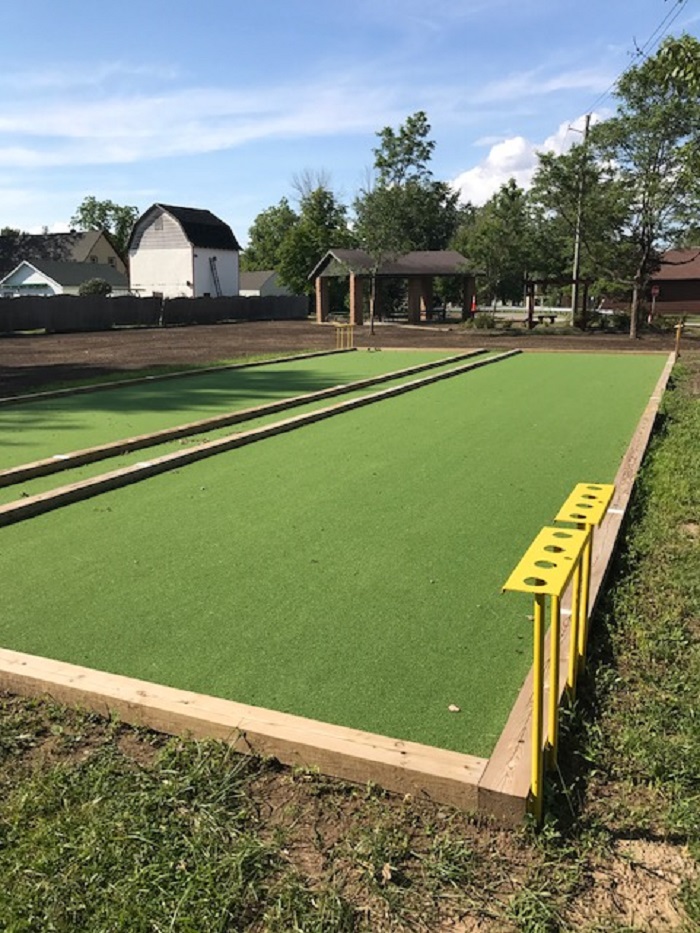 We here at Lancaster Recreation, as well as at the Senior Center, could not be happier with the courts. Our senior bocce leagues are growing from what they were, and I honestly believe it is because of the new courts. Solidly constructed with quality materials, and a pleasure to play on, the courts are a wonderful addition to our senior activity complex at the Center.

Dealing with Tom was a pleasure, as communications between us addressed everything that had to be. Mark Pflaumer, who physically constructed the courts with his crew, was equally as helpful in his part of the project.

I would wholeheartedly recommend this company to install first-class Bocce courts at any facility that is seeking them."

Bob Giroux, Town of Lancaster Parks, Recreation, and Forestry - Lancaster, NY


---