Prepare to play your best golf by doing something now!



Tom's Featured Tip: Right Hand Action
Tour Greens: Tour Quality Synthetic Greens
Tom's Bonus Tip: Mental Game - Focus on Yourself
Lesson Comments: What Students Have To Say
Sponsors: Plum Creek Driving Range
Batavia Country Club
Tour Greens Western New York
Genesee Community College Golf Management Program


Click here: INDOOR GOLF LESSONS for details on how to improve your game over the winter.

Plum Creek Driving Range, Batavia, NY, Open All Year
Simulator Course Play Specials: BataviaGolf.com Call 585-993-0930 or Email Mark to reserve simulator time!

Buy Gift Certificates for Lessons Sample Gift Certificate

Golf lessons - Outdoor and Indoor - are available at Plum Creek, please call me at 716 474 3005, email me at ttucker@rochester.rr.com, or visit my website at http://www.tomtuckergolf.com/lessonrates.html for details.

Subscribe - http://www.tomtuckergolf.com/signup.html If you like this newsletter, please do me a favor and forward it to your friends so that they may subscribe, thanks!

The Unsubscribe link is at the bottom of this newsletter.



---


Tom's Featured Tip: Right Hand Action

For simplicity, all advice on actual swings or drills is provided from a right handed perspective.

I'm currently giving a student lessons who has developed - or adopted - a very strong right hand grip as his natural grip.

I say adopted not developed, because he's relatively new to the game.

A strong right hand grip is seductive in that it feels powerful, but it prevents the correct club head rotation to and through impact.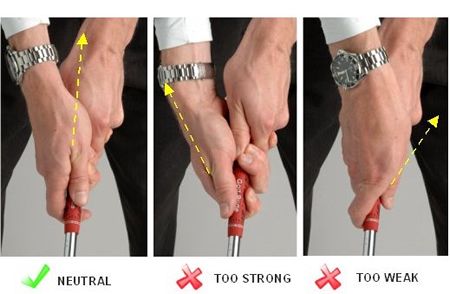 An extra strong right hand grip tends to cause the clubface to be taken back shut (closed), and the downswing usually results in either over rotation at impact, or a motion that actually opens the face at impact in an attempt to compensate for over rotation.

Either motion through impact produces a bad result, so develop a grip that is somewhere between neutral and strong,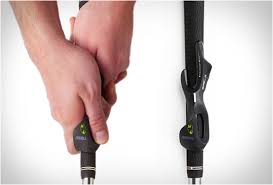 and practice this drill to train your right hand to react properly through impact.

The Short Swing Toe Up to Toe Up Drill.
Simply strike a ball with right hand only short swings - swings that produce a ten to fifteen yard carry.


Adopt a grip that falls between neutral and strong.


Ball position is just forward of center.


Take your backswing to the point where the shaft is parallel to the ground.


Then check to make sure that toe of the club is pointing to the sky (the "toe up" part of the backswing).



Ideally it would point upward a little less than that, the leading edge of the clubface would be parallel to your upper body forward lean angle (tilt). However, when I have a student do a drill to correct a negative fault, I intentionally have them over correct then eventually back them off to ideal.


Execute a short swing with good rotation, and take your abbreviated follow through to a point where the shaft is parallel to the ground pointing a little left of your target line with the toe of the club pointing to the sky (the "toe up" part of the forward swing).



This drill will produce the correct feeling for natural clubface rotation through impact.

Try it, you'll like it - guaranteed.

Comments: ttucker@rochester.rr.com

Love your practice, own your swing, own your health,

Tom



---


Tour Greens: Tour Quality Synthetic Greens For Superb Short Game Practice

Would you like to be able to practice with purpose in your own back yard?

Would you like your short game to progress from bad to good, or from good to great?

Would you like to get the ball up & down with more frequency?

Would you like to have a short game practice area in the privacy of your yard for practice and for friendly competition with your kids, your wife, and your friends?

Click here TourGreensWNY.com for photo galleries and more information.

If the thought of having a beautiful tour quality practice green in your yard appeals to you, you're in luck.

In addition to my golf instruction business, I am also the exclusive Western New York sales associate for Tour Greens Western New York.

With Tour Greens you can experience the ultimate home short game practice solution.

Click here to read what Tour Pro's Fred Couples, Rich Beem, Boo Weekly, Blake Adams, and Chris DiMarco have to say about their Tour Greens.

You all know me well enough to know that I don't affiliate with any product that I don't have a passionate belief in. These greens are the real deal. They are extremely durable - and they LOVE Western New York weather!

For more information please click here: TourGreensWNY.com, or feel free to call, text, or email me to discuss your needs.

Comments: ttucker@rochester.rr.com

Love your practice, own your swing, own your health,

Tom



---


Tom's Bonus Tip: Mental Game - Focus on Yourself

For simplicity, all advice on actual swings or drills is provided from a right handed perspective.

"No man (or woman) can make you feel inferior without your consent."
Eleanor Roosevelt

I love that quote, it captures the essence of self esteem.

It's natural to be concerned about what others think of us, but if concern about how others think carries over into our golf game it can ruin our play.

Here are two great stories about self focus I read when I was studying for my IGPA Golf Psychology Coach certification.

The story of Ian Baker-Finch's career illustrates the self focus point exceptionally well. Baker-Finch won the British Open in 1991, but within seven years of his victory had retired from professional golf. Many factors contributed to this decision, one being his humiliating open round of 92 at the British Open at Troon and another being his missed 32 straight cuts on the tournament trail.

However, Baker-Finch mentioned that the main straw that caused him to leave the tour was the pressure of what everyone was thinking about his poor play. Poignantly, he stated "What I would like to be able to do is to change my name, come back in a different body and go play without the pressure of being Ian Baker-Finch."

Another story involved Hale Irwin when he was playing with a young greenhorn named Mark O' Meara,

On this day, O'Meara was playing terribly and was ashamed about how bad he was playing in front of his older more seasoned pros. After the round, he went up to Hale Irwin and apologized for his bad play.

Irwin flat out stated that he did not give a damn how his playing partners shoot, he was only concerned about his own play.

Hale's attitude wasn't arrogance or ignorance, it was competitive golf self focus.

I'm not saying that a remark like that would be appreciated in your Saturday morning foursome, but I am saying that adopting that attitude internally will help your game.

Focus only on yourself, especially if you are playing competitive golf. But even if you are not, don't worry about what other people are thinking.

I guarantee your friends are not overly concerned about you, your score, or your herky-jerky swing. They are doing what you should do.

They are thinking only about themselves and how fantastic they look in their new golf sweater :-).

Comments: ttucker@rochester.rr.com

Love your practice, own your swing, own your health,

Tom



---



Golf Lessons

I conduct lessons at The Plum Creek Driving Range & Practice Facility
there's a link for Plum Creek info here: http://www.tomtuckergolf.com/

Lessons are available for all ages and skill levels, please contact
me - Tom Tucker - at (716) 474 3005 or email me at ttucker@rochester.rr.com
for more information.

Outdoor Lessons Details and Rates:
http://www.tomtuckergolf.com/lessonrates.html

Indoor Lessons Details and Rates:
http://www.tomtuckergolf.com/indoor.html

Driver Fitting Rates:
http://www.tomtuckergolf.com/indoor.html

Testimonials:
http://www.tomtuckergolf.com/testimonials.html


Sponsors

Plum Creek Driving Range and Simulator Outdoor range and play indoor golf on any of our 40 Simulator Courses. Call 585-993-0930 or email Mark at plumcreek4@rochester.rr.com to reserve time for simulator play or practice!

Batavia Country Club (585) 343-7600 www.bataviacc.com
Great rates, the best greens in WNY. Golf Digest Four Star rating for public courses to play in New York State. Tee times online or by phone in season. Call or stop in to purchase your 2016 membership, it's the best bang for your buck that you will find in WNY.

Some openings are still availabe on some leagues, contact information may be found here: Events and Specials

Tour Greens Western New York Practice with purpose in your own back yard on your own synthetic practice green. Our greens LOVE Western New York weather!

Genesee Community College Golf Management Program Click on link for more information if you or anyone you know is interested in a dynamic career in the golf industry, or in teaching golf.

All the best,

Tom Tucker
Teaching Pro, Plum Creek Driving Range & Practice Facility
WGTF ' "Top 100 Golf Teacher"
USGTF Class "A" Teaching Professional
IGPA Certified Golf Psychology Coach
Cell: (716) 474-3005
Email: ttucker@rochester.rr.com
http://www.TomTuckerGolf.com

"There are no substitutes in the quest for perfection!"
~ Ben Hogan