Prepare to play your best golf by doing something now!



Tom's Featured Tip: Don't Do This Like The Pro's
Tour Greens: Tour Quality Synthetic Greens
Tom's Bonus Tip: I'll Bet You Didn't Know This Rule
Lesson Comments: What Students Have To Say
Sponsors: Plum Creek Driving Range
Batavia Country Club
Tour Greens Western New York
Genesee Community College Golf Management Program


Click here: INDOOR GOLF LESSONS for details on how to improve your game over the winter.

Plum Creek Driving Range, Batavia, NY, Open All Year
Simulator Course Play Specials: BataviaGolf.com Call 585-993-0930 or Email Mark to reserve simulator time!

Buy Gift Certificates for Lessons Sample Gift Certificate

Golf lessons - Outdoor and Indoor - are available at Plum Creek, please call me at 716 474 3005, email me at ttucker@rochester.rr.com, or visit my website at http://www.tomtuckergolf.com/lessonrates.html for details.

Subscribe - http://www.tomtuckergolf.com/signup.html If you like this newsletter, please do me a favor and forward it to your friends so that they may subscribe, thanks!

The Unsubscribe link is at the bottom of this newsletter.



---


Tom's Featured Tip: Don't Do This Like The Pro's

For simplicity, all advice on actual swings or drills is provided from a right handed perspective.

For most tour pro's, the club selection of choice for chipping is a 58 degree or higer lofted wedge.

For 95% of the people reading this tip, that should never be your go to club choice for chipping, and here are some reasons why.

First and foremost, you will not have the time to practice enough to get great chipping results from this club. High lofted clubs require more precision in the strike for chipping than lower lofted clubs. Great precision requires lots of practice.

Second, the reason you might not get good chipping results from a high lofted wedge - even if you practiced a fair a mount - is that you won't compress the ball the same way a pro does with that club. Consistent compression is a requirement for consistent chipping.

Compression, or how much energy is transferred from the clubface to the ball, depends on several factors.

One is striking the ball with the sweet spot of the clubface with a swingpath that delivers a strike that is square to your target. Another is the angle of the clubface at impact.

The huge difference between the pro's and most amateurs lies in the angle of the clubface at impact.

A clubface that is more lofted than another clubface at impact produces less compression and a higher launch angle. Stock chip shots generally have a relatively low launch angle with enough compression to impart adequate spin and consistent rollout.

Pro's are known to de-loft their full swing iron shots as much as 8 degrees less than the manufactured loft of the club. They de-loft less on chip shots, but they are still changing the loft of their 58 degree wedge significantly when they chip with it. Pay attention to the pros when you see them chipping. You will see forward shaft lean in their setup and strike. That's what produces the de-lofted angle in the clubface.

You'll see the handle of the shaft leaning well forward of the clubhead through impact, and that's the key to good chipping, as well as to good ball striking in general.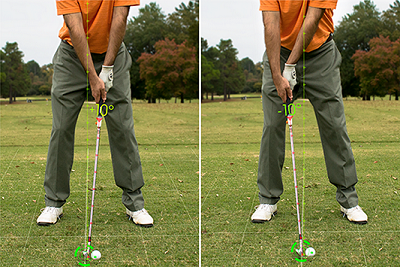 Above left - forward shaft lean at address. At impact, there normally will be more forward shaft lean than at address with a good swing. Above right - rearward shaft lean. Rearward shaft lean is a swing fault.

I rarely see enough forward shaft lean present in the swing of most amateurs, which is why amateurs in general should chip with a flatter - less lofted - club. It provides some margin of error for decent compression, and it requires a bit less precision for a decent strike than a high lofted wedge.

There is no substitute for great technique. But if you don't have the time to practice like a pro, choose a club with 50 degrees of loft or less for your stock chip shots.

Even if your technique isn't perfect, you'll have a better chance of making a decent chip with the flatter club than you will with the more lofted club.

Try it, you'll like it.

Comments: ttucker@rochester.rr.com

Love your practice, own your swing, own your health,

Tom



---


Tour Greens: Tour Quality Synthetic Greens For Superb Short Game Practice

Do you want one of these in your own back yard?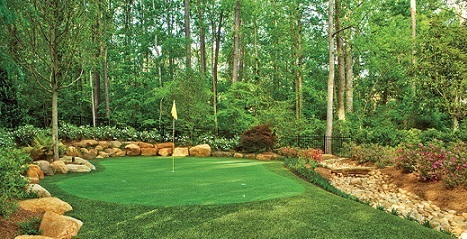 If you would like a free, no obligation quote for getting a beautiful practice area or putting green installed on your property - indoors or outdoors - give me (Tom Tucker) a call at (716) 474-3005, or email at at ttucker@rochester.rr.com

For more information please click here: TourGreensWNY.com

Comments: ttucker@rochester.rr.com

Love your practice, own your swing, own your health,

Tom



---


Tom's Bonus Tip: I'll Bet You Didn't Know This Rule

For simplicity, all advice on actual swings or drills is provided from a right handed perspective.

I saw this in my Rhodes Ruled newsletter, and I had to pass it along. I'll bet you don't get the answer right, I know I didn't!

Q: After a putt from the putting green, the ball in motion is deflected by a large leaf blowing across the green. The stroke must be cancelled and played again. True or False?

A: True. Rule 19-1b. A leaf blown by the wind is both a loose impediment and a moving outside agency.

The relevant Rule is 19-1b;

If a player's ball in motion after a stroke on the putting green is deflected or stopped by, or comes to rest in or on, any moving or animate outside agency, except a worm, insect or the like, the stroke is cancelled. The ball must be replaced and replayed.

On being pointed to this Rule, readers may think that it does not apply, because a leaf is a loose impediment and not an outside agency. However, there are many situations where an item or person may have more than one status under the Rules. A leaf blown by the wind it is obviously still a loose impediment but it can also be a moving outside agency.

The stroke may only be cancelled in the unlikely event that a ball in motion from a stroke on the putting green is deflected, i.e. moved from the direction that it was rolling, by a leaf that is also in motion. It does not give licence to players who miss putts in fall conditions to claim that their ball was diverted by a leaf, or anything else at rest on the putting green.

Comments: ttucker@rochester.rr.com

Love your practice, own your swing, own your health,

Tom



---



Golf Lessons

I conduct lessons at The Plum Creek Driving Range & Practice Facility
there's a link for Plum Creek info here: http://www.tomtuckergolf.com/

Lessons are available for all ages and skill levels, please contact
me - Tom Tucker - at (716) 474 3005 or email me at ttucker@rochester.rr.com
for more information.

Outdoor Lessons Details and Rates:
http://www.tomtuckergolf.com/lessonrates.html

Indoor Lessons Details and Rates:
http://www.tomtuckergolf.com/indoor.html

Driver Fitting Rates:
http://www.tomtuckergolf.com/indoor.html

Testimonials:
http://www.tomtuckergolf.com/testimonials.html


Sponsors

Plum Creek Driving Range and Simulator Outdoor range and play indoor golf on any of our 40 Simulator Courses. Call 585-993-0930 or email Mark at plumcreek4@rochester.rr.com to reserve time for simulator play or practice!

Batavia Country Club (585) 343-7600 www.bataviacc.com
Great rates, the best greens in WNY. Golf Digest Four Star rating for public courses to play in New York State. Tee times online or by phone in season. Call or stop in to purchase your 2016 membership, it's the best bang for your buck that you will find in WNY.

Some openings are still availabe on some leagues, contact information may be found here: Events and Specials

Tour Greens Western New York Practice with purpose in your own back yard on your own synthetic practice green. Our greens LOVE Western New York weather!

Genesee Community College Golf Management Program Click on link for more information if you or anyone you know is interested in a dynamic career in the golf industry, or in teaching golf.

All the best,

Tom Tucker
Teaching Pro, Plum Creek Driving Range & Practice Facility
WGTF ' "Top 100 Golf Teacher"
USGTF Class "A" Teaching Professional
IGPA Certified Golf Psychology Coach
Cell: (716) 474-3005
Email: ttucker@rochester.rr.com
http://www.TomTuckerGolf.com

"There are no substitutes in the quest for perfection!"
~ Ben Hogan