Prepare to play your best golf by doing something now!



Tom's Featured Tip: Masters Comments
Tour Greens: Tour Quality Synthetic Greens
Tom's Bonus Tip: Swivel Don't Lift
Lesson Comments: What Students Have To Say
Sponsors: Plum Creek Driving Range
Batavia Country Club
Tour Greens Western New York
Genesee Community College Golf Management Program


Click here: INDOOR GOLF LESSONS for details on how to improve your game over the winter.

Plum Creek Driving Range, Batavia, NY, Open All Year
Simulator Course Play Specials: BataviaGolf.com Call 585-993-0930 or Email Mark to reserve simulator time!

Buy Gift Certificates for Lessons Sample Gift Certificate

Golf lessons - Outdoor and Indoor - are available at Plum Creek, please call me at 716 474 3005, email me at ttucker@rochester.rr.com, or visit my website at http://www.tomtuckergolf.com/lessonrates.html for details.

Subscribe - http://www.tomtuckergolf.com/signup.html If you like this newsletter, please do me a favor and forward it to your friends so that they may subscribe, thanks!

The Unsubscribe link is at the bottom of this newsletter.



---


Tom's Featured Tip: Masters Comments

For simplicity, all advice on actual swings or drills is provided from a right handed perspective.

This year's Masters was enthralling to watch to say the least.

First of all, congratulations to Danny Willett. A blue collar kid from England who played great golf down the stretch to secure his first Major victory. The kid's got grit for sure.

You've got to feel bad for Jordan Speith. I am writing this newsletter on Monday morning the day after the Masters, and I'm also listening to the Golf Channel as I write.

The pundits are saying that he didn't play aggressively enough, that he should have kept attacking the course, that he was playing "not to lose". I would say that a 32 on the front belies all of that. I attribute his unfortunate meltdown on hole 12, where he carded a quadruple bogey, to a 22 year old player succumbing to the pressure cooker they call the Masters.

His ball striking and driver swings had been sub par, but his outstanding short game and putting were saving his round. Then he bogeyed 10 and 11 and I think he lost his thought process on 12. I think that the 22 yr old in him then decided to pin hunt when he should have played center of the green, and he compounded the error by putting a bad swing on the ball.

Jordan being Jordan, he did his best to recover, but it was too much of an error to overcome.

Personally I think he will be even stronger under pressure in the future. I certainly hope so because he wears the Champion mantel very well.

Absurd Comments I Heard

Brandel Chamblee got me riled up on Sunday morning before play started for the leaders.

He was asked about Rory Mcllroy's game, which is actually pretty good right now but not stellar. His commented that he thought that Rory's new "bodybuilder physique" was the source of his problems. He explained that he thought that the muscles were causing him to be musclebound, and that was affecting his swing negatively. His rationale was that "if you had a 20 lb. barbell on that table right now and lifted it, then trained with weights for a year and lifted it again, it would be lighter". According to his misguided and misinformed logic that would throw your swing way off.

These two arguments display so much ignorance of science that I wonder why he is still allowed to pontificate his backwards theories on television. It reminded of when he was calling Tiger's new swing under Sean Foley all wrong, when he didn't even take the time to learn about the method Tiger switched to. He was comparing two completely different swing models - Chamblee's traditional swing model, with Tiger's model that had more of a forward sided pivot with a different weight distribution at address.

Neither technique is either right or wrong. They are what they are - different.

His opinion of Rory's problems was just as off base, if not more so.

First of all, Rory's not musclebound nor is his workout geared towards developing a "bodybuilder" physique.

He is on a strength training regimen, which produces some hypertrophy (muscle enlargement), but targets more muscle fiber strengthening than size development. This causes a thicker physique but not as large as a "bodybuilder" physique. Strength training produces strength without massive muscle enlargement when done correctly. He also does a full body workout, which in and of itself allows for retention of flexibility, if not more flexibility.

And when an object feels lighter because you are stronger, guess what - you can swing it faster. Plus the feeling doesn't just jump into your swing overnight, it's gradual just like your muscle development, so your body and brain can synch things up.

If there are some ball flight nuances that occur due to a stronger body, then enter Trackman. The data it provides re: spin rate, launch angle, and curvature are tailor made for someone who's swing is being influenced by either a swing change or a strength change.

For example, the data can tell a teacher if the student might need a heavier shaft or a different flex to obtain a desired ball flight.

Rory's only area that needs to improve is his putting. He's hitting it longer and better than ever, he's just not putting at the level it takes to be at the top of the mountain.

Chamblee, on the other hand, is way down the broadcaster mountain. He might even be subterranean..

On a local sportscast show I heard a golf pro say that if he were coaching Speith he would get rid of the "chicken wing" he has in his left elbow through impact and into his follow through.

My comment to him is that you can't teach talent, but you can sure screw it up. I personally wouldn't take the chance on screwing up his talent.

He does have that swing nuance - but so what, that's his swing and he owns it. He's 22 yrs old and has one Masters win and two 2nd place finishes, he won the 2015 US Open, the 2015 FedEx championship, and several other tour events. He'll figure it out.

It was frustrating to watch Ernie Els six putt his way to a 9 on number 1 Saturday, but that pales in comparison to what Tommy Armor allegedly did in the week following his win at the 1927 Masters.

For years, the worst score of all has been reported to be a 23 made by Tommy Armour in Pennsylvania, one week after winning a major tournament. Armour was said to have been 18 over par on No. 17, a par-5.

But a report in PGA Magazine from July of that year provided by PGA Philadelphia Section historian Pete Trenham says the Silver Scot made only a sextuple bogey.

I'm sure none of that is any consolation to Els, who has the worst case of the yips I've ever seen. Too bad, he's a great guy.

Billy Horschel was grinding away and in good position to birdie the 15th hole Saturday at the Masters. After clearing the water in two and chipping to 13 feet, Horschel put his ball down, picked up his marker and looked over a putt that would have put him at three over.

Unfortunately for him, a gust of wind sent his ball into the water hazard fronting the green. Horschel watched in disbelief as his ball rolled into the pond. In his frustrated state of mind, he had a few choice words for nearby officials, but then composed himself and made a nice up and down for bogey.

Last but not least, how about all those hole in one's on hole 16? Man, those guys are good!

Comments: ttucker@rochester.rr.com

Love your practice, own your swing, own your health,

Tom



---


Tour Greens: Tour Quality Synthetic Greens For Superb Short Game Practice

Do you want one of these in your own back yard?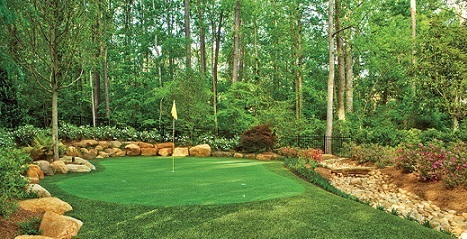 If you would like a free, no obligation quote for getting a beautiful practice area or putting green installed on your property - indoors or outdoors - give me (Tom Tucker) a call at (716) 474-3005, or email at at ttucker@rochester.rr.com

For more information please click here: TourGreensWNY.com

Comments: ttucker@rochester.rr.com

Love your practice, own your swing, own your health,

Tom



---


Tom's Bonus Tip: Swivel Don't Lift

For simplicity, all advice on actual swings or drills is provided from a right handed perspective.

Swivel, don't lift.

After you make a full swing, you obviously need to see where the shot went.

After the ball is off the face of the club, swivel your head to catch it's flight, DO NOT LIFT your head.

Swivel, don't lift, and your swing will finish on plane, your release will be natural, and your ball curvature will be consistent.

Comments: ttucker@rochester.rr.com

Love your practice, own your swing, own your health,

Tom



---



Golf Lessons

I conduct lessons at The Plum Creek Driving Range & Practice Facility
there's a link for Plum Creek info here: http://www.tomtuckergolf.com/

Lessons are available for all ages and skill levels, please contact
me - Tom Tucker - at (716) 474 3005 or email me at ttucker@rochester.rr.com
for more information.

Outdoor Lessons Details and Rates:
http://www.tomtuckergolf.com/lessonrates.html

Indoor Lessons Details and Rates:
http://www.tomtuckergolf.com/indoor.html

Driver Fitting Rates:
http://www.tomtuckergolf.com/indoor.html

Testimonials:
http://www.tomtuckergolf.com/testimonials.html


Sponsors

Plum Creek Driving Range and Simulator Outdoor range and play indoor golf on any of our 40 Simulator Courses. Call 585-993-0930 or email Mark at plumcreek4@rochester.rr.com to reserve time for simulator play or practice!

Batavia Country Club (585) 343-7600 www.bataviacc.com
Great rates, the best greens in WNY. Golf Digest Four Star rating for public courses to play in New York State. Tee times online or by phone in season. BCC has a large supply of PING equipment noe in stock. Stop by and see what;s new for 2016.

There are still some openings for the Tuesday league. League organizer contact information may be found here: Events and Specials

Tour Greens Western New York Practice with purpose in your own back yard on your own synthetic practice green. Our greens LOVE Western New York weather!

Genesee Community College Golf Management Program Click on link for more information if you or anyone you know is interested in a dynamic career in the golf industry, or in teaching golf.

All the best,

Tom Tucker
Teaching Pro, Plum Creek Driving Range & Practice Facility
WGTF ' "Top 100 Golf Teacher"
USGTF Class "A" Teaching Professional
IGPA Certified Golf Psychology Coach
Cell: (716) 474-3005
Email: ttucker@rochester.rr.com
http://www.TomTuckerGolf.com

"There are no substitutes in the quest for perfection!"
~ Ben Hogan