Prepare to play your best golf by doing something now!



Tom's Featured Tip: Update on Toe Up Putters
Tour Greens: Tour Quality Synthetic Greens
Tom's Bonus Tip: Short Putt Excellence
Lesson Comments: What Students Have To Say
Sponsors: Plum Creek Driving Range
Batavia Country Club
Tour Greens Western New York
Genesee Community College Golf Management Program


Click here: INDOOR GOLF LESSONS for details on how to improve your game over the winter.

Plum Creek Driving Range, Batavia, NY, Open All Year
Simulator Course Play Specials: BataviaGolf.com Call 585-993-0930 or Email Mark to reserve simulator time!

Buy Gift Certificates for Lessons Sample Gift Certificate

Golf lessons - Outdoor and Indoor - are available at Plum Creek, please call me at 716 474 3005, email me at ttucker@rochester.rr.com, or visit my website at http://www.tomtuckergolf.com/lessonrates.html for details.

Subscribe - http://www.tomtuckergolf.com/signup.html If you like this newsletter, please do me a favor and forward it to your friends so that they may subscribe, thanks!

The Unsubscribe link is at the bottom of this newsletter.



---


Tom's Featured Tip: Update on Toe Up Putters

For simplicity, all advice on actual swings or drills is provided from a right handed perspective.

A few issues back, I talked quite a bit about the virtues of positive balanced putters, and how I couldn't wait to get the new Odyssey Toe Up Putter in my hands.

I am still absolutely sold on the concept of having a putter head weighted so that it resists torque in the backswing and forward swing, which makes it easier to keep the head square to the path at impact.

I tried both the mallet and blade version of the Toe Up putter and I didn't buy either, which is kind of a record for me. I collect putters like a bookshelf collects dust.

I passed on these putters because the lie angle of the putter prevented me from feeling close enough to the ball with my preferred stance. I could change the lie angle, but then the weight dispersion changes, which voids the benefit.

Your stance will no doubt be different from mine, so I would encourage you to go somewhere where you can swing the putter and try it out.

One of my students, Eric B., also became enthralled with the concept and he decided to send a putter to Positiveputter.com because they offer the service of taking an existing putter and adjusting the head weight balance to make it positive balanced. I had been aware of that site since 2011 when I bought a couple of putters that they made.

I didn't give that customized service much thought at the time, I'm thinking that maybe they didn't even offer it then. Either that or I had tunnel vision for a ready made putter.

Anyway, Eric B. decided to give that service a try and here's what he had to say:

" Tom, so I've had my target balanced putter for about a month now....and I have to tell you: I love it!!

I always use to yank a few putts a round to the right of the hole and I always thought it was bad stroke on my part, but now I think it might've been more a result of my putter flaring open a tad on the backswing. I haven't noticed that miss at all with this newly balanced putter (for the month I've had it).

I just got back from Ravenwood this afternoon where I shot an 81 (could've been in the 70's if I hadn't lost a ball on a par 3 and took a triple bogey 6). A really, REALLY nice score for me, and I have to tell you a lot of it was because I was putting lights out with this putter. I made at least 6 putts from 5-7 foot range to save par and I think I only had one 3 putt all day.

This putter ain't leavin' my bag!

One thing to be aware of if you end up sending Mark something to be re-balanced. Whatever it is he adds to the shaft to rebalance the putter will add some weight to your putter. My head definitely feels heavier - but for me that was fine. I like a heavy putter anyway as it helps steady my hands.

Just something for you to keep in mind.

I don't know if this target balance is for you, but I am sold. In fact, I'm going to send Mark another putter head (an old Bobby Grace putter I have lying around) to be balanced.

I'm so glad I caught your blog on the subject.

Peace, Eric"

So, you can probably guess what I'm going to do.

I'm bidding on an Odyssey DFX 2-Ball Putter, my personal favorite, on Ebay, and as soon as I get it it's going to Positiveputter.com to get "Target Line " balanced, as they call it.

It will be a while, but I'll report back after I get it done.

Comments: ttucker@rochester.rr.com

Love your practice, own your swing, own your health,

Tom



---


Tour Greens: Tour Quality Synthetic Greens For Superb Short Game Practice

Do you want one of these in your own back yard?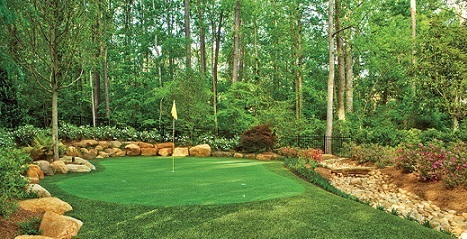 If you would like a free, no obligation quote for getting a beautiful practice area or putting green installed on your property - indoors or outdoors - give me (Tom Tucker) a call at (716) 474-3005, or email at at ttucker@rochester.rr.com

For more information please click here: TourGreensWNY.com

Comments: ttucker@rochester.rr.com

Love your practice, own your swing, own your health,

Tom



---


Tom's Bonus Tip: Short Putt Excellence

For simplicity, all advice on actual swings or drills is provided from a right handed perspective.

On short putts, first and foremost you need to be confident.

Second, aim carefully with the line on your ball and look at a spot on the back of the hole in line with your aimline when you set up for your stroke.

Third, say this mantra to yourself as you make your practice strokes, as well as when you make your actual stroke:

STRAIGHT BACK - STRAIGHT THROUGH

Say it in synch with your backstroke and your forward stroke. It's a tempo tuner as well as a path reminder.

Do these three things on your short putts you will achieve excellence!

Try it, you'll love it!

Comments: ttucker@rochester.rr.com

Love your practice, own your swing, own your health,

Tom



---



Golf Lessons

I conduct lessons at The Plum Creek Driving Range & Practice Facility
there's a link for Plum Creek info here: http://www.tomtuckergolf.com/

Lessons are available for all ages and skill levels, please contact
me - Tom Tucker - at (716) 474 3005 or email me at ttucker@rochester.rr.com
for more information.

Outdoor Lessons Details and Rates:
http://www.tomtuckergolf.com/lessonrates.html

Indoor Lessons Details and Rates:
http://www.tomtuckergolf.com/indoor.html

Driver Fitting Rates:
http://www.tomtuckergolf.com/indoor.html

Testimonials:
http://www.tomtuckergolf.com/testimonials.html


Sponsors

Plum Creek Driving Range and Simulator Outdoor range and play indoor golf on any of our 40 Simulator Courses. Call 585-993-0930 or email Mark at plumcreek4@rochester.rr.com to reserve time for simulator play or practice!

Batavia Country Club (585) 343-7600 www.bataviacc.com
Great rates, the best greens in WNY. Golf Digest Four Star rating for public courses to play in New York State. Tee times online or by phone in season. BCC has a large supply of PING equipment in stock. Stop by and see what's new for 2016.

Taking reservations for Mother's Day Brunch, see our website for more details www.bataviacc.com (585) 343-7600

Tour Greens Western New York Practice with purpose in your own back yard on your own synthetic practice green. Our greens LOVE Western New York weather!

Genesee Community College Golf Management Program Click on link for more information if you or anyone you know is interested in a dynamic career in the golf industry, or in teaching golf.

All the best,

Tom Tucker
Teaching Pro, Plum Creek Driving Range & Practice Facility
WGTF ' "Top 100 Golf Teacher"
USGTF Class "A" Teaching Professional
IGPA Certified Golf Psychology Coach
Cell: (716) 474-3005
Email: ttucker@rochester.rr.com
http://www.TomTuckerGolf.com

"There are no substitutes in the quest for perfection!"
~ Ben Hogan