Prepare to play your best golf by doing something now!



Tom's Featured Tip: Visualization Hurting Golf Performance?
Tour Greens: Tour Quality Synthetic Greens
Tom's Bonus Tip: Swinging Too Hard?
Lesson Comments: What Students Have To Say
Sponsors: Plum Creek Driving Range
Batavia Country Club
Tour Greens Western New York
Genesee Community College Golf Management Program


Click here: INDOOR GOLF LESSONS for details on how to improve your game over the winter.

Plum Creek Driving Range, Batavia, NY, Open All Year
Simulator Course Play Specials: BataviaGolf.com Call 585-993-0930 or Email Mark to reserve simulator time!

Buy Gift Certificates for Lessons Sample Gift Certificate

Golf lessons - Outdoor and Indoor - are available at Plum Creek, please call me at 716 474 3005, email me at ttucker@rochester.rr.com, or visit my website at http://www.tomtuckergolf.com/lessonrates.html for details.

Subscribe - http://www.tomtuckergolf.com/signup.html If you like this newsletter, please do me a favor and forward it to your friends so that they may subscribe, thanks!

The Unsubscribe link is at the bottom of this newsletter.



---


Tom's Featured Tip: Visualization Hurting Golf Performance?

For simplicity, all advice on actual swings or drills is provided from a right handed perspective.

As I've mentioned before in this newsletter, I study the golf swing at least two hours per day, usually seven days per week. I try to stay on top of good research, and at the same time try to separate the wheat from the chaff.

When I see someone espousing some method or technique that I consider to be wrong, I usually develop a contrarian article and publish it in this newsletter.

When I see something that looks interesting or profound, I usually develop an article and allude to it with my two cents added.

This issue is an exception in that I am presenting an article verbatim that I read in the Golf Science Lab newsletter because it rejects a widely accepted principle of the game, pre-shot visualization during competition.

I personally find it hard to dispute scientifically based opinions, so I'm adjusting my teaching as follows: in competition or in training, follow the advice in the article with one exception - putting. Even in competition, when putting I would still say to visualize your aimline, align for it, then dismiss it from your mind and proceed with executing a good stroke.

The article also reinforces what I ask my students to do - to utilize deep practice to develop skill sets that will eventually appear naturally in your swing. That's when practicing swing mechanics translates to acquiring feel for a shot or swing.

Here's the article, I would be very interested in your comments - just click on the comments link at the end of the article.

The Golf Science Lab published such a controversial article that I decided to present it in it's entirety.

Visualization Hurting Golf Performance?

Recent studies have shown that visualizing right before we perform actually hurts performance. The studies found the most useful place to use visualization was away from competition.

This study was published in THE SPORTS PSYCHOLOGIST March 2016. The paper Introducing Sports Psychology Interventions : Self -Control Implications, authors Tracy Devonport, Andrew Lane, Christopher L. Fullerton

In this paper they write : Why imagery may not be effective: because skills such as imagery (which is a complex skill) is likely to take away from learning and performing. The fact that the second task, performing, happens shortly after the first ( visualization ), there is not enough recovery time. The implications is that individuals engaging in two self-control tasks, one right after the other, are at risk for performance on the second task being compromised.

The athlete who is asked to perform motor imagery and then immediately perform a physical skill which also requires self-control is doing two sequential self-control tacks, where as an athlete who is just performing the physical skill is doing one. Because the second athlete did not deplete resources in the undertaking, we predict that the second athlete would perform better on the physical skill( i.e., in terms of technical, and outcome proficiency).

It is acknowledged the motor imagery may take place away from physical practice and the actual performance. ( Smith , Wright . & Cantwell , 2008)

Perhaps what we could take away from these studies is that most of what we do is guided non consciously, without conscious try at visualizing, it just happens. We look and then perform, without a conscious attempt to visualize .

Do we consciously try to see, or do we just see or do we consciously try to feel or move, or do we just do it?

The information is always there in the environment, and it naturally enters our eyes and brain, and we then move on with an attempt at what needs to be done, based on what the environment was sharing with us. No conscious or competing thoughts of conscious visualization.

The golf course is always speaking to us, it is the most useful swing model. It tells us what club, what ball flight, what alignment, what size swing, and what speed to use, non consciously based on past experience .

Without knowing it, until I read this study, I think itís how I have asked students to consider playing. No conscious thinking, just allow the information gained from past experiences to lead the way non- consciously. which is what guides most of what we do everyday. No conscious visualization, but seeing yes , but no conscious system of visualization to compete with how the non conscious is guiding performance .

For me, these studies support the view that we play to learn , and over 95% of leaning is done non- consciously. When the putt goes too far , the non-conscious lesson arrives!

Keep in mind the studies point out that visualizing during training may be useful.

If you would care to read some interesting comments on this article from some pro's, coaches, and others, click here: Golfsciencelab.com/visualization-hurting-golf-performance/

Comments: ttucker@rochester.rr.com

Love your practice, own your swing, own your health,

Tom



---


Tour Greens: Tour Quality Synthetic Greens For Superb Short Game Practice

Do you want one of these in your own back yard?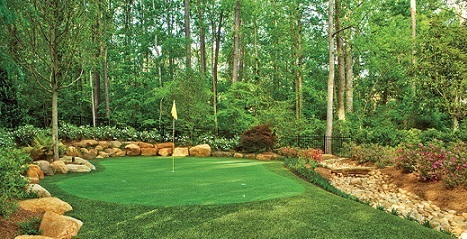 If you would like a free, no obligation quote for getting a beautiful practice area or putting green installed on your property - indoors or outdoors - give me (Tom Tucker) a call at (716) 474-3005, or email at at ttucker@rochester.rr.com

For more information please click here: TourGreensWNY.com

Comments: ttucker@rochester.rr.com

Love your practice, own your swing, own your health,

Tom



---


Tom's Bonus Tip: Swinging Too Hard?

For simplicity, all advice on actual swings or drills is provided from a right handed perspective.

If you are a serial "hard swinger" and consistently messing up on around 50% of those swings, try thinking of every tee shot on a par 4 or par 5 as a layup shot.

Instead of just trying to hit it as far as you can, pick a spot on the fairway that's well within reach. This reduces the tendency to swing too hard.

You'll be amazed at how many times that relaxed swing will send the ball down the fairway to the distance that you would get if you happen to get it going in the right direction with your "hard" swing.

Try it, you'll like it.

Comments: ttucker@rochester.rr.com

Love your practice, own your swing, own your health,

Tom



---



Golf Lessons

I conduct lessons at The Plum Creek Driving Range & Practice Facility
there's a link for Plum Creek info here: http://www.tomtuckergolf.com/

Lessons are available for all ages and skill levels, please contact
me - Tom Tucker - at (716) 474 3005 or email me at ttucker@rochester.rr.com
for more information.

Outdoor Lessons Details and Rates:
http://www.tomtuckergolf.com/lessonrates.html

Indoor Lessons Details and Rates:
http://www.tomtuckergolf.com/indoor.html

Driver Fitting Rates:
http://www.tomtuckergolf.com/indoor.html

Testimonials:
http://www.tomtuckergolf.com/testimonials.html


Sponsors

Plum Creek Driving Range and Simulator Outdoor range and play indoor golf on any of our 40 Simulator Courses. Call 585-993-0930 or email Mark at plumcreek4@rochester.rr.com to reserve time for simulator play or practice!

Batavia Country Club (585) 343-7600 www.bataviacc.com
Great rates, the best greens in WNY. Golf Digest Four Star rating for public courses to play in New York State. Tee times online or by phone in season. BCC has a large supply of PING equipment in stock. Stop by and see what's new for 2016.

Tour Greens Western New York Practice with purpose in your own back yard on your own synthetic practice green. Our greens LOVE Western New York weather!

Genesee Community College Golf Management Program Click on link for more information if you or anyone you know is interested in a dynamic career in the golf industry, or in teaching golf.

All the best,

Tom Tucker
Teaching Pro, Plum Creek Driving Range & Practice Facility
WGTF ' "Top 100 Golf Teacher"
USGTF Class "A" Teaching Professional
IGPA Certified Golf Psychology Coach
Cell: (716) 474-3005
Email: ttucker@rochester.rr.com
http://www.TomTuckerGolf.com

"There are no substitutes in the quest for perfection!"
~ Ben Hogan