Prepare to play your best golf by doing something now!



Tom's Featured Tip: Swing Up With Your Driver
Tour Greens: Tour Quality Synthetic Greens
Tom's Bonus Tip: Goals and Putter Quandry
Lesson Comments: What Students Have To Say
Sponsors: Plum Creek Driving Range
Batavia Country Club
Tour Greens Western New York
Genesee Community College Golf Management Program


Click here: INDOOR GOLF LESSONS for details on how to improve your game over the winter.

Plum Creek Driving Range, Batavia, NY, Open All Year
Simulator Course Play Specials: BataviaGolf.com Call 585-993-0930 or Email Mark to reserve simulator time!

Buy Gift Certificates for Lessons Sample Gift Certificate

Golf lessons - Outdoor and Indoor - are available at Plum Creek, please call me at 716 474 3005, email me at ttucker@rochester.rr.com, or visit my website at http://www.tomtuckergolf.com/lessonrates.html for details.

Subscribe - http://www.tomtuckergolf.com/signup.html If you like this newsletter, please do me a favor and forward it to your friends so that they may subscribe, thanks!

The Unsubscribe link is at the bottom of this newsletter.



---


Tom's Featured Tip: Swing Up With Your Driver

For simplicity, all advice on actual swings or drills is provided from a right handed perspective.

I teach most of my students to hit the driver on an ascending arc, in other words somewhere in the up and left portion of their swing arc. I may or may not also have them set up a little closed, and with some "radial axis spine tilt". That's a golf term for tilting the upper body a little away from the target at address to facilitate an upward swing at the ball. The key is to get the tilt away from the target by sliding your hips forward an inch or so, not just leaning back and away. The latter puts too much weight on the rear leg at address.

I consider striking the ball at about a 4 degree upward angle to be optimal for most players.

That setup works well most of the time, but every now and them I have a student that has a bit of an issue with this spine position, and they start to "drop kick" some drives.

"Drop kick" means that they are hitting the ground way behind the ball before they hit the ball, because they are slow to transfer their lower torso weight forward at impact. That's usually accompanied by a reluctant pivot instead of a deliberate pivot.

Their swing then becomes all arms.

Through discovery (there's that word again, golf is a game of discovery) I have found that these students can execute an upward swing arc easier by simply tilting their head only slightly away from the target, then turning their chin a little to the left. instead of setting up with radial spine axis tilt.

If you feel that the trajectory of your drive is too low, or if you simply want to have a higher trajectory drive in your swing arsenal for when you need it, try this:
Move the ball well forward in your stance, off the big toe of your front foot.


Tee the ball up relatively high. Don't worry, you won't swing under it as long as you catch it on the upward part of your swing arc.


Close your stance one inch ( or not - experiment with this part of the setup). If you swing from "inside to inside", like I teach it, you'll need a closed stance because your strike will be in the up and left portion of your swing arc. If you are an "inside to outside" swinger, then you may be able to keep your stance alignment square.


In your setup, don't place the driver directly behind the ball. Instead, move the driver head back about four inches from the ball to define that spot in your brain as where the bottom of your swing arc will be located.


Tilt your head slightly away from the target. and turn your chin slightly to the left


Feel like you are swinging up at the ball when you hit it.
A great way to practice this swing without a ball is simply to set up to a tee as described above, and when you swing observe that you are swinging upward and over the tee, not striking it.

Try it, you'll like it.

Comments: ttucker@rochester.rr.com

Love your practice, own your swing, own your health,

Tom



---


Tour Greens: Tour Quality Synthetic Greens For Superb Short Game Practice

Do you want one of these in your own back yard?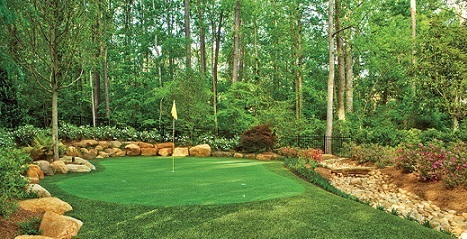 If you would like a free, no obligation quote for getting a beautiful practice area or putting green installed on your property - indoors or outdoors - give me (Tom Tucker) a call at (716) 474-3005, or email at at ttucker@rochester.rr.com

For more information please click here: TourGreensWNY.com

Comments: ttucker@rochester.rr.com

Love your practice, own your swing, own your health,

Tom



---


Tom's Bonus Tip: Trying and Liking

For simplicity, all advice on actual swings or drills is provided from a right handed perspective.

At the end of most of my tips I say "try it, you'll like it"

I wanted to share this comment from one reader who took that advice to heart.

"Hi Tom, I had been having trouble hitting my driver on the sweet spot and seemed to be hitting on the heel and pulling every drive to the left. Your newsletter (Issue 405) drops into my inbox and low and behold, your tip is all about necking the driver.

I went to the range tonight and applied your tip of hovering the club at the sweet spot and then lowering to the ground for the actual swing. As you stated the club looked like the ball was lined up toward the toe.

I proceeded to hit one drive after another on the sweet spot and straight down my target line. I also gained about 20-30 yards more than I had been hitting!

As always, I find your newsletter and tips to be most helpful to improving my game! Can't wait to play on Wednesday!

Best,
Karen K."

Thanks to Karen K. for the feedback, and try it, you'll like it :-)

Comments: ttucker@rochester.rr.com

Love your practice, own your swing, own your health,

Tom



---



Golf Lessons

I conduct lessons at The Plum Creek Driving Range & Practice Facility
there's a link for Plum Creek info here: http://www.tomtuckergolf.com/

Lessons are available for all ages and skill levels, please contact
me - Tom Tucker - at (716) 474 3005 or email me at ttucker@rochester.rr.com
for more information.

Outdoor Lessons Details and Rates:
http://www.tomtuckergolf.com/lessonrates.html

Indoor Lessons Details and Rates:
http://www.tomtuckergolf.com/indoor.html

Driver Fitting Rates:
http://www.tomtuckergolf.com/indoor.html

Testimonials:
http://www.tomtuckergolf.com/testimonials.html


Sponsors

Plum Creek Driving Range and Simulator Outdoor range and play indoor golf on any of our 40 Simulator Courses. Call 585-993-0930 or email Mark at plumcreek4@rochester.rr.com to reserve time for simulator play or practice!

Batavia Country Club (585) 343-7600 www.bataviacc.com
Great rates, the best greens in WNY. Golf Digest Four Star rating for public courses to play in New York State. Tee times online or by phone in season. BCC has a large supply of PING equipment in stock. Stop by and see what's new for 2016.

Tour Greens Western New York Practice with purpose in your own back yard on your own synthetic practice green. Our greens LOVE Western New York weather!

Genesee Community College Golf Management Program Click on link for more information if you or anyone you know is interested in a dynamic career in the golf industry, or in teaching golf.

All the best,

Tom Tucker
Teaching Pro, Plum Creek Driving Range & Practice Facility
WGTF ' "Top 100 Golf Teacher"
USGTF Class "A" Teaching Professional
IGPA Certified Golf Psychology Coach
Cell: (716) 474-3005
Email: ttucker@rochester.rr.com
http://www.TomTuckerGolf.com

"There are no substitutes in the quest for perfection!"
~ Ben Hogan