Prepare to play your best golf by doing something now!



Tom's Featured Tip: Controversy at The US Open
Tour Greens: Tour Quality Synthetic Greens
Tom's Bonus Tip: Grip Pressure
Lesson Comments: What Students Have To Say
Sponsors: Plum Creek Driving Range
Batavia Country Club
Tour Greens Western New York
Genesee Community College Golf Management Program


Click here: INDOOR GOLF LESSONS for details on how to improve your game over the winter.

Plum Creek Driving Range, Batavia, NY, Open All Year
Simulator Course Play Specials: BataviaGolf.com Call 585-993-0930 or Email Mark to reserve simulator time!

Buy Gift Certificates for Lessons Sample Gift Certificate

Golf lessons - Outdoor and Indoor - are available at Plum Creek, please call me at 716 474 3005, email me at ttucker@rochester.rr.com, or visit my website at http://www.tomtuckergolf.com/lessonrates.html for details.

Subscribe - http://www.tomtuckergolf.com/signup.html If you like this newsletter, please do me a favor and forward it to your friends so that they may subscribe, thanks!

The Unsubscribe link is at the bottom of this newsletter.



---


Tom's Featured Tip: Controversy at The US Open

For simplicity, all advice on actual swings or drills is provided from a right handed perspective.

First of all, congratulations to Dustin Johnson (DJ) on an outstanding pressure packed performance at the US Open over the weekend.

If the pressure of the tournament itself wasn't enough to bear, the USGA decided to amp it up by telling him on the 12th tee that an action he committed on the 5th hole may result in a penalty.

Dustin Johnson was informed on the 12th tee of the final round by the USGA's Jeff Hall that he may still be penalized for his ball moving on the fifth green. Hall then appeared on Fox's telecast to explain the situation. Essentially, the USGA deemed that Johnson may have caused his ball to move -- the original ruling was that he didn't and he wasn't assessed a one-stroke penalty.

Hall later explained that he had asked Johnson a key question at that time, after Johnson stated that he didn't cause the ball to move: could he (DJ) offer any explanation as to why the ball moved?

DJ answered: "no, he couldn't, but that he didn't do anything to cause the movement".

My question is why the heck should he need to answer the question?
He had already stated that nothing he did caused the ball to move.

PLUS those greens were so fast that a breath of air or a bug could have easily caused that ball to move.

PLUS DJ and a rules official determined on the spot that Johnson didn't cause the ball to move, so he putted his ball from the new spot and made par.

PLUS Lee Westwood, who was playing with DJ, stated at the time that Johnson did not cause the ball to move.
If it was good enough for all parties involved at the time on the 5th green, is should have been good enough. Case closed.
Here's what DJ and everyone watching replay saw:
DJ grounded his club alongside the ball and took a couple of practice strokes - no ball movement
DJ hovered his club off the ground behind the ball, and the ball rolled backwards towards the putterface a tiny distance, but did not contact the putterface.
Grounding the club, or not, is not an issue any more due to a recent rule change.

A key point to Rule 18-2b is not if the player grounded the club, but whether if "it is known or virtually certain that he did not cause the ball to move."

Golf is a game of integrity, and everything was on the up and up - that should have been the end of it.

I think it's time for another adjustment to this rule as follows: whether if "it is known or virtually certain that he did cause the ball to move."

That way there should be no need for a jury of a few rules officials to consider bogus "evidence" and hand out a penalty based on a player not being able to prove his innocence.

What the USGA did after this goes against the essence of the sport as far as I'm concerned.

When they interviewed DJ on the 12th hole and he answered as he did, I knew they were going to assess the penalty. One question I asked myself was "since it looks like a foregone conclusion that you are going to penalize DJ, why not just do it now and let him get on with his round without the uncertainty?"

I do realize that there are two sides to that coin, but personally I would rather know exactly where I stood at the time.

The USGA's process for arriving at the decision was that if the player couldn't offer any other explanation, that the "evidence" would be considered and he be judged accordingly.

The only "evidence" was that the ball moved. Apparently that's all that's necessary for a conviction.

There was zero evidence that anything DJ did caused it to move, none, zero, nada.

He was just there.

If the ball had rolled towards DJ's feet, indicating that touching the ground during his practice strokes caused movement, maybe I could buy it - but that didn't happen, it rolled backwards.

Thank God that it didn't cause DJ to lose the tournament. That penalty would have been a life sentence of a player that penalized himself out of two majors ( Whistling Straits 2015), and that one was just as controversial.

Comments: ttucker@rochester.rr.com

Love your practice, own your swing, own your health,

Tom



---


Tour Greens: Tour Quality Synthetic Greens For Superb Short Game Practice

Do you want one of these in your own back yard?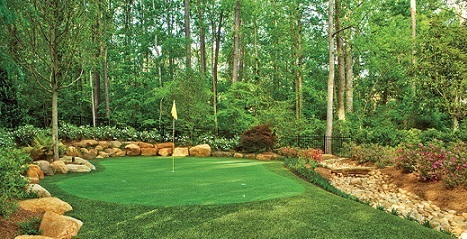 If you would like a free, no obligation quote for getting a beautiful practice area or putting green installed on your property - indoors or outdoors - give me (Tom Tucker) a call at (716) 474-3005, or email at at ttucker@rochester.rr.com

For more information please click here: TourGreensWNY.com

Comments: ttucker@rochester.rr.com

Love your practice, own your swing, own your health,

Tom



---


Tom's Bonus Tip: Grip Pressure

For simplicity, all advice on actual swings or drills is provided from a right handed perspective.

Every now and then I get one of my better players getting together with me because they've lost their consistent curvature - usually their draw.

It most often is caused by a swing path that has gotten a little too much down the line or even outside to inside.

But every now and then it's caused by their clubface not squaring up at impact, not syncing with their normal swing as usual.

If this sounds like it could be you, you may benefit by gripping the club with a little less grip pressure, or getting new grips.

When your flight if off, the mental pressure to correct it can cause you to grip the club a little tighter, inhibiting a natural squaring up of the clubface at impact.

Worn grips can also cause your grip to be tighter, causing the same problem.

If your ball flight has started to become inconsistent, try a grip pressure that's a little less firm and see how it works out.

Just about every student that I teach asks me how tight their grip should be on the club, but there's no one answer to that. It's personal preference all the way. It needs to be firm enough to keep the club from flying out of your hands, and loose enough to allow for natural rotation through impact.

Golf is a game of discovery, and grip pressure is another tool to use in that process.

Comments: ttucker@rochester.rr.com

Love your practice, own your swing, own your health,

Tom



---



Golf Lessons

I conduct lessons at The Plum Creek Driving Range & Practice Facility
there's a link for Plum Creek info here: http://www.tomtuckergolf.com/

Lessons are available for all ages and skill levels, please contact
me - Tom Tucker - at (716) 474 3005 or email me at ttucker@rochester.rr.com
for more information.

Outdoor Lessons Details and Rates:
http://www.tomtuckergolf.com/lessonrates.html

Indoor Lessons Details and Rates:
http://www.tomtuckergolf.com/indoor.html

Driver Fitting Rates:
http://www.tomtuckergolf.com/indoor.html

Testimonials:
http://www.tomtuckergolf.com/testimonials.html


Sponsors

Plum Creek Driving Range and Simulator Outdoor range and play indoor golf on any of our 40 Simulator Courses. Call 585-993-0930 or email Mark at plumcreek4@rochester.rr.com to reserve time for simulator play or practice!

Batavia Country Club (585) 343-7600 www.bataviacc.com
Great rates, the best greens in WNY. Golf Digest Four Star rating for public courses to play in New York State. Tee times online or by phone in season. BCC has a large supply of PING equipment in stock, as well as other major brand name apparel and hats. Stop and shop, we'd love to meet you..

Tour Greens Western New York Practice with purpose in your own back yard on your own synthetic practice green. Our greens LOVE Western New York weather!

Genesee Community College Golf Management Program Click on link for more information if you or anyone you know is interested in a dynamic career in the golf industry, or in teaching golf.

All the best,

Tom Tucker
Teaching Pro, Plum Creek Driving Range & Practice Facility
WGTF ' "Top 100 Golf Teacher"
USGTF Class "A" Teaching Professional
IGPA Certified Golf Psychology Coach
Cell: (716) 474-3005
Email: ttucker@rochester.rr.com
http://www.TomTuckerGolf.com

"There are no substitutes in the quest for perfection!"
~ Ben Hogan