Prepare to play your best golf by doing something now!



Tom's Featured Tip: The 50 Yard Shot
Tour Greens: Tour Quality Synthetic Greens
Tom's Bonus Tip: Q&A: Golfers Elbow Remedies
Lesson Comments: What Students Have To Say
Sponsors: Plum Creek Driving Range
Batavia Country Club
Tour Greens Western New York
Genesee Community College Golf Management Program


Click here: INDOOR GOLF LESSONS for details on how to improve your game over the winter.

Plum Creek Driving Range, Batavia, NY, Open All Year
Simulator Course Play Specials: BataviaGolf.com Call 585-993-0930 or Email Mark to reserve simulator time!

Buy Gift Certificates for Lessons Sample Gift Certificate

Golf lessons - Outdoor and Indoor - are available at Plum Creek, please call me at 716 474 3005, email me at ttucker@rochester.rr.com, or visit my website at http://www.tomtuckergolf.com/lessonrates.html for details.

Subscribe - http://www.tomtuckergolf.com/signup.html If you like this newsletter, please do me a favor and forward it to your friends so that they may subscribe, thanks!

The Unsubscribe link is at the bottom of this newsletter.



---


Tom's Featured Tip: The 50 Yard Shot

For simplicity, all advice on actual swings or drills is provided from a right handed perspective.

I was having a conversation with one of my top level students about the difficulty many power players have with a very short shot, in the 50 yard range. They often have trouble executing that swing because they have been blessed with so much lag in their natural swing that they either have trouble switching the "lag" switch off or have never been taught how or why to do it.

You can't have a lot power without a lot of lag. But when power swingers try to slow down their swing for a very short shot they often turn the face over prematurely through impact and pull the shot left, or they stop their shoulder rotation completely at impact and hit the shot fat.

De-training the lag in your swing is necessary to hit short but sweet shots that go the distance with a low trajectory and sufficient spin. What you are doing is taking a short pitch shot, which requires a lot of precision and practice, and turning it in to a long chip shot with dead hands.

The Long Chip Shot

One of the most critical components of the long chip shot is that your hands should be in the impact fix position at setup, and that you should have about 80% of your weight feathered onto your front side. Here's what your hands should look like prior to your takeaway:





You end up addressing the ball with your hands in the position in the photo above, the impact fix position.

The stroke technique is to rock the shoulders back to the length of the swing you want, maintaining the wrist positions that you had at setup above. Then a very slight weight bump forward initiates the downswing sequence which is executed with no wrist lag. It feels like you are pulling and turning, and the precise wrist positions that were established at setup are maintained through impact into your follow through with no clubface rotation and no wrist breakdown. The face is held square to your inside to inside swing path.

This swing can be executed to any swing length that moves to a point in the backswing that stops just before your wrists start to hinge. When the wrists hinge, it is no longer the long chip shot, it then becomes a pitch shot - with a different trajectory and different spin.

It's a one third to one half backswing length shot, with a normal crisp downswing pace through the ball. Don't try to swing slower to hit the ball shorter. Instead develop this swing technique with different clubs - mostly, but not always - wedges, to cover different distances. Keep your downswing crisp with every swing.

This swing will produce a medium to low trajectory shot with sufficient spin to stop the ball after a couple of hops if you are using a spin ball, have good technique, and sufficient pace in your downswing.

The good news is that compared to a pitch shot, the long chip shot is easier to learn and control, it has a better chance of actually going in the hole, and your misses will be closer to the hole than misses with a pitch shot technique.

There's a time and place for a high 50 yard pitch shot, but if you have a choice between the pitch and the long chip, the long chip may be the better option. It's a very reliable shot, not too many moving parts, and you'll learn it quickly. I think you'll learn to love it quickly.

Learn this shot as an alternative to the 50 yard pitch shot, and I'm sure you'll increase your up and down percentage from that distance.

Try it you'll like it.

Comments: ttucker@rochester.rr.com

Love your practice, own your swing, own your health,

Tom



---


Tour Greens: Tour Quality Synthetic Greens For Superb Short Game Practice

Do you want one of these in your own back yard?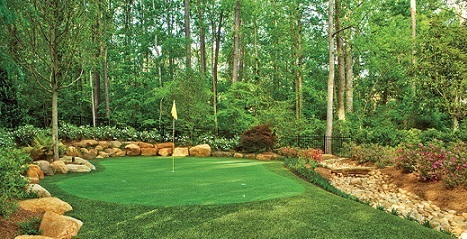 If you would like a free, no obligation quote for getting a beautiful practice area or putting green installed on your property - indoors or outdoors - give me (Tom Tucker) a call at (716) 474-3005, or email at at ttucker@rochester.rr.com

For more information please click here: TourGreensWNY.com

Comments: ttucker@rochester.rr.com

Love your practice, own your swing, own your health,

Tom



---


Tom's Bonus Tip: Q&A: Golfers Elbow Remedies

For simplicity, all advice on actual swings or drills is provided from a right handed perspective.

Q: Tom, ever do any tips on golfers elbow remedies?

Frank N.

A: Thanks for the question Frank.

I'm not an expert at that personally, so I would recommend googleing "remedies for golfers elbow".

Then I would advise seeing your doctor for advice.

That may seem backwards to some of you, but I always like to research my own problems before I see my doctor in order to have my questions ready.

Having said all of that, I did google the topic and I found this brief synopsis of a treatment option that seems sensible to me:
Rest. ...
Ice the affected area. ...
Take an over-the-counter pain reliever. ...
Use a brace. ...
Stretch and strengthen the affected area. ...
Reduce the load on your elbow tendons. ...
Gradually return to your usual activities. ...
Get two opinions if surgery is recommended.
I have had this type of elbow problem in the past, and I just rested the elbow and took anti-inflammatory medication prescribed by my doctor.

It took about three weeks before I could resume normal activity, and I cut out one of the exercises in my weight workout routine that I think aggravated to the problem.

I hope this helps Frank,

All the best,

Tom

Comments: ttucker@rochester.rr.com

Love your practice, own your swing, own your health,

Tom



---



Golf Lessons

I conduct lessons at The Plum Creek Driving Range & Practice Facility
there's a link for Plum Creek info here: http://www.tomtuckergolf.com/

Lessons are available for all ages and skill levels, please contact
me - Tom Tucker - at (716) 474 3005 or email me at ttucker@rochester.rr.com
for more information.

Outdoor Lessons Details and Rates:
http://www.tomtuckergolf.com/lessonrates.html

Indoor Lessons Details and Rates:
http://www.tomtuckergolf.com/indoor.html

Driver Fitting Rates:
http://www.tomtuckergolf.com/indoor.html

Testimonials:
http://www.tomtuckergolf.com/testimonials.html


Sponsors

Plum Creek Driving Range and Simulator Outdoor range and play indoor golf on any of our 40 Simulator Courses. Call 585-993-0930 or email Mark at plumcreek4@rochester.rr.com to reserve time for simulator play or practice!

Batavia Country Club (585) 343-7600 www.bataviacc.com
Great rates, the best greens in WNY. Golf Digest Four Star rating for public courses to play in New York State. Tee times online or by phone in season. BCC has a large supply of PING equipment in stock, as well as other major brand name apparel and hats. Stop and shop, we'd love to meet you.

Tour Greens Western New York Practice with purpose in your own back yard on your own synthetic practice green. Our greens LOVE Western New York weather!

Genesee Community College Golf Management Program Click on link for more information if you or anyone you know is interested in a dynamic career in the golf industry, or in teaching golf.

All the best,

Tom Tucker
Teaching Pro, Plum Creek Driving Range & Practice Facility
WGTF ' "Top 100 Golf Teacher"
USGTF Class "A" Teaching Professional
IGPA Certified Golf Psychology Coach
Cell: (716) 474-3005
Email: ttucker@rochester.rr.com
http://www.TomTuckerGolf.com

"There are no substitutes in the quest for perfection!"
~ Ben Hogan