Prepare to play your best golf by doing something now!



Tom's Featured Tip: 14 Clubs - What's In Your Bag?
Tour Greens: Tour Quality Synthetic Greens
Tom's Bonus Tip: Johnny Got It Right
Lesson Comments: What Students Have To Say
Sponsors: Plum Creek Driving Range
Batavia Country Club
Tour Greens Western New York
Genesee Community College Golf Management Program


Click here: INDOOR GOLF LESSONS for details on how to improve your game over the winter.

Plum Creek Driving Range, Batavia, NY, Open All Year
Simulator Course Play Specials: BataviaGolf.com Call 585-993-0930 or Email Mark to reserve simulator time!

Buy Gift Certificates for Lessons Sample Gift Certificate

Golf lessons - Outdoor and Indoor - are available at Plum Creek, please call me at 716 474 3005, email me at ttucker@rochester.rr.com, or visit my website at http://www.tomtuckergolf.com/lessonrates.html for details.

Subscribe - http://www.tomtuckergolf.com/signup.html If you like this newsletter, please do me a favor and forward it to your friends so that they may subscribe, thanks!

The Unsubscribe link is at the bottom of this newsletter.



---


Tom's Featured Tip: 14 Clubs - What's In Your Bag

For simplicity, all advice on actual swings or drills is provided from a right handed perspective.

This issue was inspired by several events:
The fact that some players play with more than 14 clubs in their bag with impunity;
Some adjustments made to equipment by two players I know - one that I teach and one that I play with;
And some adjustments I've made to my set composition and why.
14 Clubs

Having an extra club in your bag - or more than one extra club - is a huge advantage in golf. It gives you less decision making because you can have that club for a specific yardage that you otherwise would have had to make a swing adjustment for. A stock swing is always preferable to a swing adjustment because it's practiced more.

Rule 4-4 that stipulates that a player must not start a round with more than 14 clubs. In stroke play the penalty, regardless of the number of excess clubs carried, is two strokes for each hole at which any breach occurred, with a maximum penalty per round of four strokes. In match play, at the conclusion of the hole at which the breach is discovered, the state of the match is adjusted by deducting one hole for each hole at which a breach occurred with a maximum deduction per round of two holes.

If you carry more than 14 clubs when you play, change your ways!

Creative Equipment Adjustments

A student of mine was practicing at Harvest Hill when the head of his 5 iron flew off, and he and others couldn't find it. He had a 4 iron that he wasn't using, so he cut the shaft to 5 iron length and bent the club to 2 degrees softer (that was all it could be safely bent). Now he has a great replacement for his five iron that flies a little further.

Good move.

Another player that I play with was struggling with his driver. He's not a tall player, so he figured out that the shaft length may have been causing issues. He bought a new Ping G Driver and put a 3 wood shaft on it and he's killing it.

Good move.

My Bag Setup Adjustment

We all have to make decisions on what 14 clubs we are going to carry in our bag.

A professional golfer that I coach, Chris Carroll, has to make bag setup adjustments to his scoring wedges. He has power to spare, but needs more options for short yardages.

Compare the power player setup to mine, a low handicap senior player that does not play a power game. I've just recently made some tweaks to my bag setup to cover shots that need to carry 171 to 181 yards.

Here was my old bag setup:

Driver: Callaway G 10.5 stiff graphite
Woods: Adams Tight Lies 3 wood, 14* and Adams Tight Lies 3 wood 16*, both stiff graphite
Hybrids: Ping G30 3 (19*) and 4 (22*), stiff graphite
Irons: Callaway Apex Forged 5 - PW stiff graphite
Gap Wedge: 50* Ping Glide, stiff steel
Sand Wedge: 56* Jesse Ortiz/Bobby Jones, stiff steel
Putter: Odyssey DFX 2-Ball Putter, 34" I added 25 g of weight to the head, SuperStroke Flatso 2.0 grip
14 clubs

My 3 woods performed like a 3 wood and 5 wood, I carried the 16* for when I needed to hit a high draw.

My 5 iron carries around 170 yards max with a stock swing, and I'd rather not try to overswing a long iron.

My 4 hybrid carries around 182 yards with a stock swing.

That leaves a gap for 170 yard to 182 yard shots, which I seem to face frequently on longer par fours and some par threes these days.

So here's the adjustment that I made just last week: I replaced the 14* and 16* 3 woods with an Adams Tight Lies 15* 3 wood, stiff graphite, and I added a Ping G30 5 (26*) hybrid, stiff graphite.

I'm sure that this will be a great change for me because I've never hit hybrids that are as consistent with distance as these Ping G30's. I would guess that the Ping G's would be the same, but I got the G30 to match my set.

The advice to carry over from all of this information is:
Carry no more than 14 clubs in your bag, more is cheating
Think of creative solutions for problems
Think about what's in your bag and make adjustments as necessary. Power players may need to add wedges, average players may need to make adjustments to fill in longer yardage gaps.

Comments: ttucker@rochester.rr.com

Love your practice, own your swing, own your health,

Tom



---


Tour Greens: Tour Quality Synthetic Greens For Superb Short Game Practice

Do you want one of these in your own back yard?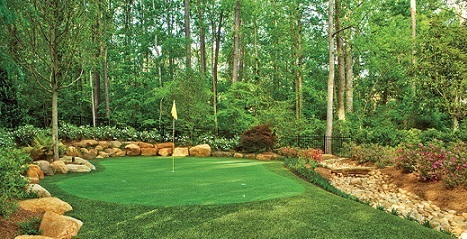 If you would like a free, no obligation quote for getting a beautiful practice area or putting green installed on your property - indoors or outdoors - give me (Tom Tucker) a call at (716) 474-3005, or email at at ttucker@rochester.rr.com

For more information please click here: TourGreensWNY.com

Comments: ttucker@rochester.rr.com

Love your practice, own your swing, own your health,

Tom



---


Tom's Bonus Tip: Johnny Got It Right

For simplicity, all advice on actual swings or drills is provided from a right handed perspective.

I've been critical of some TV announcers for some inane comments,but today I want to pass along Kudos to Johnny Miller for some short but sweet advice.

During The Open telecast a couple weeks ago, a player had just hit it in the heather, caught a terrible lie, and had a very low percentage chance to get the ball near the green. Instead, the player hacked it out onto the fairway and ended up with a bogey. Given the circumstances it was the prudent thing to do, he avoided a big number.

That's when Johnny Miller uttered this gem "when you're in trouble, get out of trouble".

Making getting out of trouble your first priority is great advice when your lie or other circumstances make trying for more a low percentage proposition.

Well done to Johnny!

Comments: ttucker@rochester.rr.com

Love your practice, own your swing, own your health,

Tom



---



Golf Lessons

I conduct lessons at The Plum Creek Driving Range & Practice Facility
there's a link for Plum Creek info here: http://www.tomtuckergolf.com/

Lessons are available for all ages and skill levels, please contact
me - Tom Tucker - at (716) 474 3005 or email me at ttucker@rochester.rr.com
for more information.

Outdoor Lessons Details and Rates:
http://www.tomtuckergolf.com/lessonrates.html

Indoor Lessons Details and Rates:
http://www.tomtuckergolf.com/indoor.html

Driver Fitting Rates:
http://www.tomtuckergolf.com/indoor.html

Testimonials:
http://www.tomtuckergolf.com/testimonials.html


Sponsors

Plum Creek Driving Range and Simulator Outdoor range and play indoor golf on any of our 40 Simulator Courses. Call 585-993-0930 or email Mark at plumcreek4@rochester.rr.com to reserve time for simulator play or practice!

Batavia Country Club (585) 343-7600 www.bataviacc.com
Great rates, the best greens in WNY. Golf Digest Four Star rating for public courses to play in New York State. Tee times online or by phone in season. BCC has a large supply of PING equipment in stock, as well as other major brand name apparel and hats. Stop and shop, we'd love to meet you.

Tour Greens Western New York Practice with purpose in your own back yard on your own synthetic practice green. Our greens LOVE Western New York weather!

Genesee Community College Golf Management Program Click on link for more information if you or anyone you know is interested in a dynamic career in the golf industry, or in teaching golf.

All the best,

Tom Tucker
Teaching Pro, Plum Creek Driving Range & Practice Facility
WGTF ' "Top 100 Golf Teacher"
USGTF Class "A" Teaching Professional
IGPA Certified Golf Psychology Coach
Cell: (716) 474-3005
Email: ttucker@rochester.rr.com
http://www.TomTuckerGolf.com

"There are no substitutes in the quest for perfection!"
~ Ben Hogan