Prepare to play your best golf by doing something now!



Tom's Featured Tip: The Tip That Helped Furyk Shoot 58
Tour Greens: Tour Quality Synthetic Greens
Tom's Bonus Tip: Feedback Q&A - Shaft Flex
Lesson Comments: What Students Have To Say
Sponsors: Plum Creek Driving Range
Batavia Country Club
Tour Greens Western New York
Genesee Community College Golf Management Program


Click here: INDOOR GOLF LESSONS for details on how to improve your game over the winter.

Plum Creek Driving Range, Batavia, NY, Open All Year
Simulator Course Play Specials: BataviaGolf.com Call 585-993-0930 or Email Mark to reserve simulator time!

Buy Gift Certificates for Lessons Sample Gift Certificate

Golf lessons - Outdoor and Indoor - are available at Plum Creek, please call me at 716 474 3005, email me at ttucker@rochester.rr.com, or visit my website at http://www.tomtuckergolf.com/lessonrates.html for details.

Subscribe - http://www.tomtuckergolf.com/signup.html If you like this newsletter, please do me a favor and forward it to your friends so that they may subscribe, thanks!

The Unsubscribe link is at the bottom of this newsletter.



---


Tom's Featured Tip: The Tip That Helped Furyk Shoot 58

For simplicity, all advice on actual swings or drills is provided from a right handed perspective.

In the final round at the Travelers Championship last Sunday, Jim Furyk set a PGA Tour record with a score of 58, the lowest score ever carded in Tour history.

It really couldn't have happened to a nicer guy.

He hit 13 out of 14 fairways, hit every green in regulation, and had 24 putts. He also had one eagle, ten birdies and no bogeys. He even had a putt horseshoe out on 15 that would have added another birdie!

There was, however, some drama in the scoring trailer. If Jim didn't catch an error on the card by his playing partner, he would have missed the record.

While witnessing history, Furyk's playing partner, Miguel Angel Carballo, mistakenly marked him down for an additional birdie on the par-4 14th. Furyk made a par. Luckily, they found the mistake before signing and turning in the scorecard.

Had the error gone unnoticed, Furyk would have been disqualified and the golf world probably would have gone nuts. Carballo wouldn't have been safe anywhere!

Here's the tip that helped Jim set that record.

Furyk's last tournament was on a very long course, and by Tour standards, Jim's not a long ball hitter. His driving distance average of 279 ranks 182 on the tour.

As a result, he had carried over the longer than normal swing length that he had used in order to try to gain a few more yards to the Travelers tournament.

Jim's father brought this up to him during a phone conversation and advised Jim to shorten and tighten up his backswing.

Jim did so and the rest is history - literally.

Here's how that advice can help you.

If you are getting ready to play a stroke play round after playing in a scramble, consciously tighten up your backswing.

If your swing is out of synch for any other reason, consciously tighten up your backswing.

Try it, you'll like it.

Comments: ttucker@rochester.rr.com

Love your practice, own your swing, own your health,

Tom



---


Tour Greens: Tour Quality Synthetic Greens For Superb Short Game Practice

Do you want one of these in your own back yard?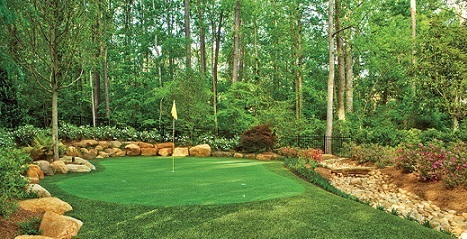 If you would like a free, no obligation quote for getting a beautiful practice area or putting green installed on your property - indoors or outdoors - give me (Tom Tucker) a call at (716) 474-3005, or email at at ttucker@rochester.rr.com

For more information please click here: TourGreensWNY.com

Comments: ttucker@rochester.rr.com

Love your practice, own your swing, own your health,

Tom



---


Tom's Bonus Tip: Feedback Q&A - Shaft Flex

For simplicity, all advice on actual swings or drills is provided from a right handed perspective.

I received this question in response to my 14 Clubs article in the last newsletter.

Q: I'm 67 and play to a 4.

My swing speed is 88-90ish.

I have the apex graphite stock UST graphite in regular.

I fight the hook

Could the shafts be too flexible?

My first set of graphite irons

Thanks, Paul S.

A: Thanks for the question Paul, and well done on your low handicap. You obviously work on your game.

While it's possible that the shaft is too flexible, I would think it's more likely a clubface to swing path issue.

My preferred flight is a push draw, and when I tried an R shaft, my miss was to the right because the face wasn't catching up at impact. However, that miss could have been left if I had tried to slow my swing down a bit to let the face close and my timing was off.

It depends a lot on how you release your stored power at impact, and whether you are a "swinger" or a "hitter". Either is a valid way to swing, but each also may require a different shaft flex than swing speed alone would dictate.

The best bet is to swing the S and R of that same brand and compare the results.

I've always favored a shaft that was more stiff rather than less stiff if I was on the fence, for better directional and curvature control.

Thanks for the feedback, it's appreciated

Tom

Comments: ttucker@rochester.rr.com

Love your practice, own your swing, own your health,

Tom



---



Golf Lessons

I conduct lessons at The Plum Creek Driving Range & Practice Facility
there's a link for Plum Creek info here: http://www.tomtuckergolf.com/

Lessons are available for all ages and skill levels, please contact
me - Tom Tucker - at (716) 474 3005 or email me at ttucker@rochester.rr.com
for more information.

Outdoor Lessons Details and Rates:
http://www.tomtuckergolf.com/lessonrates.html

Indoor Lessons Details and Rates:
http://www.tomtuckergolf.com/indoor.html

Driver Fitting Rates:
http://www.tomtuckergolf.com/indoor.html

Testimonials:
http://www.tomtuckergolf.com/testimonials.html


Sponsors

Plum Creek Driving Range and Simulator Outdoor range and play indoor golf on any of our 40 Simulator Courses. Call 585-993-0930 or email Mark at plumcreek4@rochester.rr.com to reserve time for simulator play or practice!

Batavia Country Club (585) 343-7600 www.bataviacc.com
Great rates, the best greens in WNY. Golf Digest Four Star rating for public courses to play in New York State. Tee times online or by phone in season. BCC has a large supply of PING equipment in stock, as well as other major brand name apparel and hats. Stop and shop, we'd love to meet you.

Tour Greens Western New York Practice with purpose in your own back yard on your own synthetic practice green. Our greens LOVE Western New York weather!

Genesee Community College Golf Management Program Click on link for more information if you or anyone you know is interested in a dynamic career in the golf industry, or in teaching golf.

All the best,

Tom Tucker
Teaching Pro, Plum Creek Driving Range & Practice Facility
WGTF ' "Top 100 Golf Teacher"
USGTF Class "A" Teaching Professional
IGPA Certified Golf Psychology Coach
Cell: (716) 474-3005
Email: ttucker@rochester.rr.com
http://www.TomTuckerGolf.com

"There are no substitutes in the quest for perfection!"
~ Ben Hogan