Prepare to play your best golf by doing something now!



Tom's Featured Tip: Putting Tip - Tension
Tour Greens: Tour Quality Synthetic Greens
Tom's Bonus Tip: Great Olympics Story
Lesson Comments: What Students Have To Say
Sponsors: Plum Creek Driving Range
Batavia Country Club
Tour Greens Western New York
Genesee Community College Golf Management Program


Click here: INDOOR GOLF LESSONS for details on how to improve your game over the winter.

Plum Creek Driving Range, Batavia, NY, Open All Year
Simulator Course Play Specials: BataviaGolf.com Call 585-993-0930 or Email Mark to reserve simulator time!

Buy Gift Certificates for Lessons Sample Gift Certificate

Golf lessons - Outdoor and Indoor - are available at Plum Creek, please call me at 716 474 3005, email me at ttucker@rochester.rr.com, or visit my website at http://www.tomtuckergolf.com/lessonrates.html for details.

Subscribe - http://www.tomtuckergolf.com/signup.html If you like this newsletter, please do me a favor and forward it to your friends so that they may subscribe, thanks!

The Unsubscribe link is at the bottom of this newsletter.



---


Tom's Featured Tip: Putting Tip - Tension

For simplicity, all advice on actual swings or drills is provided from a right handed perspective.

We all know - or should know - that tension can wreak havoc with a full swing.

It can shorten the length of your swing, slow it down considerably, and prevent you from generating your full power potential by not allowing everything to unfold properly at impact.

It can also cause you to leave the face open and block shots to the right.

But what about the causes and effects of tension on putting?

Putting tension is almost always caused by gripping the putter too tightly.

This can be caused by stress caused by a tight match, a money match, tournament play, or with a five foot putt that you are expected to make but are cringing over as you address the putt.

A putt that is struck with hands that are too tense usually results in a putt that falls short and to the right of the target.

This is because the putter doesn't swing forward with it's normal velocity and the face is slightly open. The right miss will be more prominent with "arc stroke" putters than it will be with "straight back - straight through stroke" putters, but they both will be short of the mark.

One way to combat this is simply with awareness. My experience has shown that it's easier to notice grip tension with a softer SuperStroke type of grip than it is with a harder putter grip. Shaking your hands can remove tension if you notice that you are gripping too tightly.

Another way to combat tension is with technique.

Just before you execute your stroke, gently and carefully lift the putter up and down a few times and tap the ground very gently behind the ball, then execute your stroke. Don't press the putter head into the ground when you tap the ground, just tap very gently to free up the tension in your fingers and your hands. Make sure that it doesn't cause the ball to move, that's a penalty.

You only have to lift it about a quarter inch or less, and do it very carefully so that you don't move the ball.

Your tension will disappear and free up your stroke.

Ryan Moore was doing this last Sunday as he won the John Deere Classic, so the proof is in the pudding so to speak.

If you are consistently leaving makeable putts short, or consistently coming up very short on long lag putts, try this you'll like it.

Comments: ttucker@rochester.rr.com

Love your practice, own your swing, own your health,

Tom



---


Tour Greens: Tour Quality Synthetic Greens For Superb Short Game Practice

Do you want one of these in your own back yard?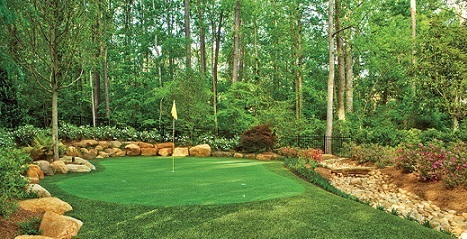 If you would like a free, no obligation quote for getting a beautiful practice area or putting green installed on your property - indoors or outdoors - give me (Tom Tucker) a call at (716) 474-3005, or email at at ttucker@rochester.rr.com

For more information please click here: TourGreensWNY.com

Comments: ttucker@rochester.rr.com

Love your practice, own your swing, own your health,

Tom



---


Tom's Bonus Tip: Great Olympics Story

For simplicity, all advice on actual swings or drills is provided from a right handed perspective.

I read this story and it choked me up, because this is what the Olympics are all about - pride in your country and your fellow Olympians. I'm sure the players that passed on the Olympics will take note.

Between this story and the great competition, I'm thinking that the next Olympics will have our guys - and other pro's from other countries - fighting hard for a spot.

Here's the story.

Rickie Fowler has made the most of his Olympic experience, staying in the athletes village for this year's Games and making the rounds to numerous other events.

On Tuesday, Fowler attended the swimming competition and spent time with Michael Phelps in the practice pool where he experienced a once-in-a-lifetime honor.

The American swimmers have a tradition when a U.S. swimmer leaves the practice area for a race. The remaining team members ring a bell, then chant, "USA, USA."

When Fowler and Bubba Watson were leaving the practice pool on Tuesday they were surprised when someone rang the bell.

"They started ringing it and chanting it," Fowler said. "At first I didn't know, Bubba came down with me, so I wasn't sure that it was for us walking out. I turned around, they are all looking at us, chanting 'USA.'"

Even two days later, Fowler was still surprised by the gesture and the emotions the moment created.

"Words can't really put it into perspective," Fowler said.

WOW this story give me goosebumps every time I read it.

Comments: ttucker@rochester.rr.com

Love your practice, own your swing, own your health,

Tom



---



Golf Lessons

I conduct lessons at The Plum Creek Driving Range & Practice Facility
there's a link for Plum Creek info here: http://www.tomtuckergolf.com/

Lessons are available for all ages and skill levels, please contact
me - Tom Tucker - at (716) 474 3005 or email me at ttucker@rochester.rr.com
for more information.

Outdoor Lessons Details and Rates:
http://www.tomtuckergolf.com/lessonrates.html

Indoor Lessons Details and Rates:
http://www.tomtuckergolf.com/indoor.html

Driver Fitting Rates:
http://www.tomtuckergolf.com/indoor.html

Testimonials:
http://www.tomtuckergolf.com/testimonials.html


Sponsors

Plum Creek Driving Range and Simulator Outdoor range and play indoor golf on any of our 40 Simulator Courses. Call 585-993-0930 or email Mark at plumcreek4@rochester.rr.com to reserve time for simulator play or practice!

Batavia Country Club (585) 343-7600 www.bataviacc.com
Great rates, the best greens in WNY. Golf Digest Four Star rating for public courses to play in New York State. Tee times online or by phone in season. BCC has a large supply of PING equipment in stock, as well as other major brand name apparel and hats. Stop and shop, we'd love to meet you.

Tour Greens Western New York Practice with purpose in your own back yard on your own synthetic practice green. Our greens LOVE Western New York weather!

Genesee Community College Golf Management Program Click on link for more information if you or anyone you know is interested in a dynamic career in the golf industry, or in teaching golf.

All the best,

Tom Tucker
Teaching Pro, Plum Creek Driving Range & Practice Facility
WGTF ' "Top 100 Golf Teacher"
USGTF Class "A" Teaching Professional
IGPA Certified Golf Psychology Coach
Cell: (716) 474-3005
Email: ttucker@rochester.rr.com
http://www.TomTuckerGolf.com

"There are no substitutes in the quest for perfection!"
~ Ben Hogan