Prepare to play your best golf by doing something now!



Tom's Featured Tip: Efficient Range Practice
Tour Greens: Tour Quality Synthetic Greens
Tom's Bonus Tip: Clubhead Speed Drill
Lesson Comments: What Students Have To Say
Sponsors: Plum Creek Driving Range
Batavia Country Club
Tour Greens Western New York
Genesee Community College Golf Management Program


Click here: INDOOR GOLF LESSONS for details on how to improve your game over the winter.

Plum Creek Driving Range, Batavia, NY, Open All Year
Simulator Course Play Specials: BataviaGolf.com Call 585-993-0930 or Email Mark to reserve simulator time!

Buy Gift Certificates for Lessons Sample Gift Certificate

Golf lessons - Outdoor and Indoor - are available at Plum Creek, please call me at 716 474 3005, email me at ttucker@rochester.rr.com, or visit my website at http://www.tomtuckergolf.com/lessonrates.html for details.

Subscribe - http://www.tomtuckergolf.com/signup.html If you like this newsletter, please do me a favor and forward it to your friends so that they may subscribe, thanks!

The Unsubscribe link is at the bottom of this newsletter.



---


Tom's Featured Tip: Efficient Range Practice

For simplicity, all advice on actual swings or drills is provided from a right handed perspective.

When I'm at the range either for personal practice or when I'm finished conducting lessons, I like to observe what others are doing - how they are practicing. What I see a lot of is Machine Gun Practice

Most of the time I see players dumping their bucket of balls next to where they are hitting, and then hitting, re-loading quickly, then hitting again. It doesn't appear to me that they are giving much thought to what they are doing, and sometimes it looks like a contest to try to get through their bucket of balls as quickly as they can. Like they're shooting a machine gun.

Here are some thoughts on how to make your practice at the range more efficient than that.

Take Your Time and Think

Force yourself to take some time between shots and reflect on mistakes and correction. Instead of dumping the balls next to your hitting station try this instead: set your bucket of range balls a few feet behind your hitting station so that you have to walk back for a ball, bend over, pick up a ball, then place it for your next shot. This will make you be more aware of your alignment, it will give you some time to reflect on your next shot, and the bending over each time will give your back a little flexion and extension range of motion reps.

Vary Your Shots

Tiger Woods used to have a routine called the "Tiger Nine".

He would hit nine shots with one club as follows:
Low Trajectory
Medium Trajectory
High Trajectory
If you have the skill to shape your shots, try this nine shot routine. When you get good at it, make a game of it by awarding yourself 5 points for great shots, 3 points for average shots, and (-1 points) for poor shots.

Your nine shot points goal should be 27 points or better, work your way through your bag hitting different clubs.

If you don't yet have the skill to shape a shot on demand, try for hitting low, medium, and high straight shots straight, to the left, and to the right from the same alignment setup.

Starting Line Guides

This is a set up that I use for chip shot lessons with better players. It's easy to set up for half swing drills on the range as well. I'm a huge fan of half swing drills on the range to groove your impact position and to shape shots. I would caution against doing this with full swings if there are other people nearby. Use half swings, and only try this when it can be done safely. It's always safety first at the range

Simply stick two 48" fiberglas driveway marker rods (around $2.04 at Home Depot) on the target side of your setup about 6 or seven feet in front of you right down your target line . Then simply try to hit each shot between the rods. As you get better at it, move them closer together. It's not a bad idea to slide a pool noodle ($1 at the Dollar Store) over the rod to deaden the impact if you happen to hit it with an errant shot.

Try any or all of these ideas at the range and you'll see your practice yield better results on the course.

Comments: ttucker@rochester.rr.com

Love your practice, own your swing, own your health,

Tom



---


Tour Greens: Tour Quality Synthetic Greens For Superb Short Game Practice

Do you want one of these in your own back yard?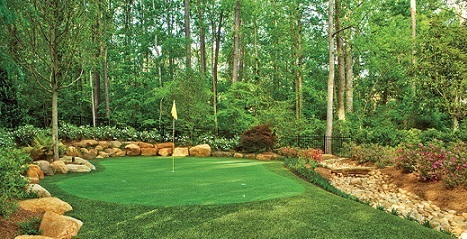 If you would like a free, no obligation quote for getting a beautiful practice area or putting green installed on your property - indoors or outdoors - give me (Tom Tucker) a call at (716) 474-3005, or email at at ttucker@rochester.rr.com

For more information please click here: TourGreensWNY.com

Comments: ttucker@rochester.rr.com

Love your practice, own your swing, own your health,

Tom



---


Tom's Bonus Tip: Clubhead Speed Drill

For simplicity, all advice on actual swings or drills is provided from a right handed perspective.

I'm mentioning this because I recently saw a couple of ads claiming that to gain clubhead speed with your driver, you need to swing a heavy practice driver.

That's absolutely incorrect advice.

To gain clubhead speed with your driver, you need to swing something lighter than your driver, not heavier!

A great training aid for this is the Momentus Speed Woosh, I own a couple and use them at lessons.

But if you don't want to shell out $80 or so for the training aid, simply swing your driver upside down. Just grip it at the clubhead end instead of the grip end and take 20 fast swings three times per week for a month. A shaft without a clubhead attached also works great. And when I say fast, I mean as fast as you can!

My college players did this drill when I coached at that level, and each and every one of them recorded swing speed gains - some as much as 8 mph which is very significant. I recorded their base swing speed with their driver, then tested them again after four weeks of swinging their drivers upside down three times per week, 20 reps each time like I mentioned earlier.

It really works, especially so when you sync up more swing speed with good technique.

So remember this when you see those ads for heavy clubs: fast swings add speed, not slower swings with heavier clubs.

Comments: ttucker@rochester.rr.com

Love your practice, own your swing, own your health,

Tom



---



Golf Lessons

I conduct lessons at The Plum Creek Driving Range & Practice Facility
there's a link for Plum Creek info here: http://www.tomtuckergolf.com/

Lessons are available for all ages and skill levels, please contact
me - Tom Tucker - at (716) 474 3005 or email me at ttucker@rochester.rr.com
for more information.

Outdoor Lessons Details and Rates:
http://www.tomtuckergolf.com/lessonrates.html

Indoor Lessons Details and Rates:
http://www.tomtuckergolf.com/indoor.html

Driver Fitting Rates:
http://www.tomtuckergolf.com/indoor.html

Testimonials:
http://www.tomtuckergolf.com/testimonials.html


Sponsors

Plum Creek Driving Range and Simulator Outdoor range and play indoor golf on any of our 40 Simulator Courses. Call 585-993-0930 or email Mark at plumcreek4@rochester.rr.com to reserve time for simulator play or practice!

Batavia Country Club (585) 343-7600 www.bataviacc.com
Great rates, the best greens in WNY. Golf Digest Four Star rating for public courses to play in New York State. Tee times online or by phone in season. BCC has a large supply of PING equipment in stock, as well as other major brand name apparel and hats. Stop and shop, we'd love to meet you.

Tour Greens Western New York Practice with purpose in your own back yard on your own synthetic practice green. Our greens LOVE Western New York weather!

Genesee Community College Golf Management Program Click on link for more information if you or anyone you know is interested in a dynamic career in the golf industry, or in teaching golf.

All the best,

Tom Tucker
Teaching Pro, Plum Creek Driving Range & Practice Facility
WGTF ' "Top 100 Golf Teacher"
USGTF Class "A" Teaching Professional
IGPA Certified Golf Psychology Coach
Cell: (716) 474-3005
Email: ttucker@rochester.rr.com
http://www.TomTuckerGolf.com

"There are no substitutes in the quest for perfection!"
~ Ben Hogan