Prepare to play your best golf by doing something now!



Tom's Featured Tip: Q&A: How To Swing Fast
Tour Greens: Tour Quality Synthetic Greens
Tom's Bonus Tip: Mental Game - Intensity
Lesson Comments: What Students Have To Say
Sponsors: Plum Creek Driving Range
Batavia Country Club
Tour Greens Western New York
Genesee Community College Golf Management Program


Click here: INDOOR GOLF LESSONS for details on how to improve your game over the winter.

Plum Creek Driving Range, Batavia, NY, Open All Year
Simulator Course Play Specials: BataviaGolf.com Call 585-993-0930 or Email Mark to reserve simulator time!

Buy Gift Certificates for Lessons Sample Gift Certificate

Golf lessons - Outdoor and Indoor - are available at Plum Creek, please call me at 716 474 3005, email me at ttucker@rochester.rr.com, or visit my website at http://www.tomtuckergolf.com/lessonrates.html for details.

Subscribe - http://www.tomtuckergolf.com/signup.html If you like this newsletter, please do me a favor and forward it to your friends so that they may subscribe, thanks!

The Unsubscribe link is at the bottom of this newsletter.



---


Tom's Featured Tip: Q&A: How To Swing Fast

For simplicity, all advice on actual swings or drills is provided from a right handed perspective.

Q: Tom, we met and played one time at BCC. I have been reading your tips and it was exciting to have you demonstrate your tips with my playing partner and me on the course.

Your recent "tip" about the "fast" versus "hard" swings prompts me to ask this question, how does one swing fast without swinging hard? I seem to be unable to differentiate between "fast" and "hard".

Please advise of a practice routine to facilitate increasing club head speed.

Thanks, Russ P.

A: Thanks for the question Russ, I'm sure many others have that same question but didn't ask.

First I'll lay out some general concepts, then I'll provide a swing speed drill that I use a lot with my students.

General Fast vs Hard Swing Concepts

I've always considered the physics of "hitting" to revolve around muscular thrust, and the physics of "swinging" to revolve around centrifugal force. Both "hitting" and "swinging" are probably equally efficient when done well, but from my experience "hitters" that are out of sync produce worse errors than "swingers" that are out of sync.

The difference in who should swing which way seems to break into two camps: if the player is very strong, that player is likely to be a "hitter". If the player is very quick, they are likely to be a "swinger". If a player is strong and quick, they may be either or both.

If you can develop a swing technique that generates efficient centrifugal force then add a well timed hit component, you've reached golf nirvana.

Most touring pros only have one or the other to any great degree, only the best of the best have both. They pretty much are the players that hit it the furthest.

I like to train a player to generate centrifugal force as a primary source for swing speed, so you could fairly say that I like to train most (not all) my students to swing fast, not hard, to generate swing speed. That way, if a player is unable to swing hard due to strength or other physical issues, they'll still have a technique that will give them sufficient swing speed for their body. If they are strong, perhaps they'll be able to add a "hit" component if they gain mastery of their technique.

Plus the centrifugal force swing speed method is easier on the body as you age compared to the thrusting motion for swing speed.

So to answer this swing speed question specifically, "how does one swing fast without swinging hard", the answer is to generate your swing speed primarily through centrifugal force, not through arm thrust. On the downswing, it will feel more like a left side pulling motion than right side thrusting motion.

It will literally feel more like "swinging" than "hitting".

Key factors for developing swing speed through centrifugal force in your swing are:
First of all, work at mastering the technique elements of your particular swing method.


Relax your body at address. Your wrists, in particular, should feel oily, not tight.


Feel like you are "swinging" the club into your backswing, not lifting or pushing it there. A "swinging" backswing begets a "swinging" through swing.


Allow your hands to travel inward a little early in the backswing. For speed through centrifugal force, the swing needs to travel more horizontally around your body vs. vertically. Angular momentum provides more speed than vertical momentum. It needs to be a little more merry go round than Ferris wheel.


Allow your hips to open in your backswing to allow your body to rotate more. Accomplish this by allowing your right leg to straighten in your backswing. A "hitter" would keep the right knee flexed and try to turn the shoulders against square hips to develop coil.


Make sure that your backswing and downswing are done in proper sequence. The downswing sequence must be initiated with either downward pressure on your forward leg, a lateral hip slide (bump), or a combination of both. Most player have a little "hit impulse" in them, especially in the early stages of their golfing life. Lacking that properly sequenced weight shifting move to initiate your downswing sequence, it will likely turn into a "hit" as your shoulders open too soon taking the downswing off plane, and then arm thrust is all you have left to generate speed.


Last but not least. think "swing fast" on your downswing.
After the last issue on hovering, I've had about five rounds and some practice at the range to try it out. I really like it because to me, holding the weight of the club at address as I hover the club seems to help me "swing" the club back. When I grounded the club at address, I had to lift it up before taking it away, and I think that contributes to setting up a "hitting" mentality vs a "swinging" mentality.

Time will tell, but I do like the feel of hovering the club, and I plan on keeping it in my game. I have been hovering the irons only very slightly off the ground, just enough to feel the weight.

Swing Speed Drill

I had great success with this particular drill when I coached college golf. Each and every member of my GCC Golf Team increased their swing speed, some as dramatically as 8 mph or more. Each mph increase adds roughly 2.5 to 3 yards of carry.

Here's the drill:

Two times per week for six weeks, swing a Momentus Speed Swoosh or a driver shaft with no head attached for 18 repetitions in one direction, then 18 repetitions in the opposite direction (for balance).
six reps, 60 second break
six more reps, 60 second break
six more reps, 60 second break
swing as fast as you can without losing your balance.
If you don't feel at least a little exhausted after all the reps, add reps until you do. If 18 reps is too tiring, start with fewer reps and work your way up.

If you can't detach the head of your driver from your shaft, just grip it near the head instead and swing so that the handle is at the other end of the shaft.

Swing on a flat plane, like a baseball swing. Use a baseball bat grip - not a golf grip with your left thumb tucked into the lifeline of your right palm, and don't interlock any fingers. Gripping like you would for your normal golf swing could cause a thumb or finger injury due to extra stress caused by the speed of the swing.

After six weeks, you should have gained significant swing speed. Then drop the routine down to once per week.

In Western New York State, we did this swing speed drill for six weeks before the season, did it once a week during the season, then didn't do it again until six weeks before the next season.

The team also had an intense weight training program that we did three times per week pre-season, once per week in season, then off season was up to them. I'm sure the weight training combined with the swing speed drill maximized their swing speed gains. The strength gained also helped support their faster swings.

I hope this answered your question Russ, thanks, Tom.

Comments: ttucker@rochester.rr.com

Love your practice, own your swing, own your health,

Tom



---


Tour Greens: Tour Quality Synthetic Greens For Superb Short Game Practice

Do you want one of these in your own back yard?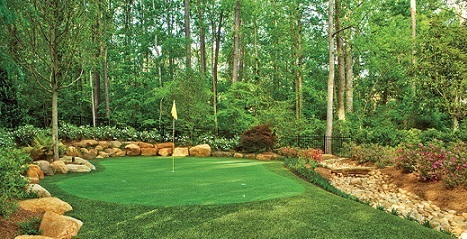 If you would like a free, no obligation quote for getting a beautiful practice area or putting green installed on your property - indoors or outdoors - give me (Tom Tucker) a call at (716) 474-3005, or email at at ttucker@rochester.rr.com

For more information please click here: TourGreensWNY.com

Comments: ttucker@rochester.rr.com

Love your practice, own your swing, own your health,

Tom



---


Tom's Bonus Tip: Mental Game - Intensity

For simplicity, all advice on actual swings or drills is provided from a right handed perspective.

During the Ryder Cup a couple of weeks ago, the person that really stuck in my mind was Phil Michelson.

He seems to have that rare quality of raising his game in big matches and in big tournaments. He utilizes pressure to his advantage. For him, pressure boosts his intensity level to the level he needs to perform at his best. He plays his best when his intensity level is on high.

When I coached college level golf, I recognized that some players responded well to getting pumped up, others played at their best with a calmer approach.

It's up to the teacher or coach to determine the best approach for his pupils or team, and it's up to us individually to identify which level of intensity brings out the best in us.

For example, I would say that Patrick Reed and Rory McIlroy are high intensity performers externally, and that Henrik Stenson is a low intensity performer externally (although I'm pretty sure that the fire burns strong inside).

Think about the most recent rounds when you played your best. Was your intensity level low, medium or high. You should see a pattern.

Try to figure out the best method for you to prepare mentally before a round.

If you play your best with a very calm demeanor, you might benefit by meditating before you play.

If you play your best when you are pumped up, you might want to listen to the sound track from the movie "Rocky" before you play.

The trick is to find the right words and images that suit your personality for pre-round preparation.

We are all different, so whether it's pump up or calm down, identify your best intensity level and work at getting there before and during your round.

Try it, you'll like it.

Comments: ttucker@rochester.rr.com

Love your practice, own your swing, own your health,

Tom



---



Golf Lessons

I conduct lessons at The Plum Creek Driving Range & Practice Facility
there's a link for Plum Creek info here: http://www.tomtuckergolf.com/

Lessons are available for all ages and skill levels, please contact
me - Tom Tucker - at (716) 474 3005 or email me at ttucker@rochester.rr.com
for more information.

Outdoor Lessons Details and Rates:
http://www.tomtuckergolf.com/lessonrates.html

Indoor Lessons Details and Rates:
http://www.tomtuckergolf.com/indoor.html

Driver Fitting Rates:
http://www.tomtuckergolf.com/indoor.html

Testimonials:
http://www.tomtuckergolf.com/testimonials.html


Sponsors

Plum Creek Driving Range and Simulator Outdoor range and play indoor golf on any of our 40 Simulator Courses. Call 585-993-0930 or email Mark at plumcreek4@rochester.rr.com to reserve time for simulator play or practice!

Batavia Country Club (585) 343-7600 www.bataviacc.com
Great rates, the best greens in WNY. Golf Digest Four Star rating for public courses to play in New York State. Tee times online or by phone in season.

2017 Memberships On Sale Now! Pay now and play the rest of 2016!
Call (585) 343-7600 for pricing.

Beginning September 19th - 18 holes riding Mon - Fri $19
Sat - Sun $25 before 11 am, $20 after 11 am

Tour Greens Western New York Practice with purpose in your own back yard on your own synthetic practice green. Our greens LOVE Western New York weather!

Genesee Community College Golf Management Program Click on link for more information if you or anyone you know is interested in a dynamic career in the golf industry, or in teaching golf.

All the best,

Tom Tucker
Teaching Pro, Plum Creek Driving Range & Practice Facility
WGTF ' "Top 100 Golf Teacher"
USGTF Class "A" Teaching Professional
IGPA Certified Golf Psychology Coach
Cell: (716) 474-3005
Email: ttucker@rochester.rr.com
http://www.TomTuckerGolf.com

"There are no substitutes in the quest for perfection!"
~ Ben Hogan