Prepare to play your best golf by doing something now!



Tom's Featured Tip: 3 Tweaks For Improvement
Tour Greens: Tour Quality Synthetic Greens
Tom's Bonus Tip: Chipping Practice - Practice Missing
Lesson Comments: What Students Have To Say
Sponsors: Plum Creek Driving Range
Batavia Country Club
Tour Greens Western New York
Genesee Community College Golf Management Program


Click here: INDOOR GOLF LESSONS for details on how to improve your game over the winter.

Plum Creek Driving Range, Batavia, NY, Open All Year
Simulator Course Play Specials: BataviaGolf.com Call 585-993-0930 or Email Mark to reserve simulator time!

Buy Gift Certificates for Lessons Sample Gift Certificate

Golf lessons - Outdoor and Indoor - are available at Plum Creek, please call me at 716 474 3005, email me at ttucker@rochester.rr.com, or visit my website at http://www.tomtuckergolf.com/lessonrates.html for details.

Subscribe - http://www.tomtuckergolf.com/signup.html If you like this newsletter, please do me a favor and forward it to your friends so that they may subscribe, thanks!

The Unsubscribe link is at the bottom of this newsletter.



---


Tom's Featured Tip: 3 Tweaks For Improvement

For simplicity, all advice on actual swings or drills is provided from a right handed perspective.

This issue I'm offering three simple tweaks that I have made to my game that I'm sure will help most of you with your game. Experiment with them and I'm pretty sure you'll like them, enjoy.
Chipping - Ball Location

For most of this season I had not been getting the ball up and down as well as I've wanted to.

So I went over my own swing notes from the past few years and discovered that my ball position had crept up to about an inch too far forward in my stance. I moved the ball back - in my narrow stance - to just about inside my back foot and my chipping has improved dramatically. I think I had been nonchalantly playing the ball at or beyond the low point of my swing arc and that was causing a lot of chips to come up short.


Hovering - The Jury Is In

Without a doubt, hovering the driver in the air instead of resting it on the ground behind the ball has increased my swing speed, kept my swing on plane better, and has produced consistent draw curvature with my drives most of the time. It has also produced good results with my irons, but the hovering with the irons needs to be just slightly off the ground.

It took me about a month to feel real comfortable with it, but after you do you'll love the results.

Give hovering an honest try over the winter with your indoor practice sessions and I'll bet you convert.


Putting - Aiming With the Line On The Ball

I am still experimenting with an "outside the box" type of line on the ball, but I'm referring to a traditional straight line that most players use to aim their ball at their target line. Research has shown that this type of line doesn't really produce better results than not using the line.

The reason is that it's difficult to see the veridical line of putt to the target from normal putting posture. (Verdical means truthful, not illusory.)

After I learned of the study blowing away the line on the ball theory, I started experimenting with a non-traditional line on the ball, and also setting up with the ball in a position so there's nothing pointing to the hole on the part of the ball I see when I'm standing over the putt.

I'll write about the non-traditional line after my research is done, but for now I have had excellent results with nothing on top of the ball when I putt.

Here's how that works for me.

Instead of aiming the line on the ball at the target, when I set up I now aim the aimline on my putter at the target, then keep the face square to the line at impact. It's easy to do with a mallet putter with good aimlines on it, or with a two ball putter or something similar. If you putt with a blade, just concentrate on keeping your putterhead square to your aimline.
If any of you try any of these tweaks and have success with them, I'd love to hear about it!

Comments: ttucker@rochester.rr.com

Love your practice, own your swing, own your health,

Tom



---


Tour Greens: Tour Quality Synthetic Greens For Superb Short Game Practice

Do you want one of these in your own back yard?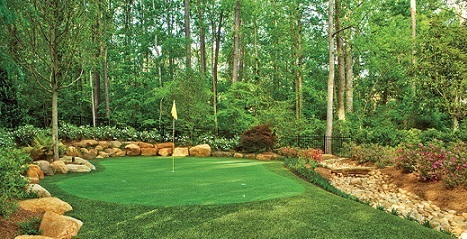 If you would like a free, no obligation quote for getting a beautiful practice area or putting green installed on your property - indoors or outdoors - give me (Tom Tucker) a call at (716) 474-3005, or email at at ttucker@rochester.rr.com

For more information please click here: TourGreensWNY.com

Comments: ttucker@rochester.rr.com

Love your practice, own your swing, own your health,

Tom



---


Tom's Bonus Tip: Chipping Practice - Practice Missing

For simplicity, all advice on actual swings or drills is provided from a right handed perspective.

Actually practice missing chips long, short, left, and right, and your actual target oriented chipping will improve, guaranteed!

Precision missing is actually a variation of precision target practice, but it registers in your brain as feeling and gauging swings that miss long, short, left and right.

I think it helps you develop feel for proper aim and swing length or power depending on your style.

It will work for putting too, especially if you have a chronic mistake pattern..

Try it, you'll like it.

Comments: ttucker@rochester.rr.com

Love your practice, own your swing, own your health,

Tom



---



Golf Lessons

I conduct lessons at The Plum Creek Driving Range & Practice Facility
there's a link for Plum Creek info here: http://www.tomtuckergolf.com/

Lessons are available for all ages and skill levels, please contact
me - Tom Tucker - at (716) 474 3005 or email me at ttucker@rochester.rr.com
for more information.

Outdoor Lessons Details and Rates:
http://www.tomtuckergolf.com/lessonrates.html

Indoor Lessons Details and Rates:
http://www.tomtuckergolf.com/indoor.html

Driver Fitting Rates:
http://www.tomtuckergolf.com/indoor.html

Testimonials:
http://www.tomtuckergolf.com/testimonials.html


Sponsors

Plum Creek Driving Range and Simulator Outdoor range and play indoor golf on any of our 40 Simulator Courses. Call 585-993-0930 or email Mark at plumcreek4@rochester.rr.com to reserve time for simulator play or practice!

Batavia Country Club (585) 343-7600 www.bataviacc.com
Great rates, the best greens in WNY. Golf Digest Four Star rating for public courses to play in New York State. Tee times online or by phone in season.
Free Carts for the rest of the 2016 season for pre-paid 2017 season pass holders.
Beginning September 19th - 18 holes riding Mon - Fri $19
Sat - Sun $25 before 11 am, $20 after 11 am

Tour Greens Western New York Practice with purpose in your own back yard on your own synthetic practice green. Our greens LOVE Western New York weather!

Genesee Community College Golf Management Program Click on link for more information if you or anyone you know is interested in a dynamic career in the golf industry, or in teaching golf.

All the best,

Tom Tucker
Teaching Pro, Plum Creek Driving Range & Practice Facility
WGTF ' "Top 100 Golf Teacher"
USGTF Class "A" Teaching Professional
IGPA Certified Golf Psychology Coach
Cell: (716) 474-3005
Email: ttucker@rochester.rr.com
http://www.TomTuckerGolf.com

"There are no substitutes in the quest for perfection!"
~ Ben Hogan