Prepare to play your best golf by doing something now!



Tom's Featured Tip: Q&A: Green Speed - Stimpmeter
Tour Greens: Tour Quality Synthetic Greens
Tom's Bonus Tip: Hand Position at Setup
Lesson Comments: What Students Have To Say
Sponsors: Plum Creek Driving Range
Batavia Country Club
Tour Greens Western New York
Genesee Community College Golf Management Program


Click here: INDOOR GOLF LESSONS for details on how to improve your game over the winter.

Plum Creek Driving Range, Batavia, NY, Open All Year
Simulator Course Play Specials: BataviaGolf.com Call 585-993-0930 or Email Mark to reserve simulator time!

Buy Gift Certificates for Lessons Sample Gift Certificate

Golf lessons - Outdoor and Indoor - are available at Plum Creek, please call me at 716 474 3005, email me at ttucker@rochester.rr.com, or visit my website at http://www.tomtuckergolf.com/lessonrates.html for details.

Subscribe - http://www.tomtuckergolf.com/signup.html If you like this newsletter, please do me a favor and forward it to your friends so that they may subscribe, thanks!

The Unsubscribe link is at the bottom of this newsletter.



---


Tom's Featured Tip: Q&A: Green Speed - Stimpmeter

For simplicity, all advice on actual swings or drills is provided from a right handed perspective.

Q: Hi Tom, first of all thanks for your newsletter, I've enjoyed it for years. My question is about green speed. I hear the announcers saying this green has a speed of about 11, another says 10, etc. I understand that the higher the number the faster the green, but how is that number determined?

Thanks, Alan H., Toronto, Canada.

A: Thanks for the question Alan, it's always good to hear from our Canadian friends.

The device that measures the speed of the green is called a stimpmeter. In fact, Mark has one at Plum Creek where I teach. We use it to check the speeds of the artificial greens that we sell and install.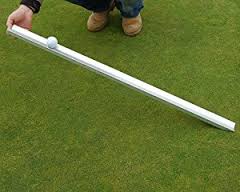 Official Stimpmeter



Here's the Wikipedia definition of stimpmeter: The Stimpmeter is a device used to measure the speed of a golf course putting green by applying a known force to a golf ball and measuring the distance traveled in feet.

At one time they were hard to come by, they seemed to be cherished and hoarded by greenskeepers. For some reason that I can't fathom, Official USGA stimpmeters are not sold to the public. (To be honest, it looks like it wouldn't be too hard to make one if a person was so inclined.)

I used a compact green speed reader from GreenSpeedReader.com when I coached the GCC Golf Team. You can read my testimonial on their home page, I liked it.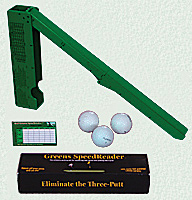 Green Speed Reader



Here's a brief history and description of the Stimpmeter, enjoy.

HISTORY

It was designed in 1935 by golfer Edward S. Stimpson, Sr. (1904-1985). The Massachusetts state amateur champion and former Harvard golf team captain, Stimpson was a spectator at the 1935 U.S. Open at Oakmont near Pittsburgh, where the winning score was 299 (+11). After witnessing a putt by a top professional (Gene Sarazen, a two-time champion) roll off a green, Stimpson was convinced the greens were unreasonably fast, but wondered how he could prove it. He developed a device, made of wood, now known as the Stimpmeter, which is an angled track that releases a ball at a known velocity so that the distance it rolls on a green's surface can be measured.

In 1976, it was redesigned from aluminum by Frank Thomas of the United States Golf Association (USGA). It was first used by the USGA during the 1976 U.S. Open at Atlanta and made available to golf course superintendents in 1978. The 1976 version is painted green.

In January 2013, the USGA announced a third generation device based on work by Steven Quintavalla, a senior research engineer at the USGA labs. A second hole in this version enables the option of a shorter run-out. This version is painted blue, and is manufactured to a higher engineering tolerance to improve accuracy and precision.

DESCRIPTION

The 1976 device is an extruded aluminum bar, 36 inches (91 cm) long and 1.75 inches (4.4 cm) wide, with a 145° V-shaped groove extending along its entire length, supporting the ball at two points, 0.50 in (1.27 cm) apart. It is tapered at one end by removing metal from its underside to reduce the bounce of the ball as it rolls onto the green. It has a notch at a right angle to the length of the bar 30 inches (76 cm) from the lower tapered end where the ball is placed. The notch may be a hole completely through the bar or just a depression in it. The ball is pulled out of the notch by gravity when the device is slowly raised to an angle of about 20°, rolling onto the green at a repeatable velocity of 6.00 ft/s (1.83 m/s). The distance travelled by the ball in feet is the 'speed' of the putting green. Six distances, three in each of two opposite directions, should be averaged on a flat section of the putting green. The three balls in each direction must be within 8 inches (20 cm) of each other for USGA validation of the test.

USGA GREEN SPEED RECOMMENDATIONS

The USGA stimpmetered putting greens across the country to produce the following recommendations:

Speed Length
Slow 4.5 feet (1.4 m)
Medium 6.5 feet (2.0 m)
Fast 8.5 feet (2.6 m)

For the U.S. Open, they recommend:

Speed Length
Slow 6.5 feet (2.0 m)
Medium 8.5 feet (2.6 m)
Fast 10.5 feet (3.2 m)

The greens at Oakmont Country Club (where the device was conceived) are some of the fastest in the world, with readings of 13-15 feet (4.0-4.6 m)

I hope this answered your question Alan, Tom

Comments: ttucker@rochester.rr.com

Love your practice, own your swing, own your health,

Tom



---


Tour Greens: Tour Quality Synthetic Greens For Superb Short Game Practice

Do you want one of these in your own back yard?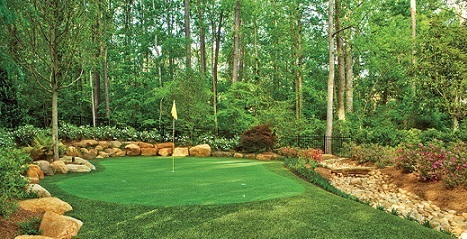 If you would like a free, no obligation quote for getting a beautiful practice area or putting green installed on your property - indoors or outdoors - give me (Tom Tucker) a call at (716) 474-3005, or email at at ttucker@rochester.rr.com

For more information please click here: TourGreensWNY.com

Comments: ttucker@rochester.rr.com

Love your practice, own your swing, own your health,

Tom



---


Tom's Bonus Tip: Hand Position at Setup

For simplicity, all advice on actual swings or drills is provided from a right handed perspective.

I have heard ball position expressed in several different ways, but the ball normally ends up either centered or slightly rear of center for short irons, forward of center for long irons and woods, and further forward of center for the driver.

Hand position for stock swings should remain constant - aligned over the inside edge of your left (forward) thigh, which translates to forward shaft lean in varying degrees.

Here's the takeaway - for stock swings, ball position changes, hand position doesn't.

Try it, you'll like the consistency it produces.

Comments: ttucker@rochester.rr.com

Love your practice, own your swing, own your health,

Tom



---



Golf Lessons

I conduct lessons at The Plum Creek Driving Range & Practice Facility
there's a link for Plum Creek info here: http://www.tomtuckergolf.com/

Lessons are available for all ages and skill levels, please contact
me - Tom Tucker - at (716) 474 3005 or email me at ttucker@rochester.rr.com
for more information.

Outdoor Lessons Details and Rates:
http://www.tomtuckergolf.com/lessonrates.html

Indoor Lessons Details and Rates:
http://www.tomtuckergolf.com/indoor.html

Driver Fitting Rates:
http://www.tomtuckergolf.com/indoor.html

Testimonials:
http://www.tomtuckergolf.com/testimonials.html


Sponsors

Plum Creek Driving Range and Simulator Outdoor range and play indoor golf on any of our 40 Simulator Courses. Call 585-993-0930 or email Mark at plumcreek4@rochester.rr.com to reserve time for simulator play or practice!

Batavia Country Club (585) 343-7600 www.bataviacc.com
Great rates, the best greens in WNY. Golf Digest Four Star rating for public courses to play in New York State. Tee times online or by phone in season.
Free Carts for the rest of the 2016 season for pre-paid 2017 season pass holders.
Beginning September 19th - 18 holes riding Mon - Fri $19
Sat - Sun $25 before 11 am, $20 after 11 am

Tour Greens Western New York Practice with purpose in your own back yard on your own synthetic practice green. Our greens LOVE Western New York weather!

Genesee Community College Golf Management Program Click on link for more information if you or anyone you know is interested in a dynamic career in the golf industry, or in teaching golf.

All the best,

Tom Tucker
Teaching Pro, Plum Creek Driving Range & Practice Facility
WGTF ' "Top 100 Golf Teacher"
USGTF Class "A" Teaching Professional
IGPA Certified Golf Psychology Coach
Cell: (716) 474-3005
Email: ttucker@rochester.rr.com
http://www.TomTuckerGolf.com

"There are no substitutes in the quest for perfection!"
~ Ben Hogan