Prepare to play your best golf by doing something now!



Tom's Featured Tip: Winter Distance Practice
Tour Greens: Tour Quality Synthetic Greens
Tom's Bonus Tip: Practice Quotes
Lesson Comments: What Students Have To Say
Sponsors: Plum Creek Driving Range
Batavia Country Club
Tour Greens Western New York
Genesee Community College Golf Management Program


Click here: INDOOR GOLF LESSONS for details on how to improve your game over the winter.

Plum Creek Driving Range, Batavia, NY, Open All Year
Simulator Course Play Specials: BataviaGolf.com Call 585-993-0930 or Email Mark to reserve simulator time!

Buy Gift Certificates for Lessons Sample Gift Certificate

Golf lessons - Outdoor and Indoor - are available at Plum Creek, please call me at 716 474 3005, email me at ttucker@rochester.rr.com, or visit my website at http://www.tomtuckergolf.com/lessonrates.html for details.

Subscribe - http://www.tomtuckergolf.com/signup.html If you like this newsletter, please do me a favor and forward it to your friends so that they may subscribe, thanks!

The Unsubscribe link is at the bottom of this newsletter.



---


Tom's Featured Tip: Winter Distance Practice

For simplicity, all advice on actual swings or drills is provided from a right handed perspective.

You are probably thinking that this tip is about gaining distance over the winter, but it's not.

It's about using an indoor simulator to really learn the distances with your irons and hybrids, and the gap yardage between your clubs for:
Your stock swings,
Your stock plus swings (for when you need maximum yardage from a club),
And your stock minus swings (for when you need a little less yardage than your stock swing)
All swings must be done with the mindset that no swing is done at the expense of good balance.

A simulator is required to get it right, so if you are near the Plum Creek Driving Range in Batavia NY, there's a great one available for your use. Simulator hourly practice rates vary from $20 to $35 per hour, depending on the day and time, and senior discounts are available. Appointments may be made by phone (585) 993-0930

Details may be found here: Plum Creek Driving Range and Simulator

Before I outline how to learn your distances, first see what learning level you fit into to see if this exercise matches your skill level.
Learning Level 1 - Raw Beginner

You need to work on learning a swing method first, then develop some swing consistency before you move on to calibrating distances for clubs.


Learning Level 2 - The Initiated Player

You are experienced, but not a low handicap player. You may be able to utilize this drill if your swing is relatively consistent, or you may need the watchful eye of a coach or teacher to monitor your technique while you perform this exercise.


Learning Level 3 - The Advanced Player

You know your swing and it's relatively consistent. Go for it.
Here's how to calibrate the distances for each iron and hybrid in your bag. It's really very simple, but it takes discipline to simply do it and to continue to do it about every four months to see if anything is changing.

You'll need some 3"x5" index cards for hard copy notes that you can laminate and keep or transfer to your iPhone notes when you're done. Either way, memorize the results.
With every iron and hybrid you are swinging, do this with each club before you actually hit a ball:

Take ten stock swings, ten stock plus swings, and ten stock minus swings.



Next, start with your wedges and move up through your bag from iron to iron and hybrids.


With each club take three warmup swings, then five stock swings, five stock plus swings, and five stock minus swings. Mis-hits don't count, only your solid strikes.


Record the carry distances that are displayed for all the actual swings, then average the distances.
When you are done, you'll have the average carry distance for three different swings for each iron and hybrid in your bag.

It's great to know the maximum distance you can hit each iron, but the real value of this exercise is nailing down your stock swing distance. When you define your stock swing distances for your irons and can repeat your swing, you're on your way to great golf.

Do the exercise with your woods after you've finished with your irons and hybrids, but for them make note of the carry and the total distance.

If you change equipment - irons or ball - it may affect your distance, so be aware of the possibility.

You should see a gap between stock swings for your irons of 10 to 12 yards. If it's larger or smaller, something is probably wrong with your swing or your equipment, and you need to make corrections.

Try this, you'll like it!

Comments: ttucker@rochester.rr.com

Love your practice, own your swing, own your health,

Tom



---


Tour Greens: Tour Quality Synthetic Greens For Superb Short Game Practice

Do you want one of these in your own back yard?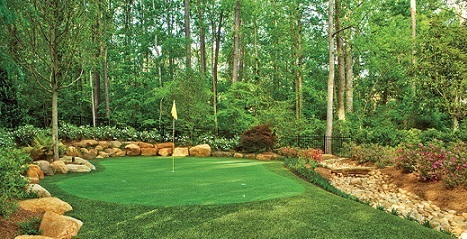 If you would like a free, no obligation quote for getting a beautiful practice area or putting green installed on your property - indoors or outdoors - give me (Tom Tucker) a call at (716) 474-3005, or email at at ttucker@rochester.rr.com

For more information please click here: TourGreensWNY.com

Comments: ttucker@rochester.rr.com

Love your practice, own your swing, own your health,

Tom



---


Tom's Bonus Tip: Practice Quotes

For simplicity, all advice on actual swings or drills is provided from a right handed perspective.

In keeping with this issues's "practice" theme, here are a couple of interesting quotes I recently came across.

The first is from Nick Saban, an ultra successful college football coach whose quote about football practice applies equally well to golf:
"Don't practice until you get it right, practice until you can't get it wrong"

I read the next quote in a hilarious book irreverently titled "Sh*t My Dad Says" by Justin Halpern:
"Nobody likes practice, but what's worse: practicing or sucking at something?"

Enjoy, Tom

Comments: ttucker@rochester.rr.com

Love your practice, own your swing, own your health,

Tom



---



Golf Lessons

I conduct lessons at The Plum Creek Driving Range & Practice Facility
there's a link for Plum Creek info here: http://www.tomtuckergolf.com/

Lessons are available for all ages and skill levels, please contact
me - Tom Tucker - at (716) 474 3005 or email me at ttucker@rochester.rr.com
for more information.

Outdoor Lessons Details and Rates:
http://www.tomtuckergolf.com/lessonrates.html

Indoor Lessons Details and Rates:
http://www.tomtuckergolf.com/indoor.html

Driver Fitting Rates:
http://www.tomtuckergolf.com/indoor.html

Testimonials:
http://www.tomtuckergolf.com/testimonials.html


Sponsors

Plum Creek Driving Range and Simulator Outdoor range and play indoor golf on any of our 40 Simulator Courses. Call 585-993-0930 or email Mark at plumcreek4@rochester.rr.com to reserve time for simulator play or practice!

Batavia Country Club (585) 343-7600 www.bataviacc.com
Great rates, the best greens in WNY. Golf Digest Four Star rating for public courses to play in New York State. Tee times online or by phone in season.
Discounted Memberships on sale through December 31, 2016, otherwise season pass rates stay the same for 2017. For more information click here: Season Pass Rates. Merchandise and gift certificates available through the Pro Shop, call (585) 343-7600. Hours vary during the winter.

Tour Greens Western New York Practice with purpose in your own back yard on your own synthetic practice green. Our greens LOVE Western New York weather!

Genesee Community College Golf Management Program Click on link for more information if you or anyone you know is interested in a dynamic career in the golf industry, or in teaching golf.

All the best,

Tom Tucker
Teaching Pro, Plum Creek Driving Range & Practice Facility
WGTF ' "Top 100 Golf Teacher"
USGTF Class "A" Teaching Professional
IGPA Certified Golf Psychology Coach
Cell: (716) 474-3005
Email: ttucker@rochester.rr.com
http://www.TomTuckerGolf.com

"There are no substitutes in the quest for perfection!"
~ Ben Hogan