Prepare to play your best golf by doing something now!



Tom's Featured Tip: HUGE Rule Change
Tour Greens: Tour Quality Synthetic Greens
Tom's Bonus Tip: Cold Weather Play Considerations
Lesson Comments: What Students Have To Say
Sponsors: Plum Creek Driving Range
Batavia Country Club
Tour Greens Western New York
Genesee Community College Golf Management Program


Click here: INDOOR GOLF LESSONS for details on how to improve your game over the winter.

Plum Creek Driving Range, Batavia, NY, Open All Year
Simulator Course Play Specials: BataviaGolf.com Call 585-993-0930 or Email Mark to reserve simulator time!

Buy Gift Certificates for Lessons Sample Gift Certificate

Golf lessons - Outdoor and Indoor - are available at Plum Creek, please call me at 716 474 3005, email me at ttucker@rochester.rr.com, or visit my website at http://www.tomtuckergolf.com/lessonrates.html for details.

Subscribe - http://www.tomtuckergolf.com/signup.html If you like this newsletter, please do me a favor and forward it to your friends so that they may subscribe, thanks!

The Unsubscribe link is at the bottom of this newsletter.



---


Tom's Featured Tip: HUGE Rule Change

For simplicity, all advice on actual swings or drills is provided from a right handed perspective.

USGA eliminates penalty for accidental ball movement.

This local rule becomes a permanant rule in 2020.

The USGA explains why it's a local rule, nor a permanent rule at this time:
The Rules of Golf are typically revised every four years, with the latest version taking effect in January 2016. The introduction of the Local Rule is outside the normal revision cycle and enables committees to eliminate the penalty for ball-moved situations on the putting green. While the relevant Rules are under consideration as part of the comprehensive Rules Modernization project, we believed it was important to allow for committees to address this issue in advance of the full changes from that project taking effect.

I saw this article by Will Gray in a Golf Central blog. This common sense change has been a long time coming!

The USGA has announced a new local rule that addresses when players "accidentally" move their ball on the green, essentially reversing course on a rule that nearly cost Dustin Johnson the U.S. Open title.

Johnson was deemed to have caused his ball to move by grounding his club during a practice stroke in the final round at Oakmont. While he played the final nine holes unsure of his actual score or if he would receive a penalty, Johnson was ultimately docked a stroke to cut his winning margin from four shots to three.

"There was simply too many times on the putting green where we were seeing players penalized, balls moving. We weren't sure the cause," said USGA CEO and executive director Mike Davis. "What's been happening is that you're seeing penalties assessed that the rules never really contemplated."

The new local rule reads in part:

"When a player's ball lies on the putting green, there is no penalty if the ball or ball-marker is accidentally moved by the player, his partner, his opponent, or any of their caddies or equipment. If it is determined that a player's ball on the putting green was moved as a result of wind, water or some other natural cause such as the effects of gravity, the ball must be played as it lies from its new location."

The new rule, which "modifies" rules 18-2, 18-3 and 20-1, will be made available on Jan. 1 and will be adopted by all major tours as well as all championships and qualifiers conducted by both the USGA and the R&A.

"Eliminating the penalty responds to the concerns we have heard from both golfers and committees about the difficulties in applying the current rules when a player accidentally causes a ball to move on the putting green," said Thomas Pagel, USGA senior director of rules and amateur status.

Here's a graphic synopsis of the rule: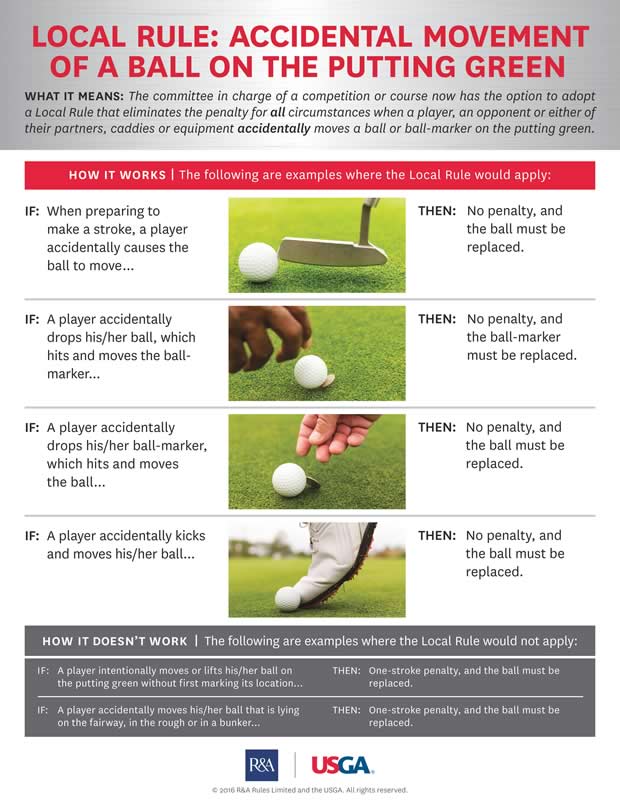 Comments: ttucker@rochester.rr.com

Love your practice, own your swing, own your health,

Tom



---


Tour Greens: Tour Quality Synthetic Greens For Superb Short Game Practice

Do you want one of these in your own back yard?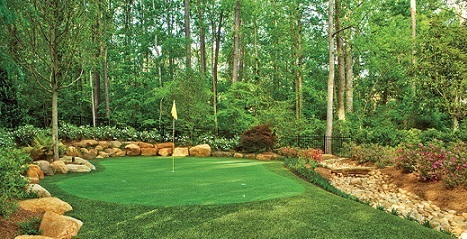 If you would like a free, no obligation quote for getting a beautiful practice area or putting green installed on your property - indoors or outdoors - give me (Tom Tucker) a call at (716) 474-3005, or email at at ttucker@rochester.rr.com

For more information please click here: TourGreensWNY.com

Comments: ttucker@rochester.rr.com

Love your practice, own your swing, own your health,

Tom



---


Tom's Bonus Tip: Cold Weather Play Considerations

For simplicity, all advice on actual swings or drills is provided from a right handed perspective.

Even though it gets very cold here in Western New York State in the winter, I know of a few players that try to play all year long if they can find a course that's open. I'm aware that a couple courses in Canada stay open in the winter because they don't get a lot of snow.

If you are a die hard golfer (I love you guys and gals), here are some nuances for playing in the cold that you should be aware of.

According to sport psychologist Dr. Gio Valiante, "It varies by person, but under 50 degrees you see diminishing of mental functions such as exercising self-control, using memory, suppressing emotions and making decisions, which are all related to golf,"

The effects are most pronounced after several hours of exposure, so they're most likely to appear somewhere in the middle of your back nine. Knowing your faculties will likely erode, Valiante suggests a conservative game plan. "Nasty weather can be a distraction, so the tendency is to lose patience and take more risks. You need to accept that your brain and body are not what they are on a normal day, and aim and club accordingly."

Will you know if you're starting to lose it? "If you're having trouble focusing on the shot you're about to hit, that's an indication of the onset of cognitive deficiency," Valiante says. "How you react to a shot is the other indicator." As in, if you're getting mad and frustrated, it might be because you're really cold. "Better players typically find a way to underreact to every shot, good or bad."

So, if you are a bound and determined cold weather player, underreact - don't overreact and you'll be better off.

Golf notwithstanding, I wonder if football players know about these effects of playing in the cold? (BUFFALO BILLS)

Comments: ttucker@rochester.rr.com

Love your practice, own your swing, own your health,

Tom



---



Golf Lessons

I conduct lessons at The Plum Creek Driving Range & Practice Facility
there's a link for Plum Creek info here: http://www.tomtuckergolf.com/

Lessons are available for all ages and skill levels, please contact
me - Tom Tucker - at (716) 474 3005 or email me at ttucker@rochester.rr.com
for more information.

Outdoor Lessons Details and Rates:
http://www.tomtuckergolf.com/lessonrates.html

Indoor Lessons Details and Rates:
http://www.tomtuckergolf.com/indoor.html

Driver Fitting Rates:
http://www.tomtuckergolf.com/indoor.html

Testimonials:
http://www.tomtuckergolf.com/testimonials.html


Sponsors

Plum Creek Driving Range and Simulator Outdoor range and play indoor golf on any of our 40 Simulator Courses. Call 585-993-0930 or email Mark at plumcreek4@rochester.rr.com to reserve time for simulator play or practice!

Batavia Country Club (585) 343-7600 www.bataviacc.com
Great rates, the best greens in WNY. Golf Digest Four Star rating for public courses to play in New York State. Tee times online or by phone in season.
Discounted Memberships on sale through December 31, 2016, otherwise season pass rates stay the same for 2017. For more information click here: Season Pass Rates. Merchandise and gift certificates available through the Pro Shop, call (585) 343-7600. Hours vary during the winter.

Tour Greens Western New York Practice with purpose in your own back yard on your own synthetic practice green. Our greens LOVE Western New York weather!

Genesee Community College Golf Management Program Click on link for more information if you or anyone you know is interested in a dynamic career in the golf industry, or in teaching golf.

All the best,

Tom Tucker
Teaching Pro, Plum Creek Driving Range & Practice Facility
WGTF ' "Top 100 Golf Teacher"
USGTF Class "A" Teaching Professional
IGPA Certified Golf Psychology Coach
Cell: (716) 474-3005
Email: ttucker@rochester.rr.com
http://www.TomTuckerGolf.com

"There are no substitutes in the quest for perfection!"
~ Ben Hogan