Prepare to play your best golf by doing something now!



Tom's Featured Tip: How To Avoid Three Putting
Tour Greens: Tour Quality Synthetic Greens
Tom's Bonus Tip: Neuroplasticity
Lesson Comments: What Students Have To Say
Sponsors: Plum Creek Driving Range
Batavia Country Club
Tour Greens Western New York
Genesee Community College Golf Management Program


Click here: INDOOR GOLF LESSONS for details on how to improve your game over the winter.

Plum Creek Driving Range, Batavia, NY, Open All Year
Simulator Course Play Specials: BataviaGolf.com Call 585-993-0930 or Email Mark to reserve simulator time!

Buy Gift Certificates for Lessons Sample Gift Certificate

Golf lessons - Outdoor and Indoor - are available at Plum Creek, please call me at 716 474 3005, email me at ttucker@rochester.rr.com, or visit my website at http://www.tomtuckergolf.com/lessonrates.html for details.

Subscribe - http://www.tomtuckergolf.com/signup.html If you like this newsletter, please do me a favor and forward it to your friends so that they may subscribe, thanks!

The Unsubscribe link is at the bottom of this newsletter.



---


Tom's Featured Tip: How To Avoid Three Putting

For simplicity, all advice on actual swings or drills is provided from a right handed perspective.

USGA eliminates penalty for accidental ball movement.

Before I get to the tip, have a Merry and Blessed Christmas everyone!

High handicappers three-putt about 20 percent of the holes they play, six times more than PGA Tour pros. Three putting seems like a foregone conclusion on long putts for many high handicap players, but it doesn't need to be.

Sometimes even the best in the world three putt on undulating fast greens. I'm not talking about those occurrences. I'm talkng about the propensity to three putt on 25 to 35 foot putts, which is preventable under normal green and slope conditions.

Here are some considerations to help you end persistent three putting.
First of all, start believing that you are a good to great putter. Start thinking that way right now.


Find a putter that you really like. I suggest a mallet head style putter for reasons that I've enumerated before - more forgiving sweet spot, and less twisting of the putterhead at impact on off center hits being the best reasons. If you don't like the look of a mallet head putter, keep looking at it until you do. I feel that strongly about it.


Develop a putting stroke and style that you feel comfortable with and commit to it.


The stroke style that I prefer - and it's well researched by Dave Pelz that it's the most accurate - is a straight back and straight through stroke method. Having said that, there are a lot of players that like an arcing back and straight through stroke method. Decide what's best for you then practice it and stick with it.


After you have decided on a stroke method, practice good stroke mechanics all winter. Specifically, this means setting up and practicing your stroke with or without a ball, paying very close attention to keeping your triangle intact throughout your stroke.

The putting triangle (below) is the shape of long firm arms and a firm wrist set at address.





The power for the stroke comes exclusively from the shoulders rocking back and forth. Longer shoulder rocking for long putts, shorter rocking for short putts.


Next, practice tempo by making your short or long strokes fit into a consistent time frame. You can do this by reciting a stroke mantra such as "straight back - straight through" as you practice your stroke (with or without a ball), or you can use a metronome. You can find a zillion free or low cost metronome apps on your smart phone, I use MetroTimer.


When you practice different stroke lengths fitting into the same tempo time frame, the shorter strokes will have lighter contact at impact, and the longer strokes will provide stronger contact at impact. Therefore the shorter strokes won't roll as far as longer strokes fitting into the same tempo. It's obvious, but I wanted to spell that out.
After you have settled on a putter, decided on a stroke style and method, and have a good grasp for tempo for both long and short strokes, it's time to start working on feel.
Now you need to develop a stock putting stroke, and you can do that over the winter. Here's a video I made on how to do that:



Mobile Link





PC Link


Owning your stock putting stroke length and being able to adjust the power of the stroke is the key to lag putting.


The next part of the process involves finding a place, indoors or outdoors, where you can practice lag putting to different length holes. Test the surface rollout first with a ball and ten stock swings, then start putting to different length holes. Never putt to the same distance twice in a row, keep switching it up and make every putt shoulder powered - no hand action or pushing with your right arm.


When you are practicing your lag putting this way, focus more on speed than line. After you have determined your aimpoint in your pre-shot routine, align for the target then essentially forget about alignment and think about speed.

Some instructors recommend visualizing a three foot circle around the hole and to try to lag the ball into that circle, but I instruct my students to try to make the putt so that their target focus is smaller, not larger. My thoughts are that they will focus more with that mindset as opposed to lagging the putt into a larger circle.


Don't jump ship mentally if your first putt isn't great. Just approach the second putt calmly and with resolve and you'll be OK
Set up a practice schedule over the winter to practice these steps and you'll be a great putter when the weather breaks.

Wait a minute - you already are a great putter right - so you'll be even better in the spring :-)

Comments: ttucker@rochester.rr.com

Love your practice, own your swing, own your health,

Tom



---


Tour Greens: Tour Quality Synthetic Greens For Superb Short Game Practice

Do you want one of these in your own back yard?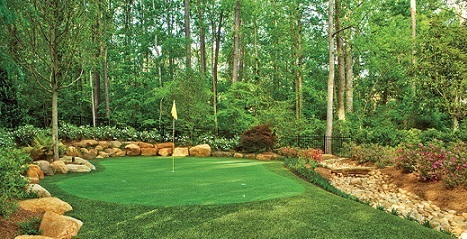 If you would like a free, no obligation quote for getting a beautiful practice area or putting green installed on your property - indoors or outdoors - give me (Tom Tucker) a call at (716) 474-3005, or email at at ttucker@rochester.rr.com

For more information please click here: TourGreensWNY.com

Comments: ttucker@rochester.rr.com

Love your practice, own your swing, own your health,

Tom



---


Tom's Bonus Tip: Neuroplasticity

For simplicity, all advice on actual swings or drills is provided from a right handed perspective.

I watched an interesting program on the PBS channel the other night called "The Healing Mind" with Martin Rossman MD. If you have the opportunity to catch it, do so - it was very interesting.

It was about how to combat various stresses and other factors that affect your mind, and the topic of neuroplasticity came up.

Neuroplasticity is defined as The brain's ability to reorganize itself by forming new neural connections throughout life.

The simple message for aging golfers is that we retain the ability to process the nuances of the game well even as we age. So keep on trucking - and don't use age as a cop out for executing bad swings - especially short game swings.

Comments: ttucker@rochester.rr.com

Love your practice, own your swing, own your health,

Tom



---



Golf Lessons

I conduct lessons at The Plum Creek Driving Range & Practice Facility
there's a link for Plum Creek info here: http://www.tomtuckergolf.com/

Lessons are available for all ages and skill levels, please contact
me - Tom Tucker - at (716) 474 3005 or email me at ttucker@rochester.rr.com
for more information.

Outdoor Lessons Details and Rates:
http://www.tomtuckergolf.com/lessonrates.html

Indoor Lessons Details and Rates:
http://www.tomtuckergolf.com/indoor.html

Driver Fitting Rates:
http://www.tomtuckergolf.com/indoor.html

Testimonials:
http://www.tomtuckergolf.com/testimonials.html


Sponsors

Plum Creek Driving Range and Simulator Outdoor range and play indoor golf on any of our 40 Simulator Courses. Call 585-993-0930 or email Mark at plumcreek4@rochester.rr.com to reserve time for simulator play or practice!

Batavia Country Club (585) 343-7600 www.bataviacc.com
Great rates, the best greens in WNY. Golf Digest Four Star rating for public courses to play in New York State. Tee times online or by phone in season.
Discounted Memberships on sale through December 31, 2016, otherwise season pass rates stay the same for 2017. For more information click here: Season Pass Rates. Merchandise and gift certificates available through the Pro Shop, call (585) 343-7600. Hours vary during the winter.

Tour Greens Western New York Practice with purpose in your own back yard on your own synthetic practice green. Our greens LOVE Western New York weather!

Genesee Community College Golf Management Program Click on link for more information if you or anyone you know is interested in a dynamic career in the golf industry, or in teaching golf.

All the best,

Tom Tucker
Teaching Pro, Plum Creek Driving Range & Practice Facility
WGTF ' "Top 100 Golf Teacher"
USGTF Class "A" Teaching Professional
IGPA Certified Golf Psychology Coach
Cell: (716) 474-3005
Email: ttucker@rochester.rr.com
http://www.TomTuckerGolf.com

"There are no substitutes in the quest for perfection!"
~ Ben Hogan