Prepare to play your best golf by doing something now!



Tom's Featured Tip: Best Winter Swing Drill
Tour Greens: Tour Quality Synthetic Greens
Tom's Bonus Tip: Intriguing Golf Ball Test
Lesson Comments: What Students Have To Say
Sponsors: Plum Creek Driving Range
Batavia Country Club
Tour Greens Western New York
Genesee Community College Golf Management Program


Click here: INDOOR GOLF LESSONS for details on how to improve your game over the winter.

Plum Creek Driving Range, Batavia, NY, Open All Year
Simulator Course Play Specials: BataviaGolf.com Call 585-993-0930 or Email Mark to reserve simulator time!

Buy Gift Certificates for Lessons Sample Gift Certificate

Golf lessons - Outdoor and Indoor - are available at Plum Creek, please call me at 716 474 3005, email me at ttucker@rochester.rr.com, or visit my website at http://www.tomtuckergolf.com/lessonrates.html for details.

Subscribe - http://www.tomtuckergolf.com/signup.html If you like this newsletter, please do me a favor and forward it to your friends so that they may subscribe, thanks!

The Unsubscribe link is at the bottom of this newsletter.



---


Tom's Featured Tip: Best Winter Swing Drill

For simplicity, all advice on actual swings or drills is provided from a right handed perspective.

This drill can be done indoors in the winter, and it will improve your full swing ball striking dramatically: short swing punch shots.

What you need is some space, an average height basement or garage will do, and some equipment:
24 AlmostGolfBalls
a hitting net , a tarp, or a blanket or sheet
a chunk of carpet remnant or a hitting mat
Hang the hitting net with a little space behind it, then simply hit short but crisp punch shots repeatedly off the carpet remnant or hitting mat into the target with your pitching wedge.

Use good technique on the short swing strikes - flat left wrist and cupped right wrist (still bent back) at impact and into your abbreviated follow through.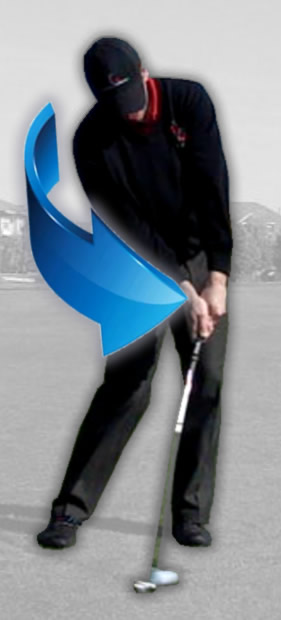 Weight about 90% on the left side. Finish with the angle between the right arm and the shaft transported through impact and into an abbreviated follow through, with both arms completely extended. Do not allow the right wrist to straighten on these short punch shot strikes.

Do four sets of 24 strikes, rest a minute or two between sets - the time it will take you to gather up the balls and set up again.

I mention that this is a great winter drill - which it absolutely is - and it's also a great drill to do any time that your ball striking seems to be getting shabby.

Try this and you'll love the results.

Comments: ttucker@rochester.rr.com

Love your practice, own your swing, own your health,

Tom



---


Tour Greens: Tour Quality Synthetic Greens For Superb Short Game Practice

Do you want one of these in your own back yard?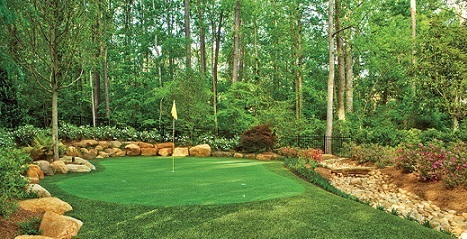 If you would like a free, no obligation quote for getting a beautiful practice area or putting green installed on your property - indoors or outdoors - give me (Tom Tucker) a call at (716) 474-3005, or email at at ttucker@rochester.rr.com

For more information please click here: TourGreensWNY.com

Comments: ttucker@rochester.rr.com

Love your practice, own your swing, own your health,

Tom



---


Tom's Bonus Tip: Intriguing Golf Ball Test

For simplicity, all advice on actual swings or drills is provided from a right handed perspective.

I prefer to be the sole originator of my tips, but when somebody else offers something too interesting to resist, I like to share it with my readers.

I recently decided to change the ball that I've been using for the past 15 years from the Titelist ProV1 to the Bridgestone Tour B330RXS. I played several rounds with it in Florida over the Thanksgiving holidays, shot some very good numbers, and bought three boxes for next season. That amount of balls will last me more than one season, so I've committed to it.

One of the newsletters that I get in my email on a regular basis is called MyGolfSpy. They did a test with humans that compared Kirkland golf balls to the ProV1, and then Hank Haney and Michael Breed criticized the results because they felt that human testing was sub-par to robotic testing.

Here's what MyGolfSpy said.

"They (Haney and Breed) had a few issues with our test protocols. We trust the test protocols we have refined over the past 6 years but understand it's hard for many to believe a $15 (per box) ball could outperform the #1 Ball in Golf that cost $50 (per box).

So, they (Haney and Breed) claimed:
All balls go the same distance
Player testing was not as good as robots (not true)
And the quality control was poor with the Kirkland ball (FYI Breed is a Titelist guy, Haney a Callaway guy, we are a YOU guy)
They tried to find just about anything to discredit the test. Once again understandable. Breed went on to ask if there was any robot data to support our data and if we could publish it.

So, here is a robot test performed by GolfLabs for another ball company Vice Golf.

It is a test that shows that not only do balls not go the same distance it shows yet another ball going farther than a Titelist Pro V1. And not a ball many recognize as a leader in golf ball tech either."

Here's a .pdf of the test, ProV1 vs. Vice, check it out - it's very interesting.

Also very interesting is how some famous names in golf broadcasting are unwilling to be open minded about lesser known brands, even in the face of scientific evidence.

By the way, I have no financial interest or benefit attached to any of this, I just like to see innovations in golf get a fair shake if it's merited.

And I'm sticking with the Bridgestone ball because I love the feel.

Comments: ttucker@rochester.rr.com

Love your practice, own your swing, own your health,

Tom



---



Golf Lessons

I conduct lessons at The Plum Creek Driving Range & Practice Facility
there's a link for Plum Creek info here: http://www.tomtuckergolf.com/

Lessons are available for all ages and skill levels, please contact
me - Tom Tucker - at (716) 474 3005 or email me at ttucker@rochester.rr.com
for more information.

Outdoor Lessons Details and Rates:
http://www.tomtuckergolf.com/lessonrates.html

Indoor Lessons Details and Rates:
http://www.tomtuckergolf.com/indoor.html

Driver Fitting Rates:
http://www.tomtuckergolf.com/indoor.html

Testimonials:
http://www.tomtuckergolf.com/testimonials.html


Sponsors

Plum Creek Driving Range and Simulator Outdoor range and play indoor golf on any of our 40 Simulator Courses. Call 585-993-0930 or email Mark at plumcreek4@rochester.rr.com to reserve time for simulator play or practice!

Batavia Country Club (585) 343-7600 www.bataviacc.com
Great rates, the best greens in WNY. Golf Digest Four Star rating for public courses to play in New York State. Tee times online or by phone in season.
Discounted Memberships on sale through December 31, 2016, otherwise season pass rates stay the same for 2017. For more information click here: Season Pass Rates. Merchandise and gift certificates available through the Pro Shop, call (585) 343-7600. Hours vary during the winter.

Tour Greens Western New York Practice with purpose in your own back yard on your own synthetic practice green. Our greens LOVE Western New York weather!

Genesee Community College Golf Management Program Click on link for more information if you or anyone you know is interested in a dynamic career in the golf industry, or in teaching golf.

All the best,

Tom Tucker
Teaching Pro, Plum Creek Driving Range & Practice Facility
WGTF ' "Top 100 Golf Teacher"
USGTF Class "A" Teaching Professional
IGPA Certified Golf Psychology Coach
Cell: (716) 474-3005
Email: ttucker@rochester.rr.com
http://www.TomTuckerGolf.com

"There are no substitutes in the quest for perfection!"
~ Ben Hogan