Prepare to play your best golf by doing something now!



Tom's Featured Tip: Q&A Putter Fitting
Tour Greens: Tour Quality Synthetic Greens
Tom's Bonus Tip: The Most Common Fault Identified During Putter Fitting
Lesson Comments: What Students Have To Say
Sponsors: Plum Creek Driving Range
Batavia Country Club
Tour Greens Western New York
Genesee Community College Golf Management Program


Click here: INDOOR GOLF LESSONS for details on how to improve your game over the winter.

Plum Creek Driving Range, Batavia, NY, Open All Year
Simulator Course Play Specials: BataviaGolf.com Call 585-993-0930 or Email Mark to reserve simulator time!

Buy Gift Certificates for Lessons Sample Gift Certificate

Golf lessons - Outdoor and Indoor - are available at Plum Creek, please call me at 716 474 3005, email me at ttucker@rochester.rr.com, or visit my website at http://www.tomtuckergolf.com/lessonrates.html for details.

Subscribe - http://www.tomtuckergolf.com/signup.html If you like this newsletter, please do me a favor and forward it to your friends so that they may subscribe, thanks!

The Unsubscribe link is at the bottom of this newsletter.



---


Tom's Featured Tip: Q&A Putter Fitting

For simplicity, all advice on actual swings or drills is provided from a right handed perspective.

Q: Hi Tom,

I was wondering if you could walk me through the process of a putter fitting.

I have been using a counter balanced versa 7 and using a left hand low split grip to more or less mask my bad stroke. I have never been able to get a consistently smooth stroke and would like to look at doing a putter fitting. I specifically am looking at a few different scotties in their line.

Please let me know about any thoughts you might have.

Thank you for your time

Davis L., Rochester, NY

A: Thanks for the question Davis.

I'll cover the process I use for a putter fitting, but before I do I need to mention a couple of connected factors to your problem.

First of all, if you are going to spend big bucks on a new Scottie, get fitted first so that they can adjust or build the putter to your specs. I prefer dynamic fittings - meaning a hands on fitting with a golf professional, but most putter manufacturers offer some sort of onlinfe fitting process as well.

I absolutely recommend the hands on over the online process because the online can't physically see as many variables that can influence a proper fitting as well as a hands on fitting can.

Second, I want you to start thinking of yourself as a good putter right now. You are allowed to think of yourself as a good putter with stroke technique issues that will be corrected, but I still want you to envision yourself as a good putter.

Third on the list before I explain my putter fitting philosophy and process, I believe that getting fitted for a putter before you have settled on a putting stroke method is a waste of time and money.

Decide on whether you want a conventional stance stroke, or a non-traditional stance and stroke - such as a "face on" method. I'm only going to address traditional stance and stroke methods in this issue.

With a traditional side stroking stance, decide on whether you want to be a shoulder stroker, a pusher, of a wrist putter.
A shoulder stroker uses the shoulders to power the stroke. This method is compatible with a relatively straight back - straight through stroke path with minimal putter head rotation.


A pusher stroke primarily uses the right arm to power the stroke. This method is compatible with an arcing stroke and more putter head rotation than the shoulder stroker.


A wrist stroke primarily uses the wrists to power the stroke. This method most often has an arcing path with more putter head rotation than either the shoulder stroker or the pusher.
Last but not least, I do see a some hybrid methods that combine the attributes of all three methods above.

None are right, none are wrong. Putting is personal. The method that works the best for you is the method you should use.

This means that you need to test and experiment (golf is a game of discovery) if your current method isn't producing the desired results.

I have personally found the shoulder stroke method to be simplest to learn well. So I teach and prefer a shoulder stroke with as much of a straight back - straight through stroke as I can manage. This stroke may actually arc a little on the backstroke, but the putter head ALWAYS stays square to the path to minimize putter head rotation.

So after you have settled on how you prefer to stroke your putts, it's time for a putter fitting.

Putter fitting is not just for professional golfers, and I believe that it's money well spent. My putter fitting rate is $60, providing that the player has a method that he or she wants to use and has practiced it for awhile. Otherwise, we would need to have a putting lesson before the fitting.

The putters you find on the shelves at Dicks Sporting Goods and other golf stores are not designed for optimal putting because they are built on the mass production principle of one-size fits all. It is possible to putt the ball straight with a putter that's not fitted to your personal style, but the odds are stacked against consistency.

Usually people buy these putters then end up adjusting their stance to fit the putter, when they should actually get a putter that fits their stance.

If you sincerely want to lower your scores, becoming a great putter should be a no brainer, and that plan should include making sure that your putter is fitted properly. Trying to become an excellent putter with equipment that's not optimal for you is like trying to win a hundred yard dash with ankle weights strapped on.

Not exactly optimal.



PUTTER FITTING



Here's an overview of how I conduct a putter fitting, details may be found here: Putter Fitting
I fit for length, lie and loft using an adjustable putter fitting tool like this






Then I may double check a lie using a lie angle reference board after I have had the student make a couple of strokes with the adjustable putter fitted to their specs.






Next I check for optimal hosel type with test putters designed for that purpose.


Then the student and I discuss grips, head types, and head weight that would be preferable for their inclinations, and I have them take several strokes with various putter styles and head types that I have on site with my SquareStrike™ Training Aid. .


Finally, recommendations are made to the student regarding everything we have identified through the fitting process. Some students then opt to have their existing putter adjusted to match their specifications, others prefer to get a new putter, and I provide specs and recommendations based on their fitting data.
I hope this answered your question Davis.

So, if you are not putting as well as you think you should be, maybe it's the fact that the putter you are using isn't fitted well to you for the stroke method you want to accomplish.

If that's the case, do something about it.

Comments: ttucker@rochester.rr.com

Love your practice, own your swing, own your health,

Tom



---


Tour Greens: Tour Quality Synthetic Greens For Superb Short Game Practice

Do you want one of these in your own back yard?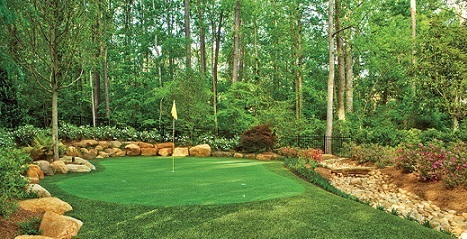 If you would like a free, no obligation quote for getting a beautiful practice area or putting green installed on your property - indoors or outdoors - give me (Tom Tucker) a call at (716) 474-3005, or email at at ttucker@rochester.rr.com

For more information please click here: TourGreensWNY.com

Comments: ttucker@rochester.rr.com

Love your practice, own your swing, own your health,

Tom



---


Tom's Bonus Tip: The Most Common Fault Identified During Putter Fitting

For simplicity, all advice on actual swings or drills is provided from a right handed perspective.

Short but sweet here - putter length too long, especially with female players.

Comments: ttucker@rochester.rr.com

Love your practice, own your swing, own your health,

Tom



---



Golf Lessons

I conduct lessons at The Plum Creek Driving Range & Practice Facility
there's a link for Plum Creek info here: http://www.tomtuckergolf.com/

Lessons are available for all ages and skill levels, please contact
me - Tom Tucker - at (716) 474 3005 or email me at ttucker@rochester.rr.com
for more information.

Outdoor Lessons Details and Rates:
http://www.tomtuckergolf.com/lessonrates.html

Indoor Lessons Details and Rates:
http://www.tomtuckergolf.com/indoor.html

Driver Fitting Rates:
http://www.tomtuckergolf.com/indoor.html

Testimonials:
http://www.tomtuckergolf.com/testimonials.html


Sponsors

Plum Creek Driving Range and Simulator Outdoor range and play indoor golf on any of our 40 Simulator Courses. Call 585-993-0930 or email Mark at plumcreek4@rochester.rr.com to reserve time for simulator play or practice!

Batavia Country Club (585) 343-7600 www.bataviacc.com
Great rates, the best greens in WNY. Golf Digest Four Star rating for public courses to play in New York State. Tee times online or by phone in season.
Merchandise and gift certificates available through the Pro Shop, call (585) 343-7600. Hours vary during the winter.

Tour Greens Western New York Practice with purpose in your own back yard on your own synthetic practice green. Our greens LOVE Western New York weather!

Genesee Community College Golf Management Program Click on link for more information if you or anyone you know is interested in a dynamic career in the golf industry, or in teaching golf.

All the best,

Tom Tucker
Teaching Pro, Plum Creek Driving Range & Practice Facility
WGTF ' "Top 100 Golf Teacher"
USGTF Class "A" Teaching Professional
IGPA Certified Golf Psychology Coach
Cell: (716) 474-3005
Email: ttucker@rochester.rr.com
http://www.TomTuckerGolf.com

"There are no substitutes in the quest for perfection!"
~ Ben Hogan