Prepare to play your best golf by doing something now!



Tom's Featured Tip: Offset Irons
Tour Greens: Tour Quality Synthetic Greens
Tom's Bonus Tip: GRIT
Lesson Comments: What Students Have To Say
Sponsors: Plum Creek Driving Range
Batavia Country Club
Tour Greens Western New York
Genesee Community College Golf Management Program


Click here: INDOOR GOLF LESSONS for details on how to improve your game over the winter.

Plum Creek Driving Range, Batavia, NY, Open All Year
Simulator Course Play Specials: BataviaGolf.com Call 585-993-0930 or Email Mark to reserve simulator time!

Buy Gift Certificates for Lessons Sample Gift Certificate

Golf lessons - Outdoor and Indoor - are available at Plum Creek, please call me at 716 474 3005, email me at ttucker@rochester.rr.com, or visit my website at http://www.tomtuckergolf.com/lessonrates.html for details.

Subscribe - http://www.tomtuckergolf.com/signup.html If you like this newsletter, please do me a favor and forward it to your friends so that they may subscribe, thanks!

The Unsubscribe link is at the bottom of this newsletter.



---


Tom's Featured Tip: Offset Irons

For simplicity, all advice on actual swings or drills is provided from a right handed perspective.

I had a lesson with a long time student two weeks ago. He always has a lesson or two during the winter to maintain his swing for the upcoming golf season.

This particular student owns his swing, and he had upgraded from some very old Ping super game improvement irons to Ping game improvement irons.

The main differences between super game improvement irons and game improvement irons of any brand are that super game improvement irons have a larger head size and are more offset than game improvement irons. Offset clubs are mainly designed to help prevent slices. They make it easier for novice players to hit the ball straight, but on the minus side it makes it harder to curve the ball intentionally.

Not impossible, just harder.

Most players start with super game improvement irons, then they move on to game improvement irons as they gain more skill.

In the image below, the iron on the right would represent the offset found on super game improvement irons; the center image would represent the offset on game improvement irons, the image on the left would be called a blade iron, with virtually no offset.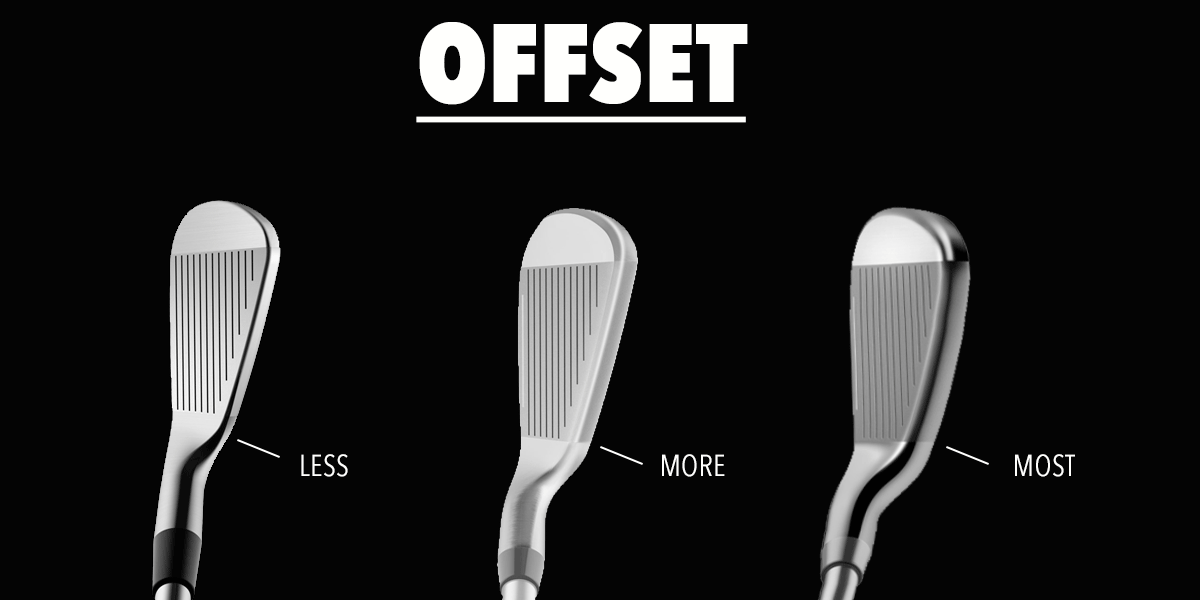 The head of an offset club has a leading edge that is set back from the shaft. Such clubs are also called offset hosel clubs because the hosel - the area where the shaft fits into the club head - is the part thatís actually bent to set the club face behind the shaft. Offset clubs are typically irons and putters, although offset woods do exist.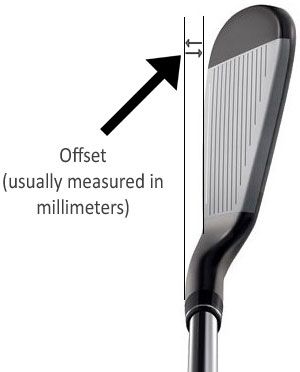 An offset club naturally puts your hands more in front of the club head than clubs with little or no offset, at address as well as at impact if your swing is close to correct. This helps when swinging an iron because the desired impact position has the hands ahead of the clubhead to some degree at the moment of the strike. I refer to this position as having "forward shaft lean" at impact.

Back to my student.

He has good swing mechanics, so the equipment change will ultimately be good for him, but during the lesson he was leaving most of his iron shots out to the right on the simulator.

For someone with good consistent downswing angles to begin with, less offset produces less draw or hook than more offset would. As a result of less offset in his irons, his normal three yard draw was now about a one yard draw. The great news was that it was very consistent.

We made some stance and ball position adjustments to get the ball starting less to the right, and he now is hitting a great little one yard draw that should produce more consistent results than his old irons did. He is able to start the ball on a straighter line towards the target which should also produce better misses on less than perfect strikes.

The bottom line is that when you make an equipment change, understand the technical features of your equipment - especially any offset change - so that you will know what changes to expect in your ball flight.

Comments: ttucker@rochester.rr.com

Love your practice, own your swing, own your health,

Tom



---


Tour Greens: Tour Quality Synthetic Greens For Superb Short Game Practice

Do you want one of these in your own back yard?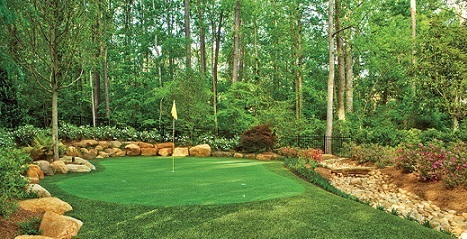 If you would like a free, no obligation quote for getting a beautiful practice area or putting green installed on your property - indoors or outdoors - give me (Tom Tucker) a call at (716) 474-3005, or email at at ttucker@rochester.rr.com

For more information please click here: TourGreensWNY.com

Comments: ttucker@rochester.rr.com

Love your practice, own your swing, own your health,

Tom



---


Tom's Bonus Tip: GRIT

I'm reading a book that is confirming something that I was convinced of during my many years of teaching and coaching golf, as well as coaching other sports.

It's this - that passion and perserverence (GRIT) trumps talent as a marker for success.

If you have talent, passion, and perseverence - that's the perfect storm. But talented people without passion or perseverence will be surpassed by less talented people with GRIT.

So ...... keep practicing!

GRIT is the name of the book, it's a good read.

Enjoy, Tom

Comments: ttucker@rochester.rr.com

Love your practice, own your swing, own your health,

Tom



---



Golf Lessons

I conduct lessons at The Plum Creek Driving Range & Practice Facility
there's a link for Plum Creek info here: http://www.tomtuckergolf.com/

Lessons are available for all ages and skill levels, please contact
me - Tom Tucker - at (716) 474 3005 or email me at ttucker@rochester.rr.com
for more information.

Outdoor Lessons Details and Rates:
http://www.tomtuckergolf.com/lessonrates.html

Indoor Lessons Details and Rates:
http://www.tomtuckergolf.com/indoor.html

Driver Fitting Rates:
http://www.tomtuckergolf.com/indoor.html

Testimonials:
http://www.tomtuckergolf.com/testimonials.html


Sponsors

Plum Creek Driving Range and Simulator Outdoor range and play indoor golf on any of our 40 Simulator Courses. Call 585-993-0930 or email Mark at plumcreek4@rochester.rr.com to reserve time for simulator play or practice!

Batavia Country Club (585) 343-7600 www.bataviacc.com
Great rates, the best greens in WNY. Golf Digest Four Star rating for public courses to play in New York State. Tee times online or by phone in season.

BCC Members, as well as handicap only members, must contact BCC with their intentions on continuance of their status by April 1st to keep their handicap registration active.

Tour Greens Western New York Practice with purpose in your own back yard on your own synthetic practice green. Our greens LOVE Western New York weather!

Genesee Community College Golf Management Program Click on link for more information if you or anyone you know is interested in a dynamic career in the golf industry, or in teaching golf.

All the best,

Tom Tucker
Teaching Pro, Plum Creek Driving Range & Practice Facility
WGTF ' "Top 100 Golf Teacher"
USGTF Class "A" Teaching Professional
IGPA Certified Golf Psychology Coach
Cell: (716) 474-3005
Email: ttucker@rochester.rr.com
http://www.TomTuckerGolf.com

"There are no substitutes in the quest for perfection!"
~ Ben Hogan