Prepare to play your best golf by doing something now!



Tom's Featured Tip: 3 Things To Do For Success Before You Play
Tour Greens: Tour Quality Synthetic Greens
Tom's Bonus Tip: Mental Tip - Attitude
Lesson Comments: What Students Have To Say
Sponsors: Plum Creek Driving Range
Batavia Country Club
Tour Greens Western New York
Genesee Community College Golf Management Program


Click here: INDOOR GOLF LESSONS for details on how to improve your game over the winter.

Plum Creek Driving Range, Batavia, NY, Open All Year
Simulator Course Play Specials: BataviaGolf.com Call 585-993-0930 or Email Mark to reserve simulator time!

Buy Gift Certificates for Lessons Sample Gift Certificate

Golf lessons - Outdoor and Indoor - are available at Plum Creek, please call me at 716 474 3005, email me at ttucker@rochester.rr.com, or visit my website at http://www.tomtuckergolf.com/lessonrates.html for details.

Subscribe - http://www.tomtuckergolf.com/signup.html If you like this newsletter, please do me a favor and forward it to your friends so that they may subscribe, thanks!

The Unsubscribe link is at the bottom of this newsletter.



---


Tom's Featured Tip: 3 Things To Do For Success Before You Play

For simplicity, all advice on actual swings or drills is provided from a right handed perspective.

Here are a 3 things you can do before you tee it up to prepare yourself to play, mentally and physically.
Hit the range to stretch your body and prepare your brain. Do this Thoracic Spine Stretch first, then take 24 swings as follows: one slow motion practice swing, then hit a ball. Repeat for a total of 12 rehearsal swings and 12 balls hit. Keep in mind that it's not a swing practice session, it's a swing rehearsal session.

Use the range before a round to wake up your brain and your body to your swing motion.

If you can't get to the range before your round, do this.

After you take your clubs out of your car, find a place where you can take a 7 iron and take 5 very slow motion rehearsal swings, paying attention to every move your body makes from start to finish. It's the next best thing to hitting balls on the range for your brain. Then do the Thoracic Spine Stretch.


Give yourself 5 to 10 minutes on the putting green and do this:

Practice your stock putting stroke with ten putts. Click here for The Stock Stroke Drill

Then take one ball and putt to different length target holes, putting until you hole out.

Last thing on the putting green before you head to the first tee - make 5 three footers in a row.


On the first tee, invert your driver - hold it by the neck, not the handle, and take 5 very fast swings.

Then step in a hit a great drive.
If you have time to do more, go for it. But if your time is tight, make some time to do the 3 things above before your round and your body and brain will be ready for action, guaranteed.

Comments: ttucker@rochester.rr.com

Love your practice, own your swing, own your health,

Tom



---


Tour Greens: Tour Quality Synthetic Greens For Superb Short Game Practice

Do you want one of these in your own back yard?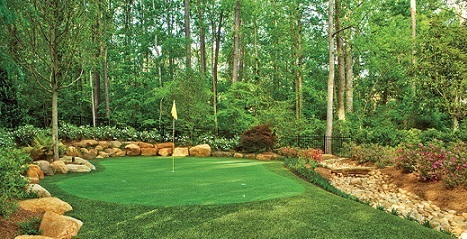 If you would like a free, no obligation quote for getting a beautiful practice area or putting green installed on your property - indoors or outdoors - give me (Tom Tucker) a call at (716) 474-3005, or email at at ttucker@rochester.rr.com

For more information please click here: TourGreensWNY.com

Comments: ttucker@rochester.rr.com

Love your practice, own your swing, own your health,

Tom



---


Tom's Bonus Tip: Mental Tip - Attitude

It doesn't cost you a dime to have a positive attitude, and in golf that can be a big plus.

Your attitude can be a positive tool over outcome. Successful golfers do not allow their attitude to be influenced by results. They stay focused and positive, regardless of outcome. Unsuccessful golfers do the opposite and allow bad outcomes or scores to impact their attitude in a negative way.

Attitude can also help you to remain calm under pressure. Unhappy and unsuccessful golfers believe the deck is stacked is against them, so they are filled with anxiety and frustration. Successful golfers believe that the Golf Gods are there to help them. They know that the future will eventually work in their favor, so they have a sense of calmness about them.

Your attitude is a choice.

It really is that simple.

Comments: ttucker@rochester.rr.com

Love your practice, own your swing, own your health,

Tom



---



Golf Lessons

I conduct lessons at The Plum Creek Driving Range & Practice Facility
there's a link for Plum Creek info here: http://www.tomtuckergolf.com/

Lessons are available for all ages and skill levels, please contact
me - Tom Tucker - at (716) 474 3005 or email me at ttucker@rochester.rr.com
for more information.

Outdoor Lessons Details and Rates:
http://www.tomtuckergolf.com/lessonrates.html

Indoor Lessons Details and Rates:
http://www.tomtuckergolf.com/indoor.html

Driver Fitting Rates:
http://www.tomtuckergolf.com/indoor.html

Testimonials:
http://www.tomtuckergolf.com/testimonials.html


Sponsors

Plum Creek Driving Range and Simulator Outdoor range and play indoor golf on any of our 40 Simulator Courses. Call 585-993-0930 or email Mark at plumcreek4@rochester.rr.com to reserve time for simulator play or practice!

Batavia Country Club (585) 343-7600 www.bataviacc.com
Great rates, the best greens in WNY. Golf Digest Four Star rating for public courses to play in New York State. Tee times online or by phone in season.

BCC will be OPEN with carts for play Wednesday Februray 22nd and Thursday February 23rd, and possibly beyond - weather permitting. Not taking tee times, open play after 8:30 AM

Tour Greens Western New York Practice with purpose in your own back yard on your own synthetic practice green. Our greens LOVE Western New York weather!

Genesee Community College Golf Management Program Click on link for more information if you or anyone you know is interested in a dynamic career in the golf industry, or in teaching golf.

All the best,

Tom Tucker
Teaching Pro, Plum Creek Driving Range & Practice Facility
WGTF ' "Top 100 Golf Teacher"
USGTF Class "A" Teaching Professional
IGPA Certified Golf Psychology Coach
Cell: (716) 474-3005
Email: ttucker@rochester.rr.com
http://www.TomTuckerGolf.com

"There are no substitutes in the quest for perfection!"
~ Ben Hogan