Prepare to play your best golf by doing something now!



Tom's Featured Tip: Nerves and Club Selection
Tour Greens: Tour Quality Synthetic Greens
Tom's Bonus Tip: Nerves and Putting
Lesson Comments: What Students Have To Say
Sponsors: Plum Creek Driving Range
Batavia Country Club
Tour Greens Western New York
Chestnut Hill Country Club


Click here: INDOOR GOLF LESSONS for details on how to improve your game over the winter.

Plum Creek Driving Range, Batavia, NY, Open All Year
Simulator Course Play Specials: BataviaGolf.com Call 585-993-0930 or Email Mark to reserve simulator time!

Buy Gift Certificates for Lessons Sample Gift Certificate

Golf lessons - Outdoor and Indoor - are available at Plum Creek, please call me at 716 474 3005, email me at ttucker@rochester.rr.com, or visit my website at http://www.tomtuckergolf.com/lessonrates.html for details.

Subscribe - http://www.tomtuckergolf.com/signup.html If you like this newsletter, please do me a favor and forward it to your friends so that they may subscribe, thanks!

The Unsubscribe link is at the bottom of this newsletter.



---


Tom's Featured Tip: Nerves and Club Selection

While I was watching the play on the 18th hole at the Dell Match Play Championship at the Austin CC in Texas on TV this weekend, I couldn't help but think of a phrase that I remembered from Harvey Penick, author of the Little Red Book. (If you haven't read it, do so - it's a classic.)

He said "never loft the ball unless you have to." Harvey taught golf in Texas, which is notorious for it's severe wind conditions, and I'm sure that influenced his teaching.

The situation was this: John Rahm was down a hole to Dustin Johnson, and he drove his tee shot through the green on the 360 yard 18th hole. Dustin laid up, but missed the green on his approach shot.

Rahm had a challenging shot - a long pitch or chip to a downhill pin, right to left break, fast green. He needed to get it up and down to tie the match and hope that DJ wouldn't chip in to win it.

I was hoping that he would hit a low trajectory chip shot with a pitching wedge. He did select the low trajectory shot, but he used a very lofted wedge and imparted too much spin on the ball. The ball stopped short of a hill he needed to traverse to get near the hole. In fairness, it was probably about a foot short of a great shot, but it was the death leave.

Rahm two putted for par - he actually made a fairly long par putt - and Johnson got his short chip up and down to win the match 1 up.

As I watched Rahm select the club for his shot, I was concerned because I noticed that he had been getting a lot of spin on the ball with his lofted wedges. I had a feeling that he might leave it short, and a short miss on that green was the death leave. I even said so to the people that I was watching the match with before he took the shot.

Even if the 22 yr. old Rahm is an expert with his wedges, I think nerves still had to play a role.

Having said that, I still wish Rahm would have selected a club that would have allowed for a higher percentage of roll out than a very lofted wedge. With the lofted wedge he has two ways to miss it - making bad contact and leaving it short of the hill, and putting too much spin on it and leaving it short of the hill.

Both are death leaves.

Why not take a less lofted club and at least put the odds of a poor shot getting the ball down the hill?

The takeaway for us average players is this: when you face a situation where you can either chip or pitch a shot, the chip is usually the better option. And if you decide to chip, choose a loft that is going to leave you the best putt if you don't execute perfectly.

And I don't care what your level of play is - the more nervous you are about the shot, the less loft you should be using for the shot. Period.

Depending on your level of nervousness (and skill), your club selection could swing anywhere from a lofted wedge to a hybrid or even a putter. Don't let your ego get in the way of giving you the best chance to get the ball up and down or up and in.

Keep this train of thought in mind and your scores will show a positive difference.

One more thought - I think Spain may have found it's next Seve Ballesteros in John Rahm. He's exciting to watch.

Comments: ttucker@rochester.rr.com

Love your practice, own your swing, own your health,

Tom



---


Tour Greens: Tour Quality Synthetic Greens For Superb Short Game Practice

Do you want one of these in your own back yard?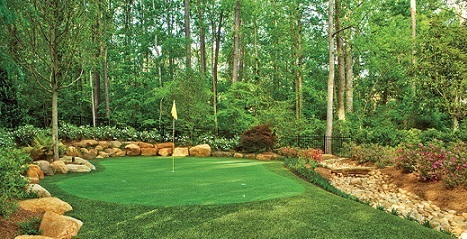 If you would like a free, no obligation quote for getting a beautiful practice area or putting green installed on your property - indoors or outdoors - give me (Tom Tucker) a call at (716) 474-3005, or email at at ttucker@rochester.rr.com

For more information please click here: TourGreensWNY.com

Comments: ttucker@rochester.rr.com

Love your practice, own your swing, own your health,

Tom



---


Tom's Bonus Tip: Nerves and Putting

When putting under pressure, nerves can destroy your tempo and rhythm. The more nervous you get, the more your grip and arms tend to tighten up.

This will usually result in a "hit" rather than a "stroke".

So next time you have a nervous putt, say this mantra to yourself as you make your practice strokes "STRAIGHT BACK STRAIGHT THROUGH", then repeat it again as you actually stroke your putt. It will work wonders.

Comments: ttucker@rochester.rr.com

Love your practice, own your swing, own your health,

Tom



---



Golf Lessons

I conduct lessons at The Plum Creek Driving Range & Practice Facility
there's a link for Plum Creek info here: http://www.tomtuckergolf.com/

Lessons are available for all ages and skill levels, please contact
me - Tom Tucker - at (716) 474 3005 or email me at ttucker@rochester.rr.com
for more information.

Outdoor Lessons Details and Rates:
http://www.tomtuckergolf.com/lessonrates.html

Indoor Lessons Details and Rates:
http://www.tomtuckergolf.com/indoor.html

Driver Fitting Rates:
http://www.tomtuckergolf.com/indoor.html

Testimonials:
http://www.tomtuckergolf.com/testimonials.html


Sponsors

Plum Creek Driving Range and Simulator Outdoor range and play indoor golf on any of our 40 Simulator Courses. Call 585-993-0930 or email Mark at plumcreek4@rochester.rr.com to reserve time for simulator play or practice!

Batavia Country Club (585) 343-7600 www.bataviacc.com
Great rates, the best greens in WNY. Golf Digest Four Star rating for public courses to play in New York State. Tee times online or by phone in season. Opening for play this weekend, please call for availability

Tour Greens Western New York Practice with purpose in your own back yard on your own synthetic practice green. Our greens LOVE Western New York weather!

Chestnut Hill Country Club (585)-547-3613 www.chestnuthillgolf.com
THE WESTERN NEW YORK LEADER IN GOLF OUTINGS!
Open for play Monday April 3rd, please call for reservations
Only minutes from Buffalo, open to the public. Tee times online or by phone in season.

All the best,

Tom Tucker
Teaching Pro, Plum Creek Driving Range & Practice Facility
WGTF ' "Top 100 Golf Teacher"
USGTF Class "A" Teaching Professional
IGPA Certified Golf Psychology Coach
Cell: (716) 474-3005
Email: ttucker@rochester.rr.com
http://www.TomTuckerGolf.com

"There are no substitutes in the quest for perfection!"
~ Ben Hogan