Prepare to play your best golf by doing something now!



Tom's Featured Tip: Customer Service at Callaway Golf; Grip Tips
Tour Greens: Tour Quality Synthetic Greens
Tom's Bonus Tip: Putting - Shoulder Power
Lesson Comments: What Students Have To Say
Sponsors: Plum Creek Driving Range
Batavia Country Club
Tour Greens Western New York
Chestnut Hill Country Club


Click here: INDOOR GOLF LESSONS for details on how to improve your game over the winter.

Plum Creek Driving Range, Batavia, NY, Open All Year
Simulator Course Play Specials: BataviaGolf.com Call 585-993-0930 or Email Mark to reserve simulator time!

Buy Gift Certificates for Lessons Sample Gift Certificate

Golf lessons - Outdoor and Indoor - are available at Plum Creek, please call me at 716 474 3005, email me at ttucker@rochester.rr.com, or visit my website at http://www.tomtuckergolf.com/lessonrates.html for details.

Subscribe - http://www.tomtuckergolf.com/signup.html If you like this newsletter, please do me a favor and forward it to your friends so that they may subscribe, thanks!

The Unsubscribe link is at the bottom of this newsletter.



---


Tom's Featured Tip: Customer Service at Callaway Golf; Grip Tips

Customer Service at Callaway Golf

When I receive great customer service I like to pass it along, so here's a quick story.

I bought a new set of irons from Callaway this year. I had been playing forged Apex irons with stiff graphite shafts, and I wanted to switch to a non-forged face because I wanted a little more spin on my shots. PLUS I had been waiting for Callaway to come out with the Steelhead XR Pro irons, so when they made them available I bought them.

The problem I ran into was that the 2017 version of the stiff graphite shaft that I had in my old irons played noticeably stiffer than the ones I have been playing. A newer version of a shaft playing stiffer than the older version is not real unusual, but it affects a player like me who teeters on the brink of playing a soft stiff shaft or a firm regular shaft.

I kind of figured that I might be shafted (pardon the pun) because I buy my clubs at Callaway through a Personal Use Discount program that my teaching organization, the USGTF, has in place. I can only buy one set of irons per year, and this was it - plus I had a few rounds in playing them.

To make a long story short, I contacted Callaway and got in touch with Joseph Santa Cruz, a customer service representative. In very short order, he helped me place an order for replacement clubs with a more suitable shaft, and they are taking the other clubs back.

They made an exception for me, and handled the whole transaction with ease and in a very friendly and competent manner.

If you are looking for new clubs, I give Callaway a 5 Star recommendation for quality as well as customer service. I definitely give Joseph Santa Cruz a 5 Star recommendation for customer service. I would be remiss in not mentioning that I was also connected to Simon and Lucy during the transaction, and they also could not have been more helpful or courteous.

I really like doing business with Callaway.

Grip Tips

This tip isn't about the process of holding onto your club, it's about the actual grips themselves.

If you play golf or practice two or three times a week, you should probably consider replacing your grips at least once a year. Your grips should have a semi-sticky or tacky feel to them. If they start to lose that feeling - which comes from an accumulation of dirt, dust, and oil from your hands - the first thing you should do is clean them.

Scrub them with a scrub brush, very hot water, and dishwasher detergent. Let them air dry, and the tacky feeling will return. If it doesn't, your grips are worn and they need to be replaced. Here's a plug for Mark at the Plum Creek Driving range - if you live near Batavia, Mark does a great job regripping, bring your clubs in and he'll take care of you.

Having fresh feeling grips on your clubs helps you grip them with relaxed hands, which helps your swing.

I've seen a lot written about how critical it is to get the grip size exactly right for your hands.

I don't necessarily buy it, because I've also read research that shows that your hands will adapt to whatever grip size your clubs have. I'm sure that there may be extreme situations where that might not apply, but I believe that it's generally true.

However, large grips may very well be more comfortable for players with arthritis or other hand pain, and there are two other playing situations that come to mind where grip size could be a factor.

There is more than one way to manipulate the clubface in relation to swing path to obtain curvature. This advice applies to players that use a lot of hand action to get the face into position to draw (right to left curve) or fade (left to right curve) the ball. Grip size (diameter) is relevant.

If you draw the ball, a smaller grip size will help you maintain that curvature. It encourages hand action.

If you fade the ball, a larger (diameter) grip size will help you maintain that curvature. It discourages hand action.

So if your draw turns into a hook more often than not, a slightly larger grip size might be helpful; and if your fade turns into a slice more often than not, a slightly smaller grip may be in order.

Putter grips are where you'll find the most variety in grips. Over the past several years I've been a SuperStroke grip fan, and I'm hard pressed to not recommend an oversized putter grip to everyone. They really feel great and perform well.

The final word on grips is to keep them clean first and foremost, replace them BEFORE they get too worn, and find a grip that suits your preferences.

Enjoy.

Comments: ttucker@rochester.rr.com

Love your practice, own your swing, own your health,

Tom



---


Tour Greens: Tour Quality Synthetic Greens For Superb Short Game Practice

Click on the image below for a video demonstration of how well golf shots hold on our Tour Greens synthetic putting greens.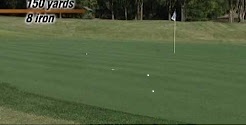 Wouldn't you love one of these in your own back yard?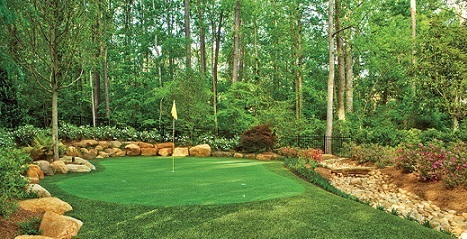 If you would like a free, no obligation quote for getting a beautiful practice area or putting green installed on your property - indoors or outdoors - give me (Tom Tucker) a call at (716) 474-3005, or email at at ttucker@rochester.rr.com

For more information please click here: TourGreensWNY.com

Comments: ttucker@rochester.rr.com

Love your practice, own your swing, own your health,

Tom



---


Tom's Bonus Tip: Putting - Shoulder Power

If you want to lag putts closer to the hole, power your putting stroke with rocking shoulders and passive arms and hands.

It may take a little practice at first, but varying the length of your stroke with a shoulder powered stroke is a much more consistent way to gauge distance for your lag putts, especially in pressure situations.

Try it, you'll like it.

Comments: ttucker@rochester.rr.com

Love your practice, own your swing, own your health,

Tom



---



Golf Lessons

I conduct lessons at The Plum Creek Driving Range & Practice Facility
there's a link for Plum Creek info here: http://www.tomtuckergolf.com/

Lessons are available for all ages and skill levels, please contact
me - Tom Tucker - at (716) 474 3005 or email me at ttucker@rochester.rr.com
for more information.

Outdoor Lessons Details and Rates:
http://www.tomtuckergolf.com/lessonrates.html

Indoor Lessons Details and Rates:
http://www.tomtuckergolf.com/indoor.html

Driver Fitting Rates:
http://www.tomtuckergolf.com/indoor.html

Testimonials:
http://www.tomtuckergolf.com/testimonials.html


Sponsors

Plum Creek Driving Range and Simulator Outdoor range and play indoor golf on any of our 40 Simulator Courses. Call 585-993-0930 or email Mark at plumcreek4@rochester.rr.com to reserve time for simulator play or practice!

Batavia Country Club (585) 343-7600 www.bataviacc.com
Great rates, the best greens in WNY. Golf Digest Four Star rating for public courses to play in New York State. Tee times online or by phone in season.
Make your reservations for Mother's Day Brunch at BCC
Details here: The Lodge at Batavia Country Club
Ping Demo Day Saturday, May 27th 11am - 2pm, first come first served.

Tour Greens Western New York Practice with purpose in your own back yard on your own synthetic practice green. Our greens LOVE Western New York weather!

Chestnut Hill Country Club (585)-547-3613 www.chestnuthillgolf.com
THE WESTERN NEW YORK LEADER IN GOLF OUTINGS!
Only minutes from Buffalo, open to the public. Tee times online or by phone in season.

All the best,

Tom Tucker
Teaching Pro, Plum Creek Driving Range & Practice Facility
WGTF ' "Top 100 Golf Teacher"
USGTF Class "A" Teaching Professional
IGPA Certified Golf Psychology Coach
Cell: (716) 474-3005
Email: ttucker@rochester.rr.com
http://www.TomTuckerGolf.com

"There are no substitutes in the quest for perfection!"
~ Ben Hogan