Prepare to play your best golf by doing something now!



Tom's Featured Tip: Q&A: Range to Course Consistency
Tour Greens: Tour Quality Synthetic Greens
Tom's Bonus Tip: Putting - Recurring Problem
Lesson Comments: What Students Have To Say
Sponsors: Plum Creek Driving Range
Batavia Country Club
Tour Greens Western New York
Chestnut Hill Country Club


Click here: INDOOR GOLF LESSONS for details on how to improve your game over the winter.

Plum Creek Driving Range, Batavia, NY, Open All Year
Simulator Course Play Specials: BataviaGolf.com Call 585-993-0930 or Email Mark to reserve simulator time!

Buy Gift Certificates for Lessons Sample Gift Certificate

Golf lessons - Outdoor and Indoor - are available at Plum Creek, please call me at 716 474 3005, email me at ttucker@rochester.rr.com, or visit my website at http://www.tomtuckergolf.com/lessonrates.html for details.

Subscribe - http://www.tomtuckergolf.com/signup.html If you like this newsletter, please do me a favor and forward it to your friends so that they may subscribe, thanks!

The Unsubscribe link is at the bottom of this newsletter.



---


Tom's Featured Tip: Q&A: Range to Course Consistency

For simplicity, all advice on actual swings or drills is provided from a right handed perspective.

This question came in recently from an adult female student that takes lessons from me has who made great strides at her lessons and practices diligently. To be honest, she's a little tough on herself - but I'll take that any day over someone that wants to improve but isn't interested enough to do what it takes to get better. You can't wish yourself to improvement at golf.

Q: Hi Tom,

Hi Tom! Just a question for a rainy day for you to consider.

I played in a tournament at Terry Hills Saturday and did fairly well, considering they started 8 people at each hole and it took FOREVER to get through 18 holes, but I did have my shot used as best ball several times so it was not a bad day. However my husband and I went Sunday to golf 18 and I did fairly terrible considering I have been doing really good lately.

Is there any recommendation for consistency? I even hit a bucket of balls Sunday morning before we played and did great at the range.

Consistency is my only problem. I am thinking there is nothing but practice that can help that but itís frustrating to do great the range and then self- destruct on the course when there is really NO difference!

By self-destruct, I mean either a great drive followed by appearing to not have ever used a hybrid before or going to the irons and having them shoot off at angles that I didnít even think we possible. Or the drive was terrible and then I hit the hybrid farther than I can drive the ball. Just all over the place!

At practice, would you just work on irons the whole time and then the next time the hybrids, etc. or I usually practice all clubs but maybe that is what is confusing me as the swings are different?

I hate making backwards progress so just looking for pro advice.

thanks Tom! L.T. Batavia, NY

A: Thanks for the question L.T., below was my reply.

Hi L.T., at practice for the first half of your session I would work on the clubs that give me the most trouble, just hitting those clubs.

That's called "blocked" practice, where you practice technique with one club or another until it feels right.

Then for the last half of your practice session, use the "random" practice method, which is never hitting the same club twice in a row. That tests your skills at adapting for different shots like you have to when you play.

You build technique with "blocked" practice, and apply it with "random" practice.

I would also consider actually playing holes at the range. Grab a scorecard from Batavia CC and play each hole. For example, for hole 1, a par five, hit your driver, then your three wood, then figure how far you would be from the hole, select a club and hit it, etc, until you've calculated that you hit the green. Then add two to the number of strokes you took to get to the green for two putts and move onto the next hole. If you don't hit a shot straight but you had the distance, take a chip shot to hit the green.

It's actually fun to keep your score like this, and you and your husband can compete.

This will get you into the correct mindset for playing.

And on the day you play, if you have time to get to the range first use this warmup routine:
hit three pitching wedge shots
hit three 7 irons
hit three hybrids
hit three drivers
hit three more pitching wedges
practice swings are allowed
Then quit and go the course and practice putting before you play.

One more thought - for many players, after they play a scramble, it takes about two rounds and a lot of concentration to get out of the scramble mentality - where every swing you take is too hard. You're still trying to kill it like you did in the scramble.

It's kind of like winning the home run derby in pro baseball, then going into a hitting slump like Aaron Judge is currently going through with the Yankees!

This should answer your question L.T., and thanks for asking.

Sequel - her reply today:

Thank you so much Tom. Your advice is like gospel.

My husband and I went back to the range last night and I took all my notes starting from lesson one and went through irons, hybrids and driver. Things went much better after review of the basics so please know how valuable your notes are!

I just have to get to the point where I know what I am doing wrong and not you or my husband seeing the obvious without me knowing. I will definitely try your suggestions.

And yes, the scrambles are crazy with two foursomes starting on each hole. Any warm up goes right out the window! Thanks again!

Comments: ttucker@rochester.rr.com

Love your practice, own your swing, own your health,

Tom



---


Tour Greens: Tour Quality Synthetic Greens For Superb Short Game Practice

Our customers love their practice greens, here's what they have to say: Testimonials

Click on the image below for a video demonstration of how well golf shots hold on our Tour Greens synthetic putting greens.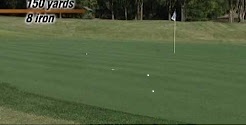 Wouldn't you love one of these in your own back yard?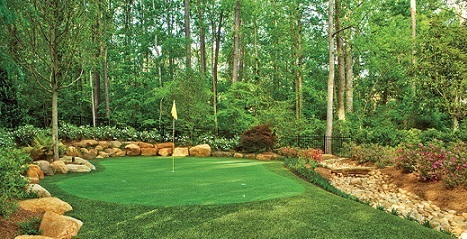 If you would like a free, no obligation quote for getting a beautiful practice area or putting green installed on your property - indoors or outdoors - give me (Tom Tucker) a call at (716) 474-3005, or email at at ttucker@rochester.rr.com

For more information please click here: TourGreensWNY.com

Comments: ttucker@rochester.rr.com

Love your practice, own your swing, own your health,

Tom



---


Tom's Bonus Tip: Putting - Recurring Problem

For simplicity, all advice on actual swings or drills is provided from a right handed perspective.

I am seeing the same problem with my junior golf camp golfers that I see all the time with my older students.

They are so anxious to see the result of their stroke that they pick up at impact and lose some energy transfer from the club to the ball, resulting in a weak, off-line putt.

The solution to this, and the number one tip for becoming a consistent putter is this:

KEEP YOUR HEAD STILL UNTIL THE BALL IS WELL OFF THE PUTTERFACE!!

Try it, you'll love it!

Comments: ttucker@rochester.rr.com

Love your practice, own your swing, own your health,

Tom



---



Golf Lessons

I conduct lessons at The Plum Creek Driving Range & Practice Facility
there's a link for Plum Creek info here: http://www.tomtuckergolf.com/

Lessons are available for all ages and skill levels, please contact
me - Tom Tucker - at (716) 474 3005 or email me at ttucker@rochester.rr.com
for more information.

Outdoor Lessons Details and Rates:
http://www.tomtuckergolf.com/lessonrates.html

Indoor Lessons Details and Rates:
http://www.tomtuckergolf.com/indoor.html

Driver Fitting Rates:
http://www.tomtuckergolf.com/indoor.html

Testimonials:
http://www.tomtuckergolf.com/testimonials.html


Sponsors

Plum Creek Driving Range and Simulator Outdoor range and play indoor golf on any of our 40 Simulator Courses. Call 585-993-0930 or email Mark at plumcreek4@rochester.rr.com to reserve time for simulator play or practice!

Batavia Country Club (585) 343-7600 www.bataviacc.com
Great rates, the best greens in WNY. Golf Digest Four Star rating for public courses to play in New York State. Tee times online or by phone in season.
BCC RED HOT SPECIALS
Seniors 58 and older, weekdays or weekends after 1pm, $100 for a Foursome, includes cart AND lunch, must have four players!
Prepaid Golf Discounts available in shop or over the phone when secured by a credit card - up to 50% savings!
Call (585) 343-7600 or visit our website for details.

Tour Greens Western New York Practice with purpose in your own back yard on your own synthetic practice green. Our greens LOVE Western New York weather!

Chestnut Hill Country Club (585)-547-3613 www.chestnuthillgolf.com
THE WESTERN NEW YORK LEADER IN GOLF OUTINGS!
Only minutes from Buffalo, open to the public. Tee times online or by phone in season.

All the best,

Tom Tucker
Teaching Pro, Plum Creek Driving Range & Practice Facility
WGTF ' "Top 100 Golf Teacher"
USGTF Class "A" Teaching Professional
IGPA Certified Golf Psychology Coach
Cell: (716) 474-3005
Email: ttucker@rochester.rr.com
http://www.TomTuckerGolf.com

"There are no substitutes in the quest for perfection!"
~ Ben Hogan