Prepare to play your best golf by doing something now!



Tom's Featured Tip: Hitting Your Long Irons
Tour Greens: Tour Quality Synthetic Greens
Tom's Bonus Tip: Tension
Lesson Comments: What Students Have To Say
Sponsors: Plum Creek Driving Range
Batavia Country Club
Tour Greens Western New York
Chestnut Hill Country Club


Click here: INDOOR GOLF LESSONS for details on how to improve your game over the winter.

Plum Creek Driving Range, Batavia, NY, Open All Year
Simulator Course Play Specials: BataviaGolf.com Call 585-993-0930 or Email Mark to reserve simulator time!

Buy Gift Certificates for Lessons Sample Gift Certificate

Golf lessons - Outdoor and Indoor - are available at Plum Creek, please call me at 716 474 3005, email me at ttucker@rochester.rr.com, or visit my website at http://www.tomtuckergolf.com/lessonrates.html for details.

Subscribe - http://www.tomtuckergolf.com/signup.html If you like this newsletter, please do me a favor and forward it to your friends so that they may subscribe, thanks!

The Unsubscribe link is at the bottom of this newsletter.



---


BCC Junior Golf Camp

Click Here: BCC Junior Golf Camp for photos and tournament results from the Pee Wee and Junior - Senior golf camps completed at BCC last week.


---


Tom's Featured Tip: Hitting Your Long Irons

For simplicity, all advice on actual swings or drills is provided from a right handed perspective.

Before I get to this week's tip, I wanted to talk briefly about Jordan Spieth. I think the game is in great shape with an ambassador like Jordan Spieth. Not only did he light it up at the Open by finishing with 5 under par in four of the last five finishing holes, but he also showed a gigantic touch of class by recognizing Matt Kucher for how Matt conducted himself after Spieth's long delay after Spieth hit an awful drive on hole 13.

I'll always be a Tiger fan, but Spieth is the closest player to Tiger that I've seen in quite a while. Not quite as much power, but an equally deft touch with his putter.

Golf is really fun to watch again.

I just conducted two lessons in a row with different players that were having trouble with their long irons, so I thought I'd go over what we did to get things back on track.

One player was a senior, one was young.

For the senior player, I showed him what to do and we went through the drills that I'll explain later, but I suggested to him that although he started hitting his 4 iron well, that he would probably be better served with a 4 hybrid than a 4 iron. It simply would be easier to get the right trajectory with a hybrid than with a long iron with his relatively slow swing speed.

Here are the problems that were identified during some practice swings they each took and after a discussion of their ball flight issues.

To one degree or another, each of them:
had their weight distribution wrong at address
had their ball positioned incorrectly at address
had a steep vertical angle of attack into the ball
had a down the line horizontal attack angle into the ball
were not squaring up the face at impact
and were coming up and out of the shot at impact
The easy fixes were practicing a hand movement to square the face at impact, positioning the ball more forward in the stance to get it just behind the "flat and straight" portion of their swing arc, and being cognizant of staying down and through at impact.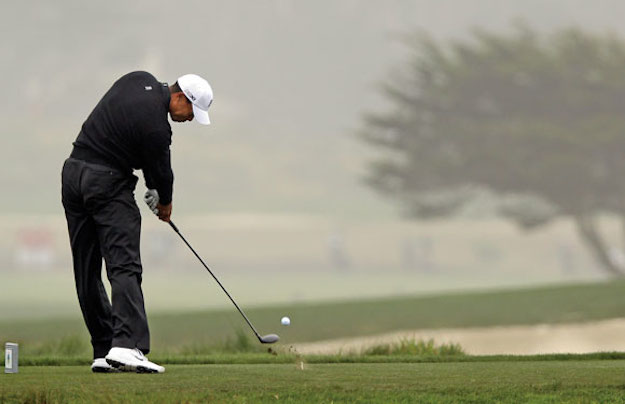 Tiger staying down and through



The other issues required the following drill.

I had the students tee up a ball at driver tee height and practice hitting their 4 iron swings without blowing up the tee. This forced the students to hit the ball with a flatter swing plane. I also positioned a pool noodle next to the outside of the ball, so that they had to attack the ball from the inside or they would hit the pool noodle. This constraint drill produced the proper swing path.

After making good swings for most of their teed up shots, I had them take swings with the ball on the ground, and the results amazed the students. They were hitting their long irons extremely well.

The last component of practice was alternately hitting a 4 iron then a pitching wedge, to make sure that they could flip the switch for weight distribution at address and vertical attack angle between the two clubs.

If you have trouble hitting your long irons, try these solutions and I'm sure you'll improve.

Comments: ttucker@rochester.rr.com

Love your practice, own your swing, own your health,

Tom



---


Tour Greens: Tour Quality Synthetic Greens For Superb Short Game Practice

Our customers love their practice greens, here's what they have to say: Testimonials

Click on the image below for a video demonstration of how well golf shots hold on our Tour Greens synthetic putting greens.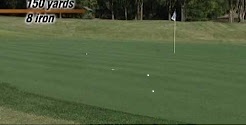 Wouldn't you love one of these in your own back yard?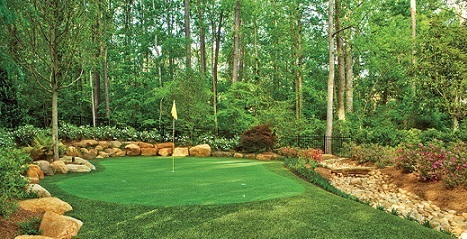 If you would like a free, no obligation quote for getting a beautiful practice area or putting green installed on your property - indoors or outdoors - give me (Tom Tucker) a call at (716) 474-3005, or email at at ttucker@rochester.rr.com

For more information please click here: TourGreensWNY.com

Comments: ttucker@rochester.rr.com

Love your practice, own your swing, own your health,

Tom



---


Tom's Bonus Tip: Tension

For simplicity, all advice on actual swings or drills is provided from a right handed perspective.

Tense muscles will not allow your swing to flow freely and with speed.
Keep your wrists oily when you swing your club; a tight, tense grip won't allow the clubface to close naturally at impact
Think "swing fast" not "swing hard" during your downswing. Thinking "swing hard" causes tension and diminishes swing speed.
Keep your grips clean and fresh. Worn grips cause you to grip the club too tightly, diminishing swing speed and inhibiting the face squaring up properly at impact.
To avoid tension in your putting stroke, start your putting stroke within 1.5 seconds after your last glance at the hole.
Try it, you'll love it!

Comments: ttucker@rochester.rr.com

Love your practice, own your swing, own your health,

Tom



---



Golf Lessons

I conduct lessons at The Plum Creek Driving Range & Practice Facility
there's a link for Plum Creek info here: http://www.tomtuckergolf.com/

Lessons are available for all ages and skill levels, please contact
me - Tom Tucker - at (716) 474 3005 or email me at ttucker@rochester.rr.com
for more information.

Outdoor Lessons Details and Rates:
http://www.tomtuckergolf.com/lessonrates.html

Indoor Lessons Details and Rates:
http://www.tomtuckergolf.com/indoor.html

Driver Fitting Rates:
http://www.tomtuckergolf.com/indoor.html

Testimonials:
http://www.tomtuckergolf.com/testimonials.html


Sponsors

Plum Creek Driving Range and Simulator Outdoor range and play indoor golf on any of our 40 Simulator Courses. Call 585-993-0930 or email Mark at plumcreek4@rochester.rr.com to reserve time for simulator play or practice!

Batavia Country Club (585) 343-7600 www.bataviacc.com
Great rates, the best greens in WNY. Golf Digest Four Star rating for public courses to play in New York State. Tee times online or by phone in season.
BCC RED HOT SPECIALS
Seniors 58 and older, weekdays or weekends after 1pm, $100 for a Foursome, includes cart AND lunch, must have four players!
Prepaid Golf Discounts available in shop or over the phone when secured by a credit card - up to 50% savings!
Call (585) 343-7600 or visit our website for details.

Tour Greens Western New York Practice with purpose in your own back yard on your own synthetic practice green. Our greens LOVE Western New York weather!

Chestnut Hill Country Club (585)-547-3613 www.chestnuthillgolf.com
THE WESTERN NEW YORK LEADER IN GOLF OUTINGS!
Only minutes from Buffalo, open to the public. Tee times online or by phone in season.

All the best,

Tom Tucker
Teaching Pro, Plum Creek Driving Range & Practice Facility
WGTF ' "Top 100 Golf Teacher"
USGTF Class "A" Teaching Professional
IGPA Certified Golf Psychology Coach
Cell: (716) 474-3005
Email: ttucker@rochester.rr.com
http://www.TomTuckerGolf.com

"There are no substitutes in the quest for perfection!"
~ Ben Hogan