Prepare to play your best golf by doing something now!



Tom's Featured Tip: GIR Scoring Strategy
Tour Greens: Tour Quality Synthetic Greens
Tom's Bonus Tip: Transition - Mental
Lesson Comments: What Students Have To Say
Sponsors: Plum Creek Driving Range
Batavia Country Club
Tour Greens Western New York
Chestnut Hill Country Club


Click here: INDOOR GOLF LESSONS for details on how to improve your game over the winter.

Plum Creek Driving Range, Batavia, NY, Open All Year
Simulator Course Play Specials: BataviaGolf.com Call 585-993-0930 or Email Mark to reserve simulator time!

Buy Gift Certificates for Lessons Sample Gift Certificate

Golf lessons - Outdoor and Indoor - are available at Plum Creek, please call me at 716 474 3005, email me at ttucker@rochester.rr.com, or visit my website at http://www.tomtuckergolf.com/lessonrates.html for details.

Subscribe - http://www.tomtuckergolf.com/signup.html If you like this newsletter, please do me a favor and forward it to your friends so that they may subscribe, thanks!

The Unsubscribe link is at the bottom of this newsletter.



---


Tom's Featured Tip: GIR Scoring Strategy

For simplicity, all advice on actual swings or drills is provided from a right handed perspective.

A book that I recommend to anyone that's willing to practice at their game is The Practice Manual by Andrew Young.

Here's a strategy that I learned from him that will definitely help you lower your scores, it's simply

HIT MORE GREENS (GIR) IN REGULATION

I'm not talking technique here - but improving your swing technique is absolutely another way to hit more GIR.

I'm talking strategy for amateur golfers.

Amateurs Miss Too Many Greens in Regulation.

Amateurs average approach shots that fall short of the green over 90% of the time, and that correlates directly with your handicap.

There's even a rough formula to prove that - the number 95 minus (GIRx2) should be a good indication of your score.

So, if you hit two more greens per round, your score should be 4 shots lower.

Here's how you can score better just by using a simple strategy, even with your current skill level.

Forget the pin, and choose a club that will get you to the back of the green!

From the back of the green, you will average 2.2 shots to get the ball in the hole, from short of the green the average is 2.8 shots. That's a .6 per green difference in strokes where you're short of the green as opposed to on the back of the green.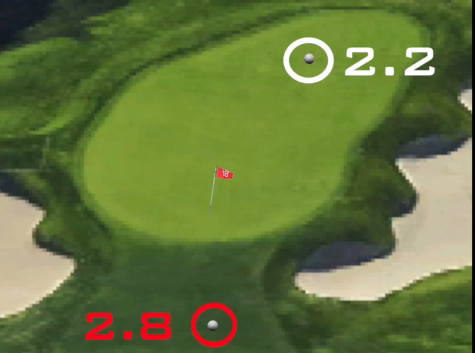 You save .6 shots just by hitting the green.


On average, out of 10 approach shots, an amateur will most likely
Hit 1 shot sweet (10%) for a decent birdie chance.
Hit the green with a good to average shot 3 times (30%) with a good chance at par.
Miss short of the green with an average to poor strike with 3 shots (30%) and maybe get up and down occasionally. (The up and down rate for the average amateur is 20%.)
And hit really poor shots 3 times (30%) that will cost at least a full shot on their score.
By simply changing your strategy and selecting a club that will get you to the back of the green, not the pin, all of your shots shift forward anywhere from 10 to 15 yards. When that happens, more of your shots are actually on the green, or more playable shots if you missed the green, and your scoring chances improve by .2 shots per hole for every ball now on the green that missed the green before.

Multiplied by 18 holes (18 x .2) that's 3.6 shots saved per round. Realistically, that's not going to happen on every hole, but the potential for improvement is real and significant.

If you are a very advanced amateur (low single digit handicap) and know your club distances like the back of your hand, I would still recommend this margin for error strategy for pin placements on the front of the green, but perhaps not for center of the green pins.

If you are a average player with a higher than single digit handicap, this strategy will pay dividends.

Try it the next time you play, you'll like it - GUARANTEED!

Comments: ttucker@rochester.rr.com

Love your practice, own your swing, own your health,

Tom



---


Tour Greens: Tour Quality Synthetic Greens For Superb Short Game Practice

Our customers love their practice greens, here's what they have to say: Testimonials

Click on the image below for a video demonstration of how well golf shots hold on our Tour Greens synthetic putting greens.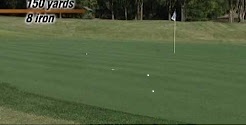 Wouldn't you love one of these in your own back yard?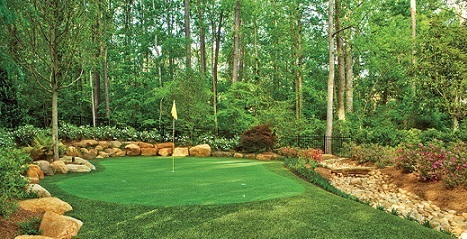 If you would like a free, no obligation quote for getting a beautiful practice area or putting green installed on your property - indoors or outdoors - give me (Tom Tucker) a call at (716) 474-3005, or email at at ttucker@rochester.rr.com

For more information please click here: TourGreensWNY.com

Comments: ttucker@rochester.rr.com

Love your practice, own your swing, own your health,

Tom



---


Tom's Bonus Tip: Transition - Mental

For simplicity, all advice on actual swings or drills is provided from a right handed perspective.

When we use the word transition with regard to the golf swing, most people think of the transition from backswing to downswing.

There's also a mental game transition - the passage of the time of between shots.

Making this important transition properly means letting go of the past, but not thinking too far ahead into the future.

Stay in the present, the past is history and the future is a mystery.

Try it, you'll like it!

Comments: ttucker@rochester.rr.com

Love your practice, own your swing, own your health,

Tom



---



Golf Lessons

I conduct lessons at The Plum Creek Driving Range & Practice Facility
there's a link for Plum Creek info here: http://www.tomtuckergolf.com/

Lessons are available for all ages and skill levels, please contact
me - Tom Tucker - at (716) 474 3005 or email me at ttucker@rochester.rr.com
for more information.

Outdoor Lessons Details and Rates:
http://www.tomtuckergolf.com/lessonrates.html

Indoor Lessons Details and Rates:
http://www.tomtuckergolf.com/indoor.html

Driver Fitting Rates:
http://www.tomtuckergolf.com/indoor.html

Testimonials:
http://www.tomtuckergolf.com/testimonials.html


Sponsors

Plum Creek Driving Range and Simulator Outdoor range and play indoor golf on any of our 40 Simulator Courses. Call 585-993-0930 or email Mark at plumcreek4@rochester.rr.com to reserve time for simulator play or practice!

Batavia Country Club (585) 343-7600 www.bataviacc.com
Great rates, the best greens in WNY. Golf Digest Four Star rating for public courses to play in New York State. Tee times online or by phone in season.
BCC RED HOT SPECIALS
Seniors 58 and older, weekdays or weekends after 1pm, $100 for a Foursome, includes cart AND lunch, must have four players!
Prepaid Golf Discounts available in shop or over the phone when secured by a credit card - up to 50% savings!
Call (585) 343-7600 or visit our website for details.

Tour Greens Western New York Practice with purpose in your own back yard on your own synthetic practice green. Our greens LOVE Western New York weather!

Chestnut Hill Country Club (585)-547-3613 www.chestnuthillgolf.com
THE WESTERN NEW YORK LEADER IN GOLF OUTINGS!
Only minutes from Buffalo, open to the public. Tee times online or by phone in season.

All the best,

Tom Tucker
Teaching Pro, Plum Creek Driving Range & Practice Facility
WGTF ' "Top 100 Golf Teacher"
USGTF Class "A" Teaching Professional
IGPA Certified Golf Psychology Coach
Cell: (716) 474-3005
Email: ttucker@rochester.rr.com
http://www.TomTuckerGolf.com

"There are no substitutes in the quest for perfection!"
~ Ben Hogan