Prepare to play your best golf by doing something now!



Tom's Featured Tip: Putting Arrogance
Tour Greens: Tour Quality Synthetic Greens
Tom's Bonus Tip: Transition - Downswing
Lesson Comments: What Students Have To Say
Sponsors: Plum Creek Driving Range
Batavia Country Club
Tour Greens Western New York
Chestnut Hill Country Club


Click here: INDOOR GOLF LESSONS for details on how to improve your game over the winter.

Plum Creek Driving Range, Batavia, NY, Open All Year
Simulator Course Play Specials: BataviaGolf.com Call 585-993-0930 or Email Mark to reserve simulator time!

Buy Gift Certificates for Lessons Sample Gift Certificate

Golf lessons - Outdoor and Indoor - are available at Plum Creek, please call me at 716 474 3005, email me at ttucker@rochester.rr.com, or visit my website at http://www.tomtuckergolf.com/lessonrates.html for details.

Subscribe - http://www.tomtuckergolf.com/signup.html If you like this newsletter, please do me a favor and forward it to your friends so that they may subscribe, thanks!

The Unsubscribe link is at the bottom of this newsletter.



---


Tom's Featured Tip: Putting Arrogance

For simplicity, all advice on actual swings or drills is provided from a right handed perspective.

I was inspired to write this tip as I watched Hideki Matsuyama win the 2017 World Golf Championships-Bridgestone Invitational yesterday as I saw him tap his putter up and down before he stroked his putts.

I'll talk more about the benefits of doing that later.

In the meantime, I want all of you to develop some "Putting Arrogance"

What I mean by that is that I want you to think that you are the best putter that you know. I know that I am the best putter that I know, and I want all of you to know that you too are great putters.

The reason that you need to know and believe that, is that putting is 65% between the ears, so start thinking of yourself that way right now.

One of the killers of actually being a great putter is tension in high pressure situations, when you need to roll in that 6 footer to win a hole or a match. At that point tension can start to set in if you let it. Anxiety will make you grip the putter a little tighter and usually execute a stroke that comes up short and right because tension killed the natural flow of your putting stroke.

One great way to combat this is to do what Hidecki does: tap the putter up and down a few times behind the ball before you execute your stroke, and it will be free flowing.

Here's a 13 second YouTube video clip of his stroke, notice how he taps the putterhead up and down several times before he swings the putter: https://youtu.be/-CAjZ_rQoHo

Here's a quick formula for putting success:
Establish your aimline
Square your putterface to your aimline
Line the center of your putterface with the center of the ball
Tap the putter up and down two or three times
Pull the trigger - execute your stroke
Hold your finish for two seconds
Try it, you'll like it

Comments: ttucker@rochester.rr.com

Love your practice, own your swing, own your health,

Tom



---


Tour Greens: Tour Quality Synthetic Greens For Superb Short Game Practice

Our customers love their practice greens, here's what they have to say: Testimonials

Click on the image below for a video demonstration of how well golf shots hold on our Tour Greens synthetic putting greens.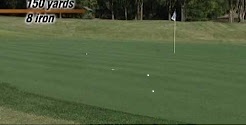 Wouldn't you love one of these in your own back yard?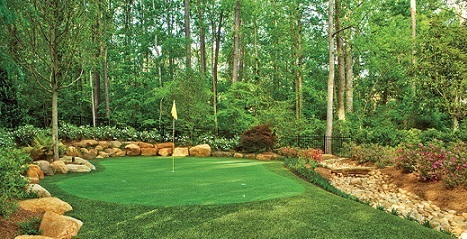 If you would like a free, no obligation quote for getting a beautiful practice area or putting green installed on your property - indoors or outdoors - give me (Tom Tucker) a call at (716) 474-3005, or email at at ttucker@rochester.rr.com

For more information please click here: TourGreensWNY.com

Comments: ttucker@rochester.rr.com

Love your practice, own your swing, own your health,

Tom



---


Tom's Bonus Tip: Transition - Downswing

For simplicity, all advice on actual swings or drills is provided from a right handed perspective.

I watched most of the final round of the 2017 World Golf Championships-Bridgestone Invitational yesterday, and Hideki Matsuyama played one of the best final rounds of the year. Okay, maybe not as awesome as Spieth's finish at the Open, but he carded 7 birdies and an eagle to tie the course record of 61 and pick up his 5th career PGA TOUR victory.

Here's what was interesting to me: comparing the tempo and transition differences between Zach Johnson and Hidecki.

Zach has a quick tempo and quick transition, kind of like Nick Price when he was playing. However, his transition is sequenced correctly even though it's fast.

His weight shift and subsequent torso rotation lead everything into impact. He's known as one of the best ball strikers in the game.

Hidecki, on the other hand, has one of the most deliberate transitions that I've ever seen.

He gets the club to the top of his backswing, actually pauses, then shifts and turns into his downswing transition perfectly.

I actually use a drill called the "Stop At The Top" drill for students that either don't complete their backswing, rush into transition, or both. It's exactly how Hidecki swings the club when he actually plays.

I'd like to know if he was taught that from an early age, or if he adapted that swing to correct some transition or backswing length issues.

Both of these players are ultra successful swinging the way they do. It just goes to show you that there are a lot of different ways to swing the club in golf.

Know your own swing and reap the benefits.

Comments: ttucker@rochester.rr.com

Love your practice, own your swing, own your health,

Tom



---



Golf Lessons

I conduct lessons at The Plum Creek Driving Range & Practice Facility
there's a link for Plum Creek info here: http://www.tomtuckergolf.com/

Lessons are available for all ages and skill levels, please contact
me - Tom Tucker - at (716) 474 3005 or email me at ttucker@rochester.rr.com
for more information.

Outdoor Lessons Details and Rates:
http://www.tomtuckergolf.com/lessonrates.html

Indoor Lessons Details and Rates:
http://www.tomtuckergolf.com/indoor.html

Driver Fitting Rates:
http://www.tomtuckergolf.com/indoor.html

Testimonials:
http://www.tomtuckergolf.com/testimonials.html


Sponsors

Plum Creek Driving Range and Simulator Outdoor range and play indoor golf on any of our 40 Simulator Courses. Call 585-993-0930 or email Mark at plumcreek4@rochester.rr.com to reserve time for simulator play or practice!

Batavia Country Club (585) 343-7600 www.bataviacc.com
Great rates, the best greens in WNY. Golf Digest Four Star rating for public courses to play in New York State. Tee times online or by phone in season.
BCC RED HOT SPECIALS
Seniors 58 and older, weekdays or weekends after 1pm, $100 for a Foursome, includes cart AND lunch, must have four players!
Prepaid Golf Discounts available in shop or over the phone when secured by a credit card - up to 50% savings!
Call (585) 343-7600 or visit our website for details.

Tour Greens Western New York Practice with purpose in your own back yard on your own synthetic practice green. Our greens LOVE Western New York weather!

Chestnut Hill Country Club (585)-547-3613 www.chestnuthillgolf.com
THE WESTERN NEW YORK LEADER IN GOLF OUTINGS!
Only minutes from Buffalo, open to the public. Tee times online or by phone in season.

All the best,

Tom Tucker
Teaching Pro, Plum Creek Driving Range & Practice Facility
WGTF ' "Top 100 Golf Teacher"
USGTF Class "A" Teaching Professional
IGPA Certified Golf Psychology Coach
Cell: (716) 474-3005
Email: ttucker@rochester.rr.com
http://www.TomTuckerGolf.com

"There are no substitutes in the quest for perfection!"
~ Ben Hogan