Prepare to play your best golf by doing something now!



Tom's Featured Tip: Staying Grounded
Tour Greens: Tour Quality Synthetic Greens
Tom's Bonus Tip: Ollie Schniederjans Putting Style
Lesson Comments: What Students Have To Say
Sponsors: Plum Creek Driving Range
Batavia Country Club
Tour Greens Western New York
Chestnut Hill Country Club


Click here: INDOOR GOLF LESSONS for details on how to improve your game over the winter.

Plum Creek Driving Range, Batavia, NY, Open All Year
Simulator Course Play Specials: BataviaGolf.com Call 585-993-0930 or Email Mark to reserve simulator time!

Buy Gift Certificates for Lessons Sample Gift Certificate

Golf lessons - Outdoor and Indoor - are available at Plum Creek, please call me at 716 474 3005, email me at ttucker@rochester.rr.com, or visit my website at http://www.tomtuckergolf.com/lessonrates.html for details.

Subscribe - http://www.tomtuckergolf.com/signup.html If you like this newsletter, please do me a favor and forward it to your friends so that they may subscribe, thanks!

The Unsubscribe link is at the bottom of this newsletter.



---


Tom's Featured Tip: Staying Grounded

For simplicity, all advice on actual swings or drills is provided from a right handed perspective.

Todays featured tip is short but sweet.

I'm at the stage of my life and golf game that I've settled on how I personally want to swing the club, and I strive to repeat that as well as I can. When I conduct lessons I'm not always teaching my swing to students, I normally just try to help them with fundamentals for how they are best suited to swing the golf club given their level of talent and physical characteristics.

As a result of that, every few weeks my own swing morphs into a hybrid of what I want to do, and I need to refresh my brain and body for how I want to swing the club. My solution is to binge watch videos of my preferred swing method, which I did for eight hours last Wednesday and Thursday, to reinforce my own swing concept. I find that these "mental reps" are an invaluable component to nailing my own swing. I absolutely recommend studying a good swing video of how you want to swing the club to anyone whose swing thoughts are wandering.

So, although I'm not likely to change anything in my swing concept for myself, I'm constantly researching the mental side of the game for fresh concepts. I believe that I came across such a concept recently and I wanted to share it.

It came from Dr. Joe Parent's book - Mastering The Mental Game - which is an excellent read:

"It may come as a surprise but your state of mind affects your center of gravity. When you're very uptight, thinking a lot, full of chatter in your mind as you enter into a shot, it will be as if your center of gravity is up near your head. But when you feel grounded, down-to-earth, centered in your body, you are much less likely to sway and lunge."

Sometimes when I read mental tips, they seem like a bit of smoke and mirrors, but I experimented with this by consciously calming my thoughts during my last couple of rounds, and I think there's something to it.

So my thoughts are try it, you might like it, and there's nothing to lose.

Comments: ttucker@rochester.rr.com

Love your practice, own your swing, own your health,

Tom



---


Tour Greens: Tour Quality Synthetic Greens For Superb Short Game Practice

Our customers love their practice greens, here's what they have to say: Testimonials

Click on the image below for a video demonstration of how well golf shots hold on our Tour Greens synthetic putting greens.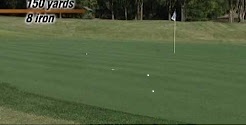 Wouldn't you love one of these in your own back yard?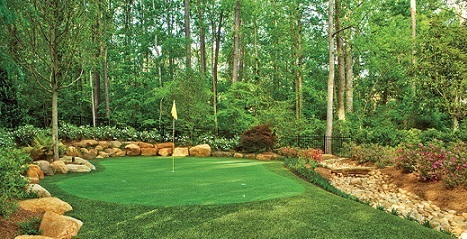 If you would like a free, no obligation quote for getting a beautiful practice area or putting green installed on your property - indoors or outdoors - give me (Tom Tucker) a call at (716) 474-3005, or email at at ttucker@rochester.rr.com

For more information please click here: TourGreensWNY.com

Comments: ttucker@rochester.rr.com

Love your practice, own your swing, own your health,

Tom



---


Tom's Bonus Tip: Ollie Schniederjans Putting Style

For simplicity, all advice on actual swings or drills is provided from a right handed perspective.

This past weekend Henrik Stenson set a scoring record while winning the Wyndham Championship without using a driver, his 3 wood averaged 295 yards.

That's obviously remarkable, but this tip is about how the 2nd place finisher, Ollie Schniederjans, was stroking his short putts. He was stroking them with his right hand off the putter.

Here's a video showing his stroke: odd putting grip for Schniederjans

I'm sure he's doing it because he felt that his right hand was somehow interfering with his putterface alignment or that it was causing a flip at impact. My thought is that it took nerves of steel to take that style to a tournament and use it in competition.

Of course I had to try it, and the ball really seemed to jump off the putterface - but I'm stopping short of a full endorsement of that method. However, if you tend to flip the clubhead with your putter stroke, I would recommend practicing that way and seeing if it helps reduce the flip when you putt two handed.

Try it, you might like it.

Comments: ttucker@rochester.rr.com

Love your practice, own your swing, own your health,

Tom



---



Golf Lessons

I conduct lessons at The Plum Creek Driving Range & Practice Facility
there's a link for Plum Creek info here: http://www.tomtuckergolf.com/

Lessons are available for all ages and skill levels, please contact
me - Tom Tucker - at (716) 474 3005 or email me at ttucker@rochester.rr.com
for more information.

Outdoor Lessons Details and Rates:
http://www.tomtuckergolf.com/lessonrates.html

Indoor Lessons Details and Rates:
http://www.tomtuckergolf.com/indoor.html

Driver Fitting Rates:
http://www.tomtuckergolf.com/indoor.html

Testimonials:
http://www.tomtuckergolf.com/testimonials.html


Sponsors

Plum Creek Driving Range and Simulator Outdoor range and play indoor golf on any of our 40 Simulator Courses. Call 585-993-0930 or email Mark at plumcreek4@rochester.rr.com to reserve time for simulator play or practice!

Batavia Country Club (585) 343-7600 www.bataviacc.com
Great rates, the best greens in WNY. Golf Digest Four Star rating for public courses to play in New York State. Tee times online or by phone in season.
BCC RED HOT SPECIALS
Seniors 58 and older, weekdays or weekends after 1pm, $100 for a Foursome, includes cart AND lunch, must have four players!
Prepaid Golf Discounts available in shop or over the phone when secured by a credit card - up to 50% savings!
Call (585) 343-7600 or visit our website for details.

Tour Greens Western New York Practice with purpose in your own back yard on your own synthetic practice green. Our greens LOVE Western New York weather!

Chestnut Hill Country Club (585)-547-3613 www.chestnuthillgolf.com
THE WESTERN NEW YORK LEADER IN GOLF OUTINGS!
Only minutes from Buffalo, open to the public. Tee times online or by phone in season.

All the best,

Tom Tucker
Teaching Pro, Plum Creek Driving Range & Practice Facility
WGTF ' "Top 100 Golf Teacher"
USGTF Class "A" Teaching Professional
IGPA Certified Golf Psychology Coach
Cell: (716) 474-3005
Email: ttucker@rochester.rr.com
http://www.TomTuckerGolf.com

"There are no substitutes in the quest for perfection!"
~ Ben Hogan