Prepare to play your best golf by doing something now!



Tom's Featured Tip: Keep Your Brain In The Game
Tour Greens: Tour Quality Synthetic Greens
Tom's Bonus Tip: Putting - Find The Fall Line
Lesson Comments: What Students Have To Say
Sponsors: Plum Creek Driving Range
Batavia Country Club
Tour Greens Western New York
Chestnut Hill Country Club


Click here: INDOOR GOLF LESSONS for details on how to improve your game over the winter.

Plum Creek Driving Range, Batavia, NY, Open All Year
Simulator Course Play Specials: BataviaGolf.com Call 585-993-0930 or Email Mark to reserve simulator time!

Buy Gift Certificates for Lessons Sample Gift Certificate

Golf lessons - Outdoor and Indoor - are available at Plum Creek, please call me at 716 474 3005, email me at ttucker@rochester.rr.com, or visit my website at http://www.tomtuckergolf.com/lessonrates.html for details.

Subscribe - http://www.tomtuckergolf.com/signup.html If you like this newsletter, please do me a favor and forward it to your friends so that they may subscribe, thanks!

The Unsubscribe link is at the bottom of this newsletter.



---


Tom's Featured Tip: Keep Your Brain In The Game

For simplicity, all advice on actual swings or drills is provided from a right handed perspective.

I believe that if you ask any successful golfer what one of the secrets to their success after a good round was, they would say that they were able to keep their head in the game for most of their round.

Today I'm going to lay out a few things that you can do to help that aspect of your game.
Keep Hydrated and Well Nutritioned During Your Round.

That means drink water frequently, and keep your protein level up. You can keep your protein level up by nibbling on cashews or almonds throughout your round, or sipping on a protein shake throughout your round.

As a glaring negative example of this, my mind keeps going back to the Jason Day implosion on the 18th hole at the PGA Championship this year. I know these guys are great, but he opted for a nearly impossible shot from a bad situation that resulted in a quadruple bogey. He absolutely could have made a better decision and finished with a bogey at worst. He was mentally fatigued for sure, and I'm positive that if he had been ingesting the right nutrients during his round that mental error could have been avoided.

That leads to the second recommendation


Try To Self-Monitor For When You Are Losing Focus.

Many times losing focus happens without the player even realizing that it's happening. You're cruising along thinking about something from the past or in the future without any awareness that you even doing it.

Learn to become aware of when your mind shifts out of the present to help it get back into the game.


Have A Game Plan.

It's hard to focus if you have nothing to focus on, so before you tee it up on any hole, create a quick game plan for the hole. Keep it shot to shot, not three shots ahead. Stay in the present. It's OK to plan for three shots as you game plan the hole, but stay in the moment for each shot.

I've heard other golf psychology coaches recommend developing a game plan for the course. That's all well and good, but I think hole to hole helps a player focus with more precision and less mental energy expended overall.


Try To Think Only About What's Important Right Now As You Plan And Execute Your Shot.

If Jason day had that focus during the problem I mentioned earlier, I truly think that he would have opted for a more conservative approach instead of taking the chance of shooting himself out of the tournament, which he did. Please don't think that I have any axe to grind with Jason Day, he's actually one of my favorite players.

As a golf instructor and golf coach, I get frustrated when I see players at any level making bad decisions. Bad shots happen at any level every now and then, but bad decisions don't need to happen.


Have - And Use - A Pre-Shot Routine Before Every Swing or Stroke.

This is absolutely one of the best things that you can do to keep your brain in the game. It prepares the body and the brain for the shot. It helps you to get into the moment before the shot and to execute a trusting swing.

If you don't have one, click here: Pre-Shot Routines - Putting and Other

If you do have one, use it religiously!


Last - But Not Least - Breathe.

Focusing on breathing gets you back to the present like nothing else. It's one of the simplest yet most underutilized ways to regain composure and get your brain back in the game.

If you feel even an inkling of losing focus - or if you are getting nervous or anxious - do this for one minute: inhale for three seconds, then exhale for six seconds. It will bring you back to the moment.
I think that many of my readers skip over these mental tips or take them lightly. I pretty much guarantee that if you take the mental side of the game seriously that not only will you enjoy the game more, but your handicap will drop a stroke or two.

Try it, you'll like it.

Comments: ttucker@rochester.rr.com

Love your practice, own your swing, own your health,

Tom



---


Tour Greens: Tour Quality Synthetic Greens For Superb Short Game Practice

Our customers love their practice greens, here's what they have to say: Testimonials

Click on the image below for a video demonstration of how well golf shots hold on our Tour Greens synthetic putting greens.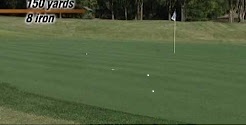 Wouldn't you love one of these in your own back yard?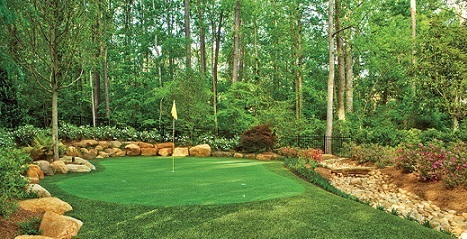 If you would like a free, no obligation quote for getting a beautiful practice area or putting green installed on your property - indoors or outdoors - give me (Tom Tucker) a call at (716) 474-3005, or email at at ttucker@rochester.rr.com

For more information please click here: TourGreensWNY.com

Comments: ttucker@rochester.rr.com

Love your practice, own your swing, own your health,

Tom



---


Tom's Bonus Tip: Putting - Find The Fall Line

For simplicity, all advice on actual swings or drills is provided from a right handed perspective.

The fall line is the line where there is no break, up or downhill through the hole. A putt at 90 degrees to the fall line would break the most from right to left, or left to right, depending on which side of the fall line your ball lies.

Knowing where the fall line lies is critical to holing breaking putts, so practice finding the fall line on a green where the hole is cut on a slope. You can do this by pacing around the hole, or from viewing the line of your putt from below the hole.

Personally I trust my feet more than my eyes, so I like to stalk the putt if I'm having trouble finding the fall line. Stalking the putt is walking around the hole several feet away from it, being careful to not step on anyone's line, so that I can feel any slope on the ground near the hole.

After you've established the fall line, practice putting from several equidistant points from around the hole to get a feel for how your ball position in relation to the fall line affects your aimline for the putt.

Practice this way enough, and you'll develop excellent feel for establishing your aimline for breaking putts.

Try it, you'll like it.

Comments: ttucker@rochester.rr.com

Love your practice, own your swing, own your health,

Tom



---



Golf Lessons

I conduct lessons at The Plum Creek Driving Range & Practice Facility
there's a link for Plum Creek info here: http://www.tomtuckergolf.com/

Lessons are available for all ages and skill levels, please contact
me - Tom Tucker - at (716) 474 3005 or email me at ttucker@rochester.rr.com
for more information.

Outdoor Lessons Details and Rates:
http://www.tomtuckergolf.com/lessonrates.html

Indoor Lessons Details and Rates:
http://www.tomtuckergolf.com/indoor.html

Driver Fitting Rates:
http://www.tomtuckergolf.com/indoor.html

Testimonials:
http://www.tomtuckergolf.com/testimonials.html


Sponsors

Plum Creek Driving Range and Simulator Outdoor range and play indoor golf on any of our 40 Simulator Courses. Call 585-993-0930 or email Mark at plumcreek4@rochester.rr.com to reserve time for simulator play or practice!

Batavia Country Club (585) 343-7600 www.bataviacc.com
Great rates, the best greens in WNY. Golf Digest Four Star rating for public courses to play in New York State. Tee times online or by phone in season.
BCC RED HOT SPECIALS
Seniors 58 and older, weekdays or weekends after 1pm, $100 for a Foursome, includes cart AND lunch, must have four players!
Prepaid Golf Discounts available in shop or over the phone when secured by a credit card - up to 50% savings!
Call (585) 343-7600 or visit our website for details.

Tour Greens Western New York Practice with purpose in your own back yard on your own synthetic practice green. Our greens LOVE Western New York weather!

Chestnut Hill Country Club (585)-547-3613 www.chestnuthillgolf.com
THE WESTERN NEW YORK LEADER IN GOLF OUTINGS!
Only minutes from Buffalo, open to the public. Tee times online or by phone in season.

All the best,

Tom Tucker
Teaching Pro, Plum Creek Driving Range & Practice Facility
WGTF ' "Top 100 Golf Teacher"
USGTF Class "A" Teaching Professional
IGPA Certified Golf Psychology Coach
Cell: (716) 474-3005
Email: ttucker@rochester.rr.com
http://www.TomTuckerGolf.com

"There are no substitutes in the quest for perfection!"
~ Ben Hogan