Prepare to play your best golf by doing something now!



Tom's Featured Tip: Swinging Vs. Steering The Club
Tour Greens: Tour Quality Synthetic Greens
Tom's Bonus Tip: HS + LBS = MMP
Lesson Comments: What Students Have To Say
Sponsors: Plum Creek Driving Range
Batavia Country Club
Pre-Pay For 2018 membership now, and the rest of 2017 is included!
Tour Greens Western New York
Chestnut Hill Country Club


Click here: INDOOR GOLF LESSONS for details on how to improve your game over the winter.

Plum Creek Driving Range, Batavia, NY, Open All Year
Simulator Course Play Specials: BataviaGolf.com Call 585-993-0930 or Email Mark to reserve simulator time!

Buy Gift Certificates for Lessons Sample Gift Certificate

Golf lessons - Outdoor and Indoor - are available at Plum Creek, please call me at 716 474 3005, email me at ttucker@rochester.rr.com, or visit my website at http://www.tomtuckergolf.com/lessonrates.html for details.

Subscribe - http://www.tomtuckergolf.com/signup.html If you like this newsletter, please do me a favor and forward it to your friends so that they may subscribe, thanks!

The Unsubscribe link is at the bottom of this newsletter.



---


Tom's Featured Tip: Swinging Vs. Steering The Club

For simplicity, all advice on actual swings or drills is provided from a right handed perspective.

I have had a few lessons lately where some otherwise good players had fallen into the trap of trying to steer the clubhead into the ball instead of swinging the club into and through the ball.

This is usually caused by the player overthinking his swing mechanics or just swinging too carefully when danger lurks near the target for that particular swing.

The result from a "steered" swing is usually a soft ball flight that ends up right of the target because the clubhead has not been released properly. "Released properly" means that the clubhead has been squared up to the swingpath at impact.

I usually correct the problem with a few swinging drills, sometimes with specific hand movements to feel the clubface squaring up at impact. That part is usually a pretty easy fix. However, once the student feels the actual "swinging motion" they often start the arms swinging too soon in the downswing.

Understanding the timing of when to allow the arms to start swinging in the downswing sometimes requires a little more coaching.

It's out of sequence to start your downswing by swinging your arms downward immediately after you've completed your backswing.

Instead, let your body motion (sliding and pivoting) put the arms in motion. It should feel like your body tugs or drags your arms initially into the downswing. After you feel that tug or drag, then the arms should start to accelerate and swing freely and powerfully through impact.

Practice obtaining this feeling with this four swing practice drill, done without a ball but at a tee in the ground.

Swing the club to the top, then initiate your downswing with a lateral hip bump. At the point where your lateral bump turns into a sliding and pivoting movement freeze. Repeat that for three swings. Your arms will probably move a little regardless of how hard you try, but make the effort to keep it minimal. It should feel like your body is begging your arms to swing.

Just hold your arms at the top.

Do the "freeze" swing three times. On the fourth repetition let the arms swing right after you feel that your body has tugged at your arms, and feel your swing acceleration build to a crescendo at impact.

Note that this isn't the "pump drill", where the arms go halfway down and hold. This is called a constraint drill that builds the feeling of keeping the downward arm swing initially lagging behind your downswing body motion.

Try this drill, you'll love the results.

Comments: ttucker@rochester.rr.com

Love your practice, own your swing, own your health,

Tom



---


Tour Greens: Tour Quality Synthetic Greens For Superb Short Game Practice

Our customers love their practice greens, here's what they have to say: Testimonials

Click on the image below for a video demonstration of how well golf shots hold on our Tour Greens synthetic putting greens.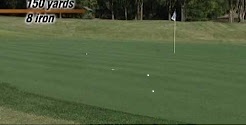 Wouldn't you love one of these in your own back yard?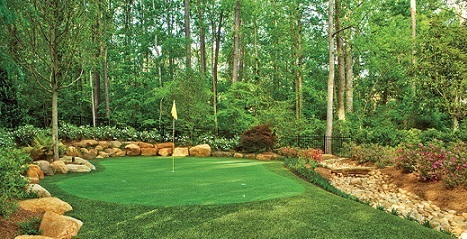 If you would like a free, no obligation quote for getting a beautiful practice area or putting green installed on your property - indoors or outdoors - give me (Tom Tucker) a call at (716) 474-3005, or email at at ttucker@rochester.rr.com

For more information please click here: TourGreensWNY.com

Comments: ttucker@rochester.rr.com

Love your practice, own your swing, own your health,

Tom



---


Tom's Bonus Tip: HS + LBS = MMP

For simplicity, all advice on actual swings or drills is provided from a right handed perspective.

HS + LBS = MMP

I've written about keeping your head still while putting ad infinitum.

The other part about movement is having a stable base, which means no movement of the hips or knees.

If you keep the parts still that are supposed to be still when you putt, you'll see improvement.

Here's the formula: HS + LBS = MMP:

Head Still plus Lower Body Still equals Make More Putts.

Enjoy, Tom

Comments: ttucker@rochester.rr.com

Love your practice, own your swing, own your health,

Tom



---



Golf Lessons

I conduct lessons at The Plum Creek Driving Range & Practice Facility
there's a link for Plum Creek info here: http://www.tomtuckergolf.com/

Lessons are available for all ages and skill levels, please contact
me - Tom Tucker - at (716) 474 3005 or email me at ttucker@rochester.rr.com
for more information.

Outdoor Lessons Details and Rates:
http://www.tomtuckergolf.com/lessonrates.html

Indoor Lessons Details and Rates:
http://www.tomtuckergolf.com/indoor.html

Driver Fitting Rates:
http://www.tomtuckergolf.com/indoor.html

Testimonials:
http://www.tomtuckergolf.com/testimonials.html


Sponsors

Plum Creek Driving Range and Simulator Outdoor range and play indoor golf on any of our 40 Simulator Courses. Call 585-993-0930 or email Mark at plumcreek4@rochester.rr.com to reserve time for simulator play or practice!

Batavia Country Club (585) 343-7600 www.bataviacc.com
Great rates, the best greens in WNY. Golf Digest Four Star rating for public courses to play in New York State.
Pre-Pay For 2018 membership now, and the rest of 2017 is included!
Tee times online or by phone in season.
BCC RED HOT SPECIALS
Seniors 58 and older, weekdays or weekends after 1pm, $100 for a Foursome, includes cart AND lunch, must have four players!
Prepaid Golf Discounts available in shop or over the phone when secured by a credit card - up to 50% savings!
Call (585) 343-7600 or visit our website for details.

Tour Greens Western New York Practice with purpose in your own back yard on your own synthetic practice green. Our greens LOVE Western New York weather!

Chestnut Hill Country Club (585)-547-3613 www.chestnuthillgolf.com
THE WESTERN NEW YORK LEADER IN GOLF OUTINGS!
Only minutes from Buffalo, open to the public. Tee times online or by phone in season.

All the best,

Tom Tucker
Teaching Pro, Plum Creek Driving Range & Practice Facility
WGTF ' "Top 100 Golf Teacher"
USGTF Class "A" Teaching Professional
IGPA Certified Golf Psychology Coach
Cell: (716) 474-3005
Email: ttucker@rochester.rr.com
http://www.TomTuckerGolf.com

"There are no substitutes in the quest for perfection!"
~ Ben Hogan