Prepare to play your best golf by doing something now!



Tom's Featured Tip: The Genius Ball™ - Unbelievable
Tour Greens: Tour Quality Synthetic Greens
Tom's Bonus Tip: Putterface Rotation
Lesson Comments: What Students Have To Say
Sponsors: Plum Creek Driving Range
Batavia Country Club
Pre-Pay For 2018 membership now, and the rest of 2017 is included!
Tour Greens Western New York
Chestnut Hill Country Club


Click here: INDOOR GOLF LESSONS for details on how to improve your game over the winter.

Plum Creek Driving Range, Batavia, NY, Open All Year
Simulator Course Play Specials: BataviaGolf.com Call 585-993-0930 or Email Mark to reserve simulator time!

Buy Gift Certificates for Lessons Sample Gift Certificate

Golf lessons - Outdoor and Indoor - are available at Plum Creek, please call me at 716 474 3005, email me at ttucker@rochester.rr.com, or visit my website at http://www.tomtuckergolf.com/lessonrates.html for details.

Subscribe - http://www.tomtuckergolf.com/signup.html If you like this newsletter, please do me a favor and forward it to your friends so that they may subscribe, thanks!

The Unsubscribe link is at the bottom of this newsletter.



---


Tom's Featured Tip: The Genius Ball™ - Unbelievable

For simplicity, all advice on actual swings or drills is provided from a right handed perspective.

No more lost balls?

Nighttime golf?

As I've mentioned before, I subscribe to a ton of golf information newsletters, and I was blown away by one I received last Thursday. I was wondering how long it would take for something like this to happen, and it's happening right in our own backyard!

Wednesday, October 11, 2017
OnCore Golf Announces Project Launch For The Game's Most Innovative Ball
Introduces the "Ball with a Brain" - the Genius Ball™.

BUFFALO, NY - OnCore Golf Technologies, Inc., the Buffalo, New York-based company known for ground-breaking innovations in golf ball technology has announced plans for a real "game-changer" - the Genius Ball™.

OnCore is developing the Genius Ball™ with embedded electronic sensors and measurement systems, including a GPS chip, that will determine a wide range of data for each shot, including the ball's distance, flight path, velocity and spin rate, and will communicate over Bluetooth to player's mobile devices in real time. Beyond the ability to locate an errant shot anywhere on the course, the Genius Ball™ will deliver a array of shot data that the company expects will initially include:

Ball location
Time in the air
G force at impact
Angle of descent
Initial velocity
Carry distance
Roll distance
Degree of draw or fade
Spin rate
Height apex
In addition to developing their own proprietary software interface for mobile devices, OnCore expects to work with other golf app developers to allow the Genius Ball™ data to be easily integrated with other GPS and course visualization applications.

While a number of companies have attempted to create "smart" golf balls, the extreme g-forces encountered at club-impact are enough to damage or destroy most embedded electronics. OnCore has solved this issue utilizing an advancement of its patented hollow metal core technology. Creating a protective housing that will not interfere with the performance or feel of the golf ball, the OnCore engineering team is confident that golfers will be very impressed with playability of this unique ball. The Genius Ball™ project was accelerated following OnCore's receipt of US Patent 9,717,956 on August 1, 2017, which describes one of several approaches to the protective shell. The company expects to demonstrate a prototype of the Genius Ball™ at the 2018 PGA Merchandise Show in Orlando, FL and to begin shipments in the second quarter of next year.

"From our very first days, we have focused on creating unique products that deliver performance, enjoyment and encourage golfers to play this great game," states Bret Blakely, OnCore Golf co-founder. "Earlier this year, we introduced our first-ever tour ball, the ELIXR, and the player response has been overwhelming. We hear from customers every day bragging about the great results they are achieving with that ball. The intent of the Genius Ball™ is to provide data that helps golfers understand their performance on the course in real time to help them become better golfers. We are confident that what a launch monitor can do for a golfer on the driving range is what the Genius Ball™ will do on every hole and for every shot. Golfers crave technology and information and our new "Ball with a Brain" will deliver both."

The company is providing golfers an opportunity to become the first to experience the product through their Indiegogo crowdfunding campaign. All participants will be notified when the Genius Ball™ is ready to ship and have priority in placing orders for the initial production run. To learn more about the Genius Ball™ Project, please visit geniusball.com.

More About OnCore Golf

OnCore Golf is dedicated to delivering breakthrough technology and innovation, while inspiring golfers at all skill levels and abilities. Founded by two young entrepreneurs-Bret Blakely and Steve Coulton-and now fueled by a team of world-class innovators, OnCore Golf entered the golf ball industry through development of the first-ever USGA-conforming hollow core ball. The Company has since developed a growing suite of differentiating products distributed world-wide that now includes the extremely accurate CALIBER ball, the five star-rated AVANT with SoftCell technology to increase feel, durability and distance, as well as the dynamic ELIXRTM Tour ball.

To me, this is perhaps the most revolutionary breakthrough in golf ball technology ever. I can't wait to try one out. My only percieved negative is the possibility of players taking too much time analyzing data after each shot, but on the other hand it should reduce the time it takes to find a ball in thick rough or heather.

It should be interesting.

Comments: ttucker@rochester.rr.com

Love your practice, own your swing, own your health,

Tom



---


Tour Greens: Tour Quality Synthetic Greens For Superb Short Game Practice

Our customers love their practice greens, here's what they have to say: Testimonials

Click on the image below for a video demonstration of how well golf shots hold on our Tour Greens synthetic putting greens.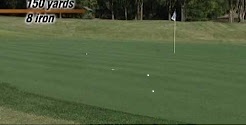 Wouldn't you love one of these in your own back yard?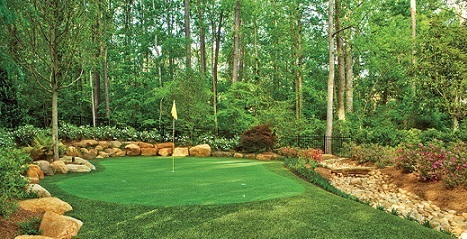 If you would like a free, no obligation quote for getting a beautiful practice area or putting green installed on your property - indoors or outdoors - give me (Tom Tucker) a call at (716) 474-3005, or email at at ttucker@rochester.rr.com

For more information please click here: TourGreensWNY.com

Comments: ttucker@rochester.rr.com

Love your practice, own your swing, own your health,

Tom



---


Tom's Bonus Tip: Putterface Rotation

For simplicity, all advice on actual swings or drills is provided from a right handed perspective.

Here's a very short - but very sweet putting tip.

Do not allow any putterface rotation during your putting stroke.

Just keep the face square going back and square going through without any forearm or wrist rotation and you'll make more putts.

For sure.

Try it you'll like it.

Comments: ttucker@rochester.rr.com

Love your practice, own your swing, own your health,

Tom



---



Golf Lessons

I conduct lessons at The Plum Creek Driving Range & Practice Facility
there's a link for Plum Creek info here: http://www.tomtuckergolf.com/

Lessons are available for all ages and skill levels, please contact
me - Tom Tucker - at (716) 474 3005 or email me at ttucker@rochester.rr.com
for more information.

Outdoor Lessons Details and Rates:
http://www.tomtuckergolf.com/lessonrates.html

Indoor Lessons Details and Rates:
http://www.tomtuckergolf.com/indoor.html

Driver Fitting Rates:
http://www.tomtuckergolf.com/indoor.html

Testimonials:
http://www.tomtuckergolf.com/testimonials.html


Sponsors

Plum Creek Driving Range and Simulator Outdoor range and play indoor golf on any of our 40 Simulator Courses. Call 585-993-0930 or email Mark at plumcreek4@rochester.rr.com to reserve time for simulator play or practice!

Batavia Country Club (585) 343-7600 www.bataviacc.com
Great rates, the best greens in WNY. Golf Digest Four Star rating for public courses to play in New York State.
Pre-Pay For 2018 membership now, and the rest of 2017 is included!
Tee times online or by phone in season.
Disco Party at BCC
Sponsored by the YWCA - for Domestic Violence Awareness, 70's music, games, contests, snacks, cash bar. $20 Pre-Sale Tickets, $25 at the door. Get tickets at the YWCA, 301 North St, Batavia NY (585) 343-5808
Prepaid Golf Discounts available in shop or over the phone when secured by a credit card - up to 50% savings!
Call (585) 343-7600 or visit our website for details.

Tour Greens Western New York Practice with purpose in your own back yard on your own synthetic practice green. Our greens LOVE Western New York weather!

Chestnut Hill Country Club (585)-547-3613 www.chestnuthillgolf.com
THE WESTERN NEW YORK LEADER IN GOLF OUTINGS!
Only minutes from Buffalo, open to the public. Tee times online or by phone in season.

All the best,

Tom Tucker
Teaching Pro, Plum Creek Driving Range & Practice Facility
WGTF ' "Top 100 Golf Teacher"
USGTF Class "A" Teaching Professional
IGPA Certified Golf Psychology Coach
Cell: (716) 474-3005
Email: ttucker@rochester.rr.com
http://www.TomTuckerGolf.com

"There are no substitutes in the quest for perfection!"
~ Ben Hogan